Second seed Novak Djokovic booked his spot in the semifinals of the ATP World Tour Finals after surviving a scare against an inspired Milos Raonic. The reigning champion needed two tiebreaks to put away the Canadian, who controlled the rallies and pushed Djokovic around the court for most of the match. But Raonic came up short on key points as his big shots let him down late in both tiebreaks, allowing Djokovic to keep his bid to end the year at number one strong.
Djokovic steals opener in tiebreak
Strong returning was on display in the very first game, but it wasn't from Djokovic. It was Raonic who came out swinging on return and was finding ways to grind down the world number two in a series of long rallies which resulted in a break point. But Djokovic would save it with an ace before holding. The strong returning continued from the world number four and in the following return game, he earned himself a double break point, only to let the Serb off the hook with back-to-back errors.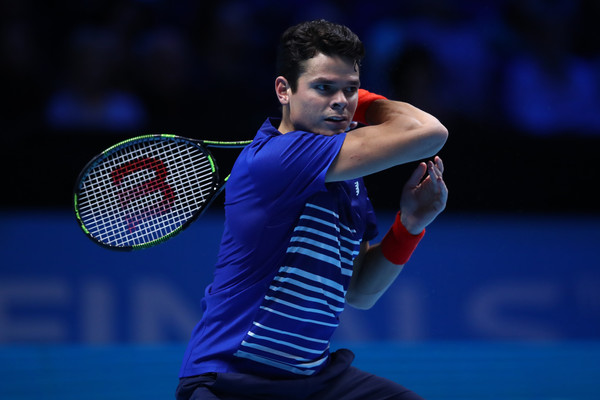 Djokovic was unable to match the Canadian's strong returning, although most of that was due to Raonic's monster serve, which was clicking in the opening set. Despite several 0-15 leads, Djokovic constantly found his racquet taken out of his hands by his opponent. In the eighth game, the second seed took a 0-30 lead, only for Raonic to ride his serve to four straight points and a hold for 4-4.
A tiebreak was needed to decide the opener. Raonic seemed to be in charge when he took an early 3-1 lead, only for the Serbian to reel off four straight points, two on the Canadians serve, to take a 5-3 lead. He appeared to have reached set point when Raonic drove a forehand long, but hawkeye revealed that ball was in so the error became a winner. At 5-5, a perfect lob from Djokovic gave him set point, only for a massive combination of forehands from the Canadian leveled at 6-6. But after Djokovic took a 7-6 lead, Raonic double-faulted to surrender the opening set that he had mostly dominated.
Persistent Raonic falls short
The tiebreak seemed to have completed flipped the momentum and the second appeared to be the reverse of the opener, as it was Djokovic reaching break point in the opening game. A strong return from the Serbian drew an error as Djokovic converted his first break point of the match to take immediate control of the second. Raonic picked up his level in the following game, grinding his way to a break point, but Djokovic saved it with a serve. But two games later, the Canadian was at it again. A Djokovic-like stretch backhand winner down the line from Raonic set up a break point which he finally converted by ripping a forehand passing shot winner up the line.
Djokovic was not about to let the momentum slip away and continued to grind away at the Raonic serve. He had a double break point opportunity the game after being broken and did not waste it, drawing an error to reclaim the lead at 3-2 and this time consolidated with a hold to love. But Raonic was not to be denied, roaring back to level again at 4-4.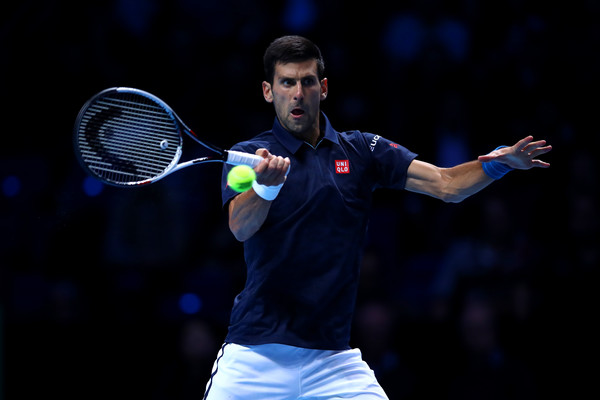 Once again, a tiebreak was needed to decide the set and it was Raonic who again took the early lead after crushing a crosscourt backhand to draw an error. Djokovic would quickly level, only to double fault the minibreak back to his opponent at 4-3. The Canadian still could not maintain the lead and a forehand error tied the breaker at 4-4. After the next three points went with serve, Djokovic found himself at match point on Raonic's serve. The Canadian would drive a shot wide to give the second seed the victory.
By the numbers
While Raonic's 14 aces and 84 percent of first serve points won was formidable, he failed to save either break point he faced and was eaten alive by Djokovic when he missed his first serve, which he did 42 percent of the time. Raonic only won a mere 36 percent of his second serve points. Djokovic's first serve numbers were not as strong but despite also losing more than 50 percent of his second serve points, his number was a far better 48 percent. He also saved five of seven break points, which was huge in preserving the victory. In the end, Djokovic only won two more points than Raonic.
Djokovic will advance to the semifinals regardless of his result in his final group stage match against Gael Monfils. Raonic will take on Dominic Thiem with the winner advancing to the final four.