Going into the 2016 season, the expectations were as high as ever for Poland's Agnieszka Radwanska. Coming off the biggest title of her career at the 2015 WTA Finals, it seemed like the Pole was poised to finally start claiming big titles on a more regular basis. While she experienced consistent results, she failed to score that big title. All in all, it was another solid year for the tour's premiere counterpuncher.
Win-Loss
Radwanska had her second-best season in terms of winning percentage and the third most match wins of her career in 2016, going 53-18, winning 75 percent of her matches. For the second time in her career, she was 3-0 in finals, the third time she was undefeated in finals in a single season and the first time since 2008. Her three titles match her career-high for a single season, the sixth time she's hit that number. 2016 was the second time in her career that she reached the fourth round or better at all four majors. Despite failing to win a big title, Radwanska's consistency allowed her to finish the year at number three in the world, her highest year-end ranking.
High Points
After finishing 2015 on the highest of high notes, Radwanska seemed to carry the momentum into the first three months of 2016. She opened the year with a title in Shenzen and reached the semifinals or better at her first four events, including the Australian Open. After falling in the fourth round of Miami, she bounced back to reach the semifinals in Stuttgart, making it five semifinals in her first six events.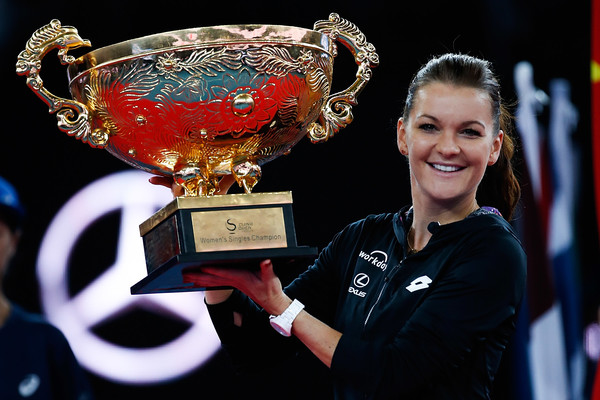 A cold streak followed, but starting in August, Radwanska started to re-find that early form and began posting consistent results again. Starting in New Haven, where she won the title, the Pole finished the season by reaching the quarterfinals or better at seven of her last eight events, including the semifinals of the WTA Finals (falling to world number one Angelique Kerber).
Low Points
Between those two consistent streak, Radwanska struggled mightily. It started with her loss in Stuttgart, which while it came in the semifinals, was a big upset at the hands of 71st ranked Laura Siegemund. The Pole went cold after that loss, only reaching one quarterfinal in her next seven events. That included three first round losses, with one coming at the Olympics.
Between Stuttgart and New Haven, Radwanska went 11-8. During that run, she lost in the fourth round of both the French Open, to a player ranked outside the top 100, and Wimbledon, falling 9-7 in the third set to Dominika Cibulkova.
Best Results
Radwanska's biggest title of the season came at the Premier Mandatory event in Beijing, where she dismantled the field, claiming the title without dropping a set. She also added titles in New Haven and Shenzen. In all three tournaments that Radwanska won, she did not drop a set. Her best result at a major came at the Australian Open, where she reached the semifinals before falling to then-world number one Serena Williams.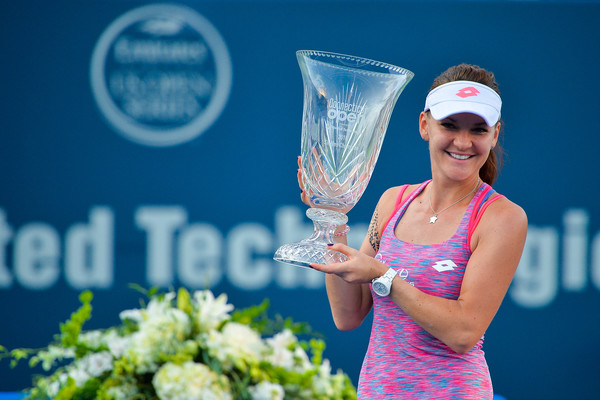 Worst Results
The Pole suffered three first round losses in 2016, all three coming during her cold spell from the end of April to mid-August. The most disappointing was unquestionably her straight-sets first round loss to Saisai Zheng in the first round of the Olympics in Rio. Her cold streak started with a first round loss in Madrid and she also fell in her opening match on grass in Birmingham.
An especially disappointing result was Wimbledon. While she did reach the fourth round, a respectable result, Wimbledon has always been her best major and considering her form earlier in the year, it was an opportunity for her to turn her season around and maybe even make a run at a maiden major title. But she lost a heartbreaking three-set battle to eventual semifinalist Dominika Cibulkova.
Grade: B+
For most of the season, Radwanska was incredibly consistent. However, she continued to struggle in big matches. She only won four matches against top-ten opponents, none of them against the top four (although that must be taken with a grain of salt because she played fewer matches against the top four considering she is one of the top four), and two of those top-ten wins came at the WTA Finals, meaning she only won two during the main part of the season. Still, that consistency allowed her to finish the year at a career-high ranking. If she can continue playing consistent tennis into 2017, she can start to focus on upping her game in big moments.