 Eugenie Bouchard started the year as the world number 48 and ended the year as the world number 46, which was not much of an improvement. Nevertheless, Bouchard had some good runs in some tournaments this year, coupled with some disappointing first round exits.
Win-Loss Record:
Eugenie Bouchard had a 31-24 win-loss record this year, a big improvement from a negative 12-18 record from last year which saw her drop out of the top 10. Nevertheless, as a former top 10 player, Bouchard has the quality of a top 10 player, which allowed her to beat other top 10 players this year against soon-to-be world number one Angelique Kerber in Rome, and soon-to-be WTA Finals champion Dominika Cibulkova at her home event in Montreal. Half of her losses came against players of a lower ranking, of which six of them came against players whose ranking is outside the top 100. To be a consistent figure in the top 30, or even the top 50, Bouchard must be able to defeat players of a lower ranking to be able to cement her own ranking.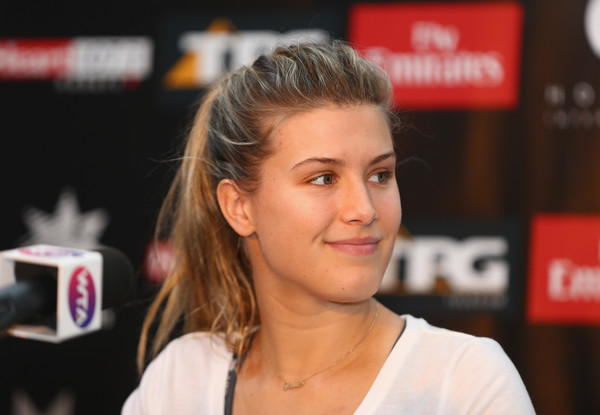 High Points:
Bouchard started the season on a high note after managing to reach the quarterfinals of the Shenzhen Open but lost to Timea Babos in straight sets at that stage. Nevertheless, it was considered a good run to start the season considering that it was her first quarterfinal appearance at a tournament since a year ago.
Her good run continued at the Hobart International, where she reached the final as an unseeded player. She managed to defeat three seeded players consecutively, starting from Alison van Uytvanck, hard-hitting Camila Giorgi, before defeating Dominika Cibulkova in a tough semifinal. However, Bouchard soon ran out of steam and fell short in her quest for her second WTA title, falling to the ruthless seventh seed Alize Cornet, who only allowed Bouchard to win three games.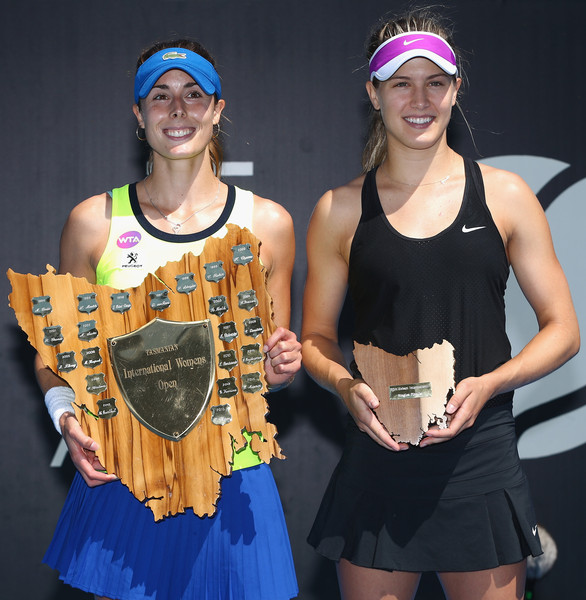 Bouchard then reached her second final of the year at her debut appearance in Kuala Lumpur as the sixth seed, where she faced an easy path to the final having not faced any seeded players and not losing any sets. She had a chance to win her first WTA title this year, but she failed to serve out the match, and she would rue the missed opportunity as Elina Svitolina went on to win the title in a match that ended after midnight.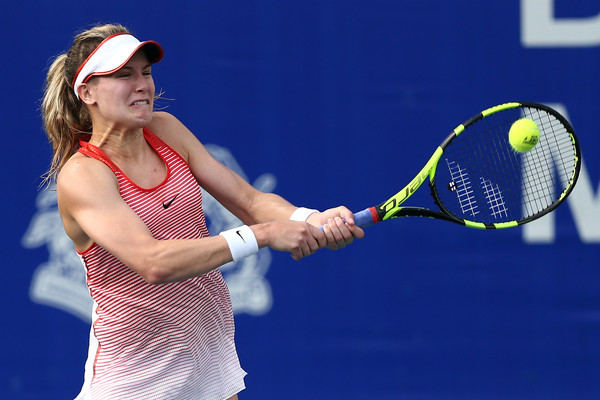 Bouchard earned another good win against 21st seed Sloane Stephens at Indian Wells in two tight sets, but she failed to follow it up with a win when 12th seed Timea Bacsinszky was just too good for her.
The clay court season was a disappointment for Bouchard, not reaching a single quarterfinal in any of the tournaments she played. Nevertheless, she earned her first top 10 win this year over then-world number two Angelique Kerber in Rome, having earned a win over former world number one Jelena Jankovic in the round before.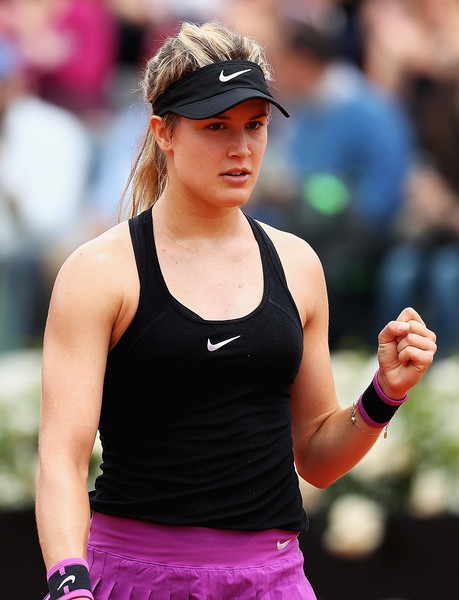 She achieved some encouraging wins during the grass court season, first starting off with a win over 15th seed Irina-Camelia Begu in Eastbourne. However, Bouchard only has her luck to blame as she was faced with a tough draw once again, having to face off against Agnieszka Radwanska once again. The outcome was similar to their encounter in Melbourne, with Radwanska prevailing 6-3, 6-3. She achieved another good win at Wimbledon, defeating Johanna Konta in three sets in front of the Brit's home crowd to earn her second top 20 win of the season.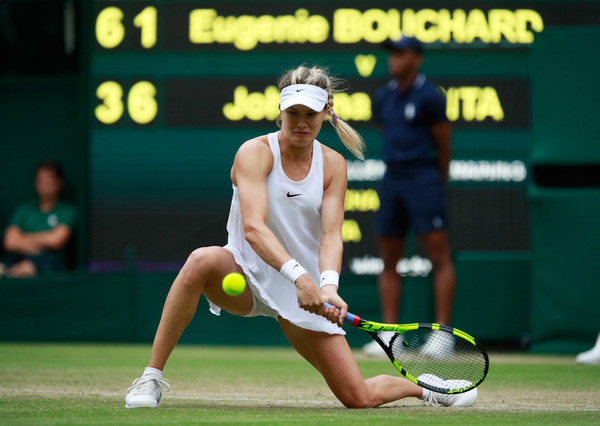 Bouchard was once again faced another tough draw, this time at her home tournament in Montreal. She managed to defeat former Top 10 player Lucie Safarova in a third set tiebreak and followed it up with a dominating straight-sets win over world number 10 Dominika Cibulkova for her second top 10 win of the year, losing just two games. However, she succumbed to the pressure from the home crowd when she lost to world number 121 qualifier Kristina Kucova in three sets.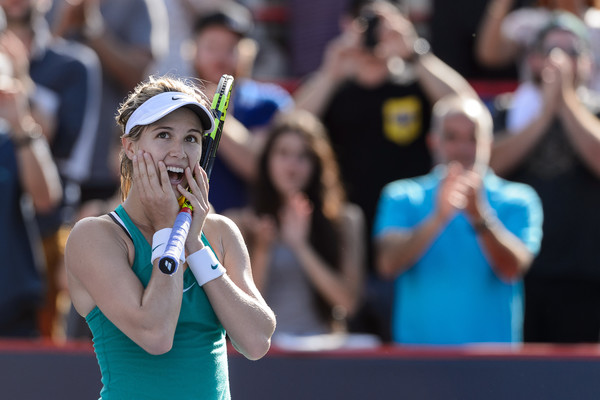 Representing Canada at her first ever Olympics, Bouchard got off to a great start by defeating Sloane Stephens in straight sets, setting up a meeting with world number two Angelique Kerber once again. This time in Rio, Bouchard was unable to replicate the win in Rome and fell in straight sets.
Bouchard then had disappointing results for the rest of the season, not progressing further than the second round in any of her remaining tournaments.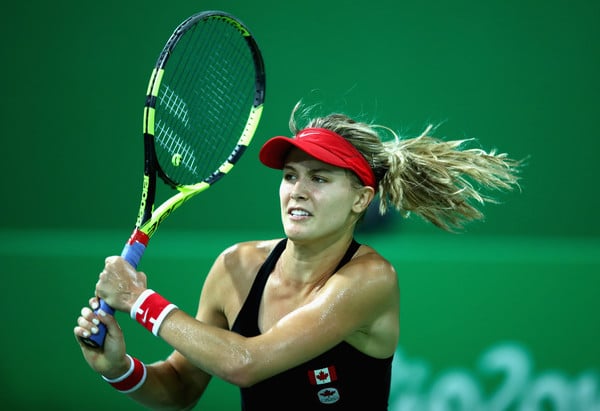 Low Points:
Bouchard was the favourite to reach the semifinals of the Qatar Open in Doha despite being an unseeded player, due to the other top-ranked players losing in the early rounds. However, Bouchard failed to make good use of the advantage when she lost to Chinese then top-ranked player Zheng Saisai in the third round.
Bouchard then suffered a disappointing loss to Lucie Hradecka in the Miami Open, a tournament where she could potentially have made a deep run.
After her first round win at Roland Garros, Bouchard mentioned,
"Before matches I was very nervous and definitely had trouble eating. And not just before matches, [it] happened to me at other meals as well."
After she managed to reach the Wimbledon final, Bouchard had many expectations weighed on her, as she was the only Canadian player in the top 100, let alone the top 10. The high expectations caused her to feel very nervous before matches and caused her to have trouble eating, thus causing her to lose weight.
Bouchard had a very poor start to the grass court season, losing her first grass-court match of the year to world number 171 Elise Mertens in the first round of the Topshelf Open, managing to just win three games after being outclassed straight from the first point. As the number eight seed at the inaugural Mallorca Open, she lost to eventual finalist Anastasija Sevastova in straight sets, despite being the favourite to progress to the final.
Bouchard ended the year with a very disappointing streak of defeats, losing her last six of eight main draw matches and had a three-match losing streak to end the season, with all three losses suffered against players outside the top 100.
She failed to progress to the fourth round of any Grand Slams this year, the first time she failed to do so since 2013.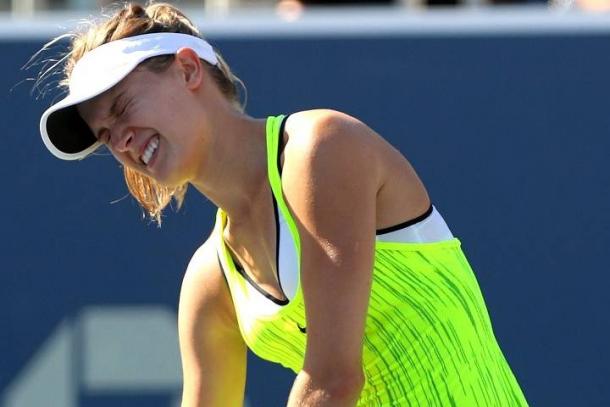 Season Grade: D
A player with so much potential and quality in them like Eugenie Bouchard should not be losing matches against players outside the Top 50, but she lost to them on 12 different occasions this year. It would be hard to see Bouchard returning to top form and break back into the Top 10 if she does not start producing some consistent results.