 Andy Murray's last-minute run to number one in the fall of 2016 will go down as one of the most spectacular achievements in the history of tennis. Considering the stranglehold Novak Djokovic had on the tour and the top spot in June, it's still hard to believe that Murray is the number one player in the world even though it's been over a month since he claimed the top spot.
However, getting to number one is one thing. Holding the top spot is another. 26 men have been ranked number one, including Murray, since the ATP started keeping computer rankings in 1970. But of the 25 men, excluding Murray, only 12 have held the top spot the equivalent of one year (52 weeks, consecutive or not). In fact, 11 of the former number ones, again excluding Murray, did not even reach 20 weeks. Only nine men have held the top spot for over 100 weeks. Getting to number one is a feat, but holding on is the bigger challenge.
The reason for this is you have to be super consistent to reach number one, but that means you then have to defend all of your consistent results to stay at number one. That means Murray will likely have to repeat all of his great results to maintain his control over the top spot.
Or will he?
Let's breakdown Andy Murray's hold on number one and examine how long the Age of Andy could last.
How Murray Got to Number One
Andy Murray was incredibly strong and consistent in 2016. He reached the quarterfinals or better at all four Grand Slam events, including three finals and one title at Wimbledon. He also reached the semifinals or better at six of the eight Masters 1000 events he played (skipping Canada), winning three and finishing runner-up at two more. He also added three 500-level titles. He was undefeated at the ATP World Tour Finals on his way to a title. He reached the final at all but four events he played in 2016, at one point reaching seven consecutive finals.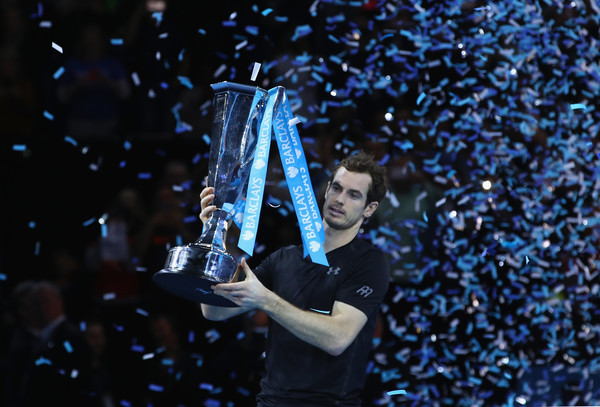 While he has a lot of points to defend, it's important to note that his schedule in terms of defending points is very back-heavy. Seven of the eight titles he has to defend in 2017 (he does not have to defend the Olympics and received no points for winning it) came after the French Open. That includes his two biggest victories, Wimbledon and the World Tour Finals. Furthermore, five of his titles came after the US Open, meaning he won't have to defend a large chunk of his points, 4500 of his 12 410 points to be specific, approximately a third, until next October.
The Djokovic Challenge
Without question, going into 2017, the biggest challenge to Murray's reign at the top will be the man he dethroned, Novak Djokovic. The world number one ranking came down to the final match of the season and it could have gone Djokovic's way. Especially considering Djokovic's dominance for the past six years at the start of seasons, Murray will be under pressure from the very beginning.
However, Djokovic's own dominance could work against him. While Murray's point load is back heavy, Djokovic's is very front heavy as most of his best results came in the first six months of the season. Here's a comparison of the points Djokovic and Murray have to defend through the first half of 2017:
Event
Novak Djokovic
Andy Murray
Points Defending
Room to Gain
Points Defending
Room to Gain
Doha
250
0
0
250
Australian Open
2000
0
1200
800
Dubai
90
410
0
500
Indian Wells
1000
0
45
955
Miami
1000
0
45
955
Monte Carlo
10
990
360
640
Madrid
1000
0
600
400
Rome
600
400
1000
0
French Open
2000
0
1200
800
Total
7950
1800
4450
5300
Right there, you see the challenge for Djokovic. He has almost twice as many points as Murray to defend and around a third as many to gain. Djokovic will have to be near-perfect in the first half of 2017 if he wants to challenge Murray for the top spot, and that may not even be enough. Murray is in complete control of his own fate as he has just under 1000 more points to gain than he has to defend.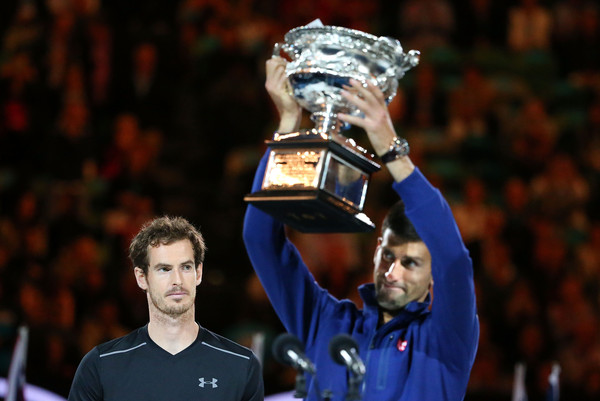 Murray currently leads Djokovic by 630 points, meaning he would have to lose in the quarterfinals of the Australian Open for Djokovic to even have a chance of taking over the top spot that early in the season, and for that to happen, he would have to defend both his Doha and Australian Open titles. But if Djokovic fails to defend the Australian Open, it becomes mathematically impossible for him to take over at number one in Melbourne.
In fact, if Djokovic fails to pass Murray at the Australian Open, it's would be almost impossible for him to pass Murray until the clay court season, as Murray has a mere 90 points to defend between Melbourne and Monte Carlo, while Djokovic has 2090. The only chance of that happening is if Djokovic defends both his titles to start the season, but Murray reaches and loses in the Australian Open semifinals, which would close the gap to 150 points, and then Murray fails to gain any points in February or March while Djokovic reaches at least the Dubai final. Considering both men's form in the fall (don't forget, Djokovic was struggling), that seems unlikely.
So the earliest a switch at the top could happen is the clay court season, but that also depends a lot on what happens in Indian Wells and Miami. If Djokovic fails to defend both and Murray claims even one of them, it will make it extremely difficult for Djokovic to pass Murray on the clay. Djokovic still has more points to defend on the dirt of Europe, 3670 to 3160, although the gap is close enough that if Djokovic matches his results and Murray struggles, there could be a change. But the French Open will be key. Failing to defend that title could be hugely damaging for Djokovic. And again, if Murray makes big gains at Indian Wells and Miami, he could put number one out of reach on the clay.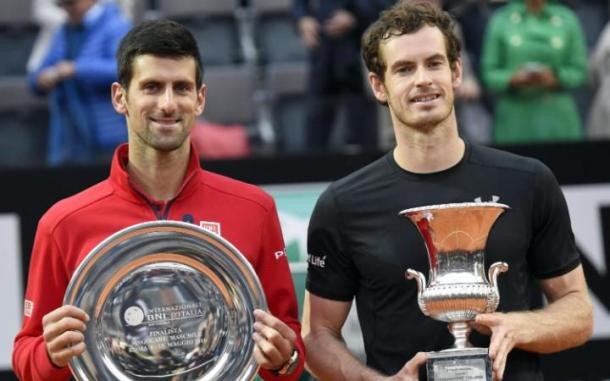 Once the tour moves to the grass, Djokovic might have an opening. For the first time all season, the onus will be on Murray to defend big points while Djokovic controls his fate. The Scot will have 2500 points to defend to his rivals 90 on the June and July lawns. However, Djokovic will probably have to enter some Wimbledon warm-up events to gain some points rather than relying on Wimbledon alone, where Murray is often extremely strong. But once the grass passes, the pressure is back on Djokovic, as he has 2200 points to defend in Canada (which Murray skipped last year), Cincinnati (which he skipped last year) and the US Open, while the current number one only has 960.
After the US Open, that's when the pressure will be on Murray, as he has five titles and 4500 points to defend. But up to that point, nearly a full calendar year, it will be nearly impossible for Djokovic to steal the number one ranking.
Other Challengers
Murray and Djokovic were so dominant in 2016 that there does not really appear to be anyone else who is likely to challenge for the top spot. However, the Murray-Djokovic duopoly means that there are a lot of players with very few points to defend in 2017. Here are a few players who could surprise and challenge for the top spot.
Milos Raonic
While it may seem like a ridiculous notion at first, there is perhaps no player with a better chance to sneak up and challenge for the top spot than Milos Raonic. The argument could be easily made that Raonic was the most improved player of 2016, cementing himself in the top five and contending for some big titles. Despite some bad form and injuries down the stretch, he still played well enough to finish the season at number three.
Raonic has a lot of points to gain throughout 2017, although he has a similar problem to Djokovic. While he has nowhere near as many points to defend, his schedule in terms of point-defence is very top-heavy. His lone title defense will be in the opening week of the season and will have a semifinal appearance at the Australian Open and finals run in Indian Wells to defend in his first three events. However, an injury forced him to skip two events in February, meaning he has some easy gains to make there.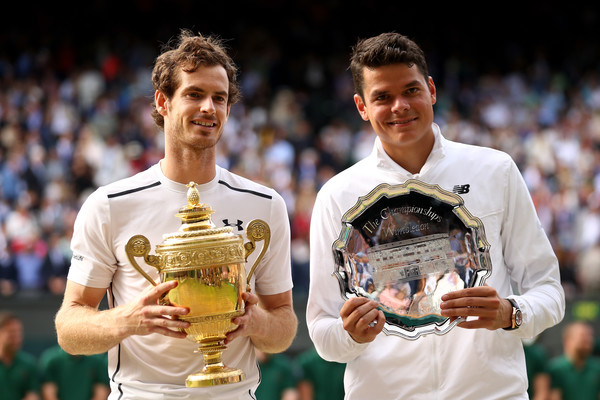 He has some room to improve on the clay, but the grass could be problematic. He has two finals appearances to defend, although since both those losses, the Queen's Club and Wimbledon, were to Murray, the good news is that the man he's chasing has more defending to do. But after Wimbledon, Raonic has tons to gain. He only reached the quarterfinals on home soil in Canada last year, which is something he can easily improve upon, while he also had a pair of first-round losses indoors in the fall and an early loss in Shanghai where he can gain ground. However, the biggest thing going for Raonic is the US Open. While Murray also has ground to gain there, Raonic fell in the second round in 2016, meaning he only has 45 points to defend. The fast hard courts should work well for his game, meaning if he enters that tournament healthy and prepared, he could make a serious challenge for the top spot.
If you're still skeptical about Raonic, look at the ATP World Tour Finals. He was the best performer there outside of the top two, and very nearly took both of them out. Djokovic needed two tiebreaks to defeat him in the round robin, while Murray needed over three and a half hours and a third set tiebreak to beat him. During that epic, ranked as the best match of 2016 by the ATP World Tour, Raonic forced Murray to face the only match point the Scot would see after his Davis Cup loss to Juan Martin del Potro, Murray's most recent loss. The Canadian may have fallen short of knocking off the top two in 2016, but he's getting closer and 2017 could be his year. But again, the US Open is probably the earliest that he could potentially replace Murray at the top, likely later.
Kei Nishikori
Outside of the top two, Kei Nishikori may have been the most consistent player on the ATP World Tour in 2016. Consistency is the key to becoming number one. The problem with having had consistent results last year is that it makes it tricky to gain points. Unlike Raonic, who has a few events where he can gain a lot of points, Nishikori doesn't really have one event where he can gain a motherload of points. He needs to simply be better across the board.
The first big event of the season where he has less than quarterfinal points to defend is the French Open, although he reached the fourth round there. Same with Wimbledon. Even Murray has more individual events to use to consolidate his ranking. Apart from the majors, where he does stand to make some big gains, Nishikori essentially needs to defend every result he had from 2016 and go a few rounds deeper at the rest. Considering his strength on clay, the French Open is probably his best chance to make a move up the rankings, but he basically needs to be good everywhere because, surprisingly considering that he is ranked below Raonic, he seemingly has a lot more to lose because his ranking is already based on consistency rather than big results. He needs to add the latter while keeping the former.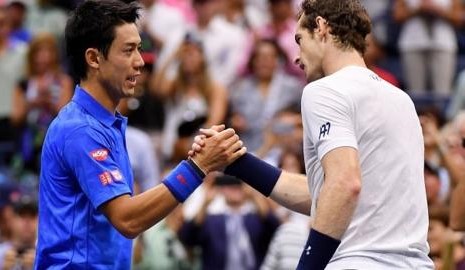 Like Raonic, he also needs to start winning the big matches. Part of why he's behind the Canadian and seems further away from the top spot than his rival is that he failed to reach as many seemingly big matches. He also fell quite flat in a lot of them. While he also gave Murray a big fight at the ATP World Tour Finals, he fell flat against Djokovic, who Raonic had pushed. Nishikori did beat Murray at the US Open, only to lose in the next round. Those big wins late in tournaments are a must if he wants to take the top spot.
Roger Federer and Rafael Nadal
Until the day they retire, Roger Federer and Rafael Nadal will never be counted out. Even if they are in bad form or injured, they will always be looked at as potential threats. And going into 2016, they are both massive X-factors. They will both be coming back from injuries, and what kind of form they bring back will play a big role in expectations.
Because they both missed most of, if not the entire last half of the season, (Nadal only played a handful of events after the French Open, only playing four matches after the US Open, while Federer stopped after Wimbledon), they both have very few points to defend. At the majors, Federer has a bit of a challenge with two semifinal appearances, but he has a grand total of 2130 points to defend, 1440 of which is from the Australian Open and Wimbledon. At the Masters 1000 level, he won three matches in 2016, amounting to 270 points to defend.
Nadal has it a little bit tougher, having played more of the year. But while he played at three majors to Federer's two, his results were far poorer, having only third round points at the French Open and fourth round points at the US Open to defend (he lost in the first round of the Australian Open, so no points to defend). Unlike Federer, he does have a big title to defend, having won Monte Carlo. He also has quarterfinals in Madrid and Rome and a semifinal in Indian Wells to defend. However, his room for growth at the majors could counter out those results. If he's consistent at the Masters 1000s and has some good runs at some majors, he'll be back near the top in no time. They both have nothing to defend in the second half of the season, giving them both huge chances to gain points and charge up the rankings.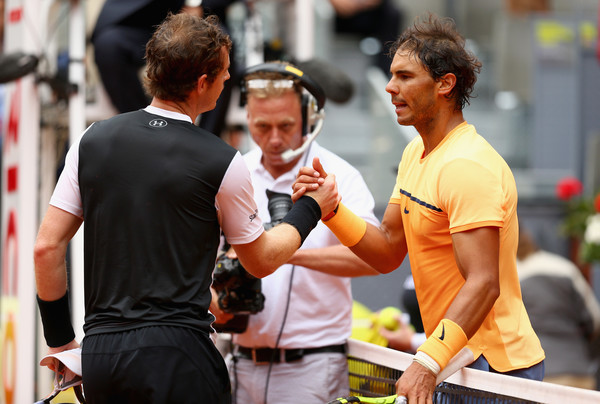 The biggest challenge facing the two greatest men's singles players of all time is their rankings at the start of 2017. Nadal will open the year at number nine, while Federer will be way back at 16. Considering that they both have runner-up performances to defend in the first week of the season, the odds are high that that's where they both will be come the Australian Open. If Federer fails to reach the Brisbane final, he could slip out of the top sixteen. If that happens, he could face a top seed in the third round of the Australian Open. Nadal could be a looming threat for the top guys in the fourth round.
While they would provide terrifying tests early in majors for the top eight, it goes both ways, as both of them could need to go through Murray or Djokovic just to reach the quarterfinals of majors or even Masters 1000 events. They need to gain some big points quickly if they hope to get back in the top eight and earn some easier draws. Given that they will both be rusty and coming off injuries and have very few points to start the season, like everyone else, it will probably be late in the season before they might challenge Murray.
How Long will the Age of Andy Last?
Based on ranking point distributions and last year's results, it's unlikely that Andy Murray will surrender the top spot until October of 2017. As always, it depends entirely on the form of the world number one and those below him. If Djokovic repeats his 2011 success and goes undefeated into May, he gives himself a chance. If Murray has a complete meltdown and loses points despite how few he has to defend over the first four months, he could hand the ranking back to Djokovic.
However, all of that seems unlikely. Or at the very least, would be a massive surprise considering we saw how well Murray played down the stretch and how mightily Djokovic was struggling. Also, you cannot understate the importance of Murray's finals victory at the World Tour Finals. That was his biggest victory over Djokovic since Wimbledon in 2013. That win will surely boost what must have already been a pretty high level of confidence. He should carry that into 2017 and should he and Djokovic meet in the Australian Open for a fourth time, do not expect the same shaky performances we saw from Murray the last two years. This time, he'll know that he can win.
The Age of Andy will probably not be a short one. Expect Murray to reign mostly unchallenged until next fall.