There was a time when coaches were people who spent their careers training players. That was what they did. Coaching was a job that individuals trained to do specifically. But today on the tour, the trend is to hire former champions from the tour, players who, while they had received a lot of coaching in their time on the tour, had been on the receiving end of coaching rather than being the ones responsible for instruction and guidance.
As the tour becomes deeper and the game grows, increasing the pressure on players to succeed, it comes as little surprise that players on the tour would be looking for any leg up they can get and learning from first-hand experience is a great way to do it. The question is are supercoaches a good thing?
In this piece, a supercoach is defined as a coach who is a former top-five player and/or Grand Slam champion in singles on the ATP World Tour.
History of Supercoaches
Not surprisingly, prior to the commencement of open tennis in 1969, there were not very many big supercoaches, as tennis was not a sport that paid particularly well. It was also quite common for players to play into their 30s and 40s so it took longer for players to make the jump to coaching. On the whole, tennis was not a big enough deal for retired players to go into professional coaching.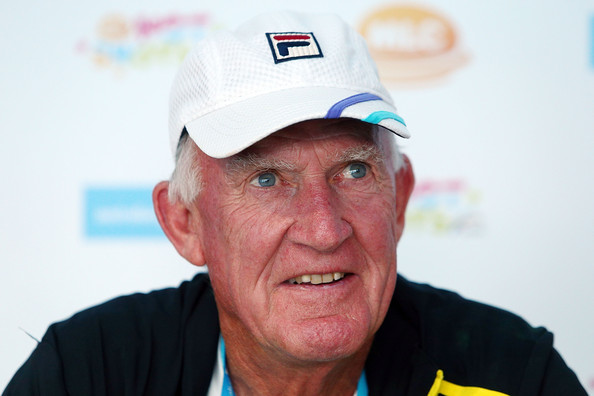 In the early open era, it was most common for players to work with professional coaches, coaches from their youth, or even family members. One of the first supercoaches was Tony Roche, who was a former world number two in singles and had won the 1966 French Open (Roche had been a legendary doubles player as well). The Aussie was brought in by Ivan Lendl, a future supercoach himself, to help his grass court game in the 1980s. Roche would go on to coach world number ones Patrick Rafter, Lleyton Hewitt, and Roger Federer.
We are currently living in the golden age of supercoaches. Within the last decade, there has been a massive increase in supercoaches on the ATP World Tour. Below is a breakdown of the current top ten and their supercoaches.
(italics and asterix indicate current supercoach)
2016
As you can see, slightly more than half of the top ten currently have a super coach (Novak Djokovic only recently parted ways with Boris Becker, so he may bring in a new supercoach for 2017). Eight of the top ten have had one in the past, with Murray and Raonic having had at least four supercoaches in their time.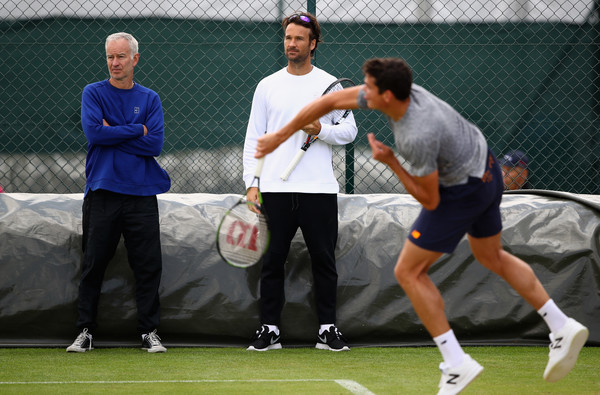 But this is a dramatic change over the last decade. Go back ten years and you can see a clear difference in a player's thinking when hiring coaches.
2006
| | | |
| --- | --- | --- |
| Player | Current? | Current/Past Supercoach(es) |
| Roger Federer | Yes | Tony Roche* |
| Rafael Nadal | No | None |
| Nikolay Davydenko | No | None |
| James Blake | No | None |
| Ivan Ljubicic | No | None |
| Andy Roddick | Yes | Jimmy Connors*, Brad Gilbert |
| Tommy Robredo | No | None |
| David Nalbandian | No | None |
| Mario Ancic | No | None |
| Fernando Gonzalez | No | None |
The stats are completely reversed when comparing 2016 to 2006. Ten years ago, only two men in the top ten had ever had a supercoach, let along a current one. It's also worth noting that neither supercoach would remain with their player beyond the following season. Go back ten years and the difference is even more dramatic.
1996
| | | |
| --- | --- | --- |
| Player | Current? | Current/Past Supercoach(es) |
| Pete Sampras | No | None |
| Michael Chang | No | None |
| Yevgeny Kafelnikov | No | None |
| Goran Ivanisevic | No | None |
| Thomas Muster | No | None |
| Boris Becker | No | None |
| Richard Krajicek | No | None |
| Andre Agassi | Yes | Brad Gilbert* |
| Thomas Enqvist | No | None |
| Wayne Ferreira | No | None |
20 years ago, only one member of the top ten had a supercoach. But even Agassi's hiring of Brad Gilbert needs to be taken with a grain of salt. First of all, while Gilbert was a former world number four, he was arguably the least successful player of all the player-turned-coaches on the above tables. Also, by the time Agassi hired Gilbert in 1994, Gilbert had already written a book about tennis, Winning Ugly, which specifically discusses strategy, mentality, and was essentially a coaching book. Gilbert was a far more successful coach than he was a player.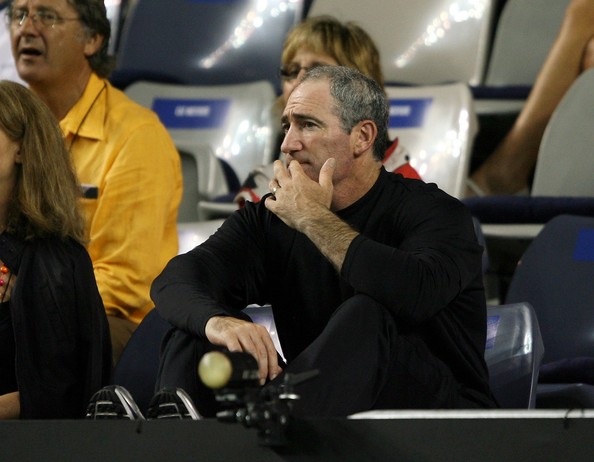 For whatever reason, whether it be a change of conditions on the tour, current players looking for any advantage, or the sheer number of former players looking to stay involved in the game, supercoaches are becoming more and more common on the tour, especially over the last couple of years.
Why Hire a Supercoach
There are several good reasons to hire a supercoach, but one stands out above the rest: experience. While professional coaches may have more technical knowledge than former players and may be better teachers and psychologists, they don't know what it's like to be on the court actual competing in the big matches. Only former players really understand how it feels to be in the fifth set of a Grand Slam final, or just to be contesting a big match.
And that's often what players are looking for these days. Because the talent pool on the ATP World Tour is so deep these days, mental toughness and experience is often the difference in big matches. That's why supercoaches are a sought-after commodity. They can bring a level of understanding and experience for current players to learn from that ordinary coaches don't have. There's nothing quite like being there. This a big reason why coaches like Ivan Lendl were hired.
There are also physical, game-based reasons for hiring a supercoach. Most tennis players spend their early years working with professional coaches because they are generally better at helping players develop their full game. Note that one of the two players in the current top ten that does not and has never had a supercoach is the youngest player in the top ten, Dominic Thiem. When you're trying to build your game and establish yourself on the tour, a professional coach is the better choice.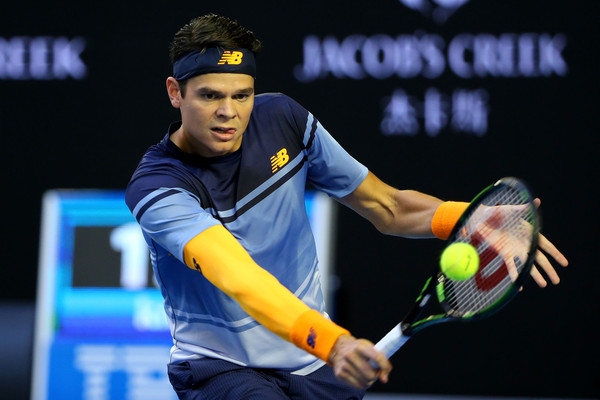 That being said, once you're an established player with a specific style, a supercoach becomes particularly handy as a sort of specialist. Often, players hire supercoaches to help with a specific aspect of their game. There perhaps no better example of this than world number three Milos Raonic. First, he hired Ivan Ljubicic to help with his big-hitting, baseline power game. Under Ljubicic, Raonic established himself as one of the strongest hitters from the baseline on the tour.
But when questions were raised about his movement and consistency, he hired former French Open champion Carlos Moya. As a result, Raonic's groundstrokes became incredibly more consistent and his movement improved exponentially. Looking for an edge on grass, the Canadian brought in three-time Wimbledon champion John McEnroe to help hone in his game on the lawns of England. McEnroe helped Raonic at moving forward and attacking the net. The Canadian would reach back-to-back grass court finals at the Queen's Club and Wimbledon.
This a common reason for players hiring supercoaches. When players are in need of help with specific aspects of their game, a supercoach can be the right choice if they as a player possessed whatever weapon or element of their game that the player needs. Sometimes players could use a coach who made it on the tour with a similar style to learn from.
The Best and the Worst
Not all supercoaches are created equal. Some have had a more profound effect than others.
The Good
Ivan Lendl
While perhaps not statistically, eight-time major champion Ivan Lendl has easily been if not the most successful, at least the most influential supercoach of them all. When he took over coaching Andy Murray in 2012, the Scot was the tour's premier under-achiever. He was 0-3 in major finals, one loss short of joining Lendl as the only players to go 0-4 in their first four Grand Slam finals (even with Lendl's help, Murray would fall to 0-4 with a loss at Wimbledon that year).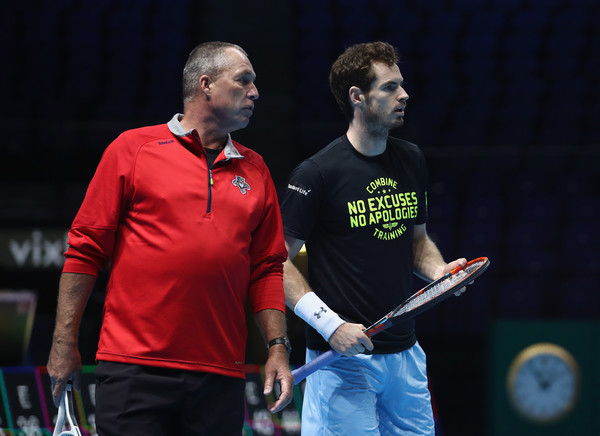 Lendl was the perfect choice to coach Murray, since as a player, he'd had a similar experience of being a top player with high expectations but was seen as a choker and could not get over the finish line at the majors. While Murray would lose their first major final together, he would finally score that critical win at the 2012 US Open. He added a historic Wimbledon title in 2013 with Lendl's help. The Czech's influence on Murray was profound.
What adds to the legend of Lendl was his comeback with Murray. After the pair parted ways in 2014, the Scot struggled, posting some ok results but failing to win a big title until the pair reunited in June 2016. With Lendl back on board, Murray won his first three tournaments, including a second Wimbledon title and second Olympic gold medal. Under Lendl's guidance, Murray went on a tear that saw him finish the season at number one. He has only lost two matches since they reunited in June. It's clear that whatever influence Lendl has on Murray, it's key to the Scot's success.
Stefan Edberg
In 2013, Roger Federer appeared to be finished. The Swiss was struggling with injuries, was out of the top five, and failed to reach a major final for the first time since 2002. And after all, he was 32 years old, well past the age where most tennis players begin to struggle. But Federer was not about to give up. The Swiss hired six-time major champion Stefan Edberg to help him re-find his form.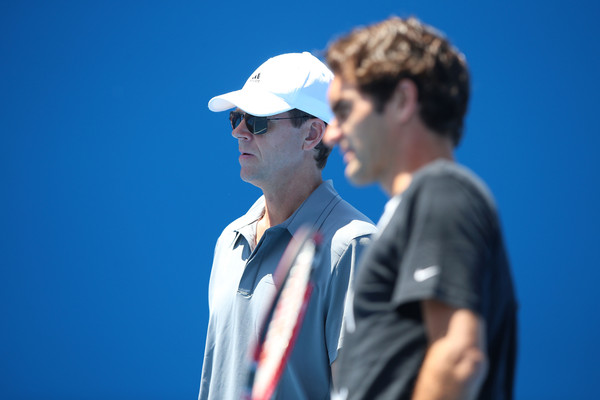 While Federer failed to win a major under Edberg's guidance, the Swede still had a major effect on the 17-time major champion's game and can largely be credited with the Swiss' renaissance and continued career. While Federer had always been an aggressive player with a strong net game, Edberg helped him hone in on an even more lethal serve backed up by an unrivaled net game. This old-school primarily serve-and-volley style was easier on Federer's body, which allowed him to take physical strength and stamina out of the equation in long matches.
The result? Three more major finals, two more ATP World Tour Finals finals, a Davis Cup title, two year-end finishes at number two in the world and near-miss at the number one ranking in 2014. And while Federer struggled with injuries in 2016, they were sustained off-court and had nothing to do with his style. Stefan Edberg is the reason why Roger Federer is still a contender on the ATP tour.
Carlos Moya
It may be early to make a call on former world number one Carlos Moya's coaching ability but, while like Edberg he has yet to lead a player to a major title, he transformed a player in a way very few other coaches have. What makes Moya's coaching accomplishments perhaps more impressive than any other coach mentioned here is the fact that he arguably had the most work to do with the weakest player. Under Moya's guidance, Milos Raonic went from a run-of-the-mill, solid-but-not-great top twenty player to number three in the world and being one of the biggest threats to the old guard on the tour.
When Moya took over Raonic's coaching duties from Ivan Ljubicic last winter, the Canadian was in a bad state. He'd had a down year, primarily because of injuries, but his game was also stagnating. Yes, he had a big serve. But that wasn't helping him in big matches. His questionable movement was still being manipulated by his opponents and the consistency of his shots was costing him a lot of matches.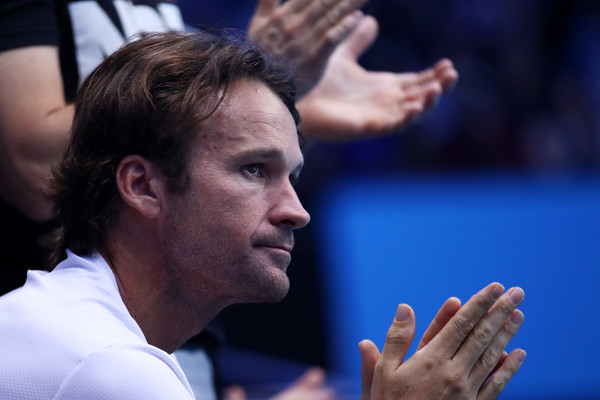 Moya's impact was immediate. Boasting improved movement and more consistent ground strokes, especially his backhand, Raonic would defeat Federer for the Brisbane title to start the season, reached the semifinals of the Australian Open and the final of Indian Wells in his first three events. Thanks to the tweaks Moya had made his to game, Raonic was one of the most consistent players on tour through the first eight months of the season, where he reached his first career major final, and would go on to finish the season at a career-high of number three in the world. Even though he has moved on, Moya will be deserving of credit for any big titles Raonic wins in the future.
It's also worth noting that clearly one bigger star was impressed by Moya's coaching ability: Rafael Nadal. The former world number one brought in his fellow Majorcan as a coach earlier this month. If Moya can help Nadal bounce back the way Edberg helped Federer, he could challenge Lendl for the top spot.
The Ok
Lots of supercoaches land somewhere in the middle. They get the job done and have some flashy results, but they still fail to solve all the problems their player has. And in the case of some supercoaches, like the first man in this section, their own experiences can create problems that they can't solve.
Boris Becker
Statistically speaking, Becker is the most successful supercoach thanks to his three seasons with Novak Djokovic. Under the German's guidance, Djokovic dominated the game, winning six majors, including all four in a row in 2015-2016, finished two seasons at number one and spent the better part of the three season at number one in the world.
Becker had a clear influence on Djokovic's game, helping the Serbian up his aggression and improve his serve, winning more matches by overpowering opponents and smothering them with his consistent, strong shots. It took some time for these lessons to take hold, as sloppy mistakes from over-aggression played a big role in Djokovic's fourth round loss at the 2014 Australian Open. But before long, the Serbian was back in full swing and better than ever.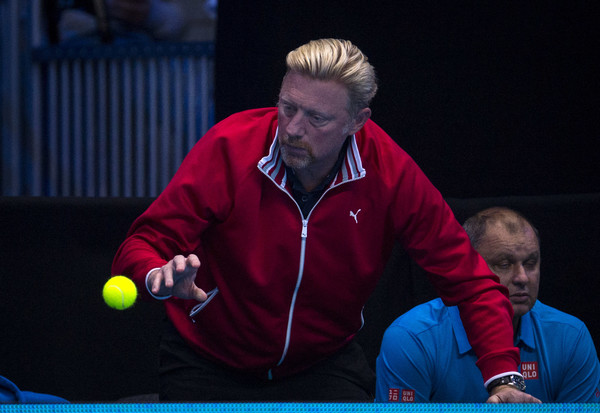 So why doesn't Becker rank in the "good" category? You could point to Djokovic's struggles since the French Open, but it's not so much how Djokovic has been playing that reflects badly on Becker's coaching, it's his attitude. Becker was a feisty character as a player and there was concern that he would pass that on to Djokovic. While Djokovic was never an icy, expressionless customer like Federer or Nadal on court, he was never as angry as he is now.
Screaming, especially at Becker in his box, and smashing racquets are common in Djokovic matches since Becker came on board, even in matches Djokovic wins. In 2016 alone, twice the Serb was nearly disqualified for firing equipment at spectators and was criticised for shoving an official. These are things that started happening under Becker. It was long reported that the pair were not friends off the court. That's not really an environment that's good for a player. Djokovic was so good that it didn't stop him from winning, but not everyone will be able to survive some of the potential problems that Becker brings with him.
Goran Ivanisevic
2001 Wimbledon champion Goran Ivanisevic essentially took on a classic supercoach situation: a player who had been solid for a long time but had never quite reached their potential. The one key difference was, when he took over coaching Marin Cilic in late 2013, the Croat was suspended for drug use. Other than that, Cilic had been kicking around on the tour for years with some of the biggest shots out there, but could never put his game together for enough consecutive matches to win big titles.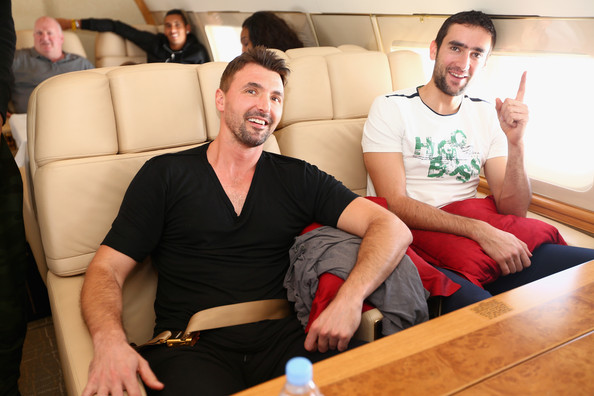 In 2014, with Ivanisevic in his corner, Cilic nearly took out Djokovic at Wimbledon before crushing Roger Federer on route to a Grand Slam title at the US Open. The Croat was untouchable in New York, blasting all challengers off the court. The thing with Cilic is, while when he's on his game, he's almost untouchable for even the best guys on tour, he's still inconsistent. That leads to this statement about Ivanisevic as a coach: his players follow in his footsteps.
Ivanisevic was an inconsistent player. On his best day, no one could touch his monster serve. But he very rarely had enough good days to win the big titles. His lone major title came out of nowhere in 2001, nine years after his first Wimbledon final. Ivanisevic is currently coaching Tomas Berdych and it's too soon to see what kind of effect he will have, although Berdych imploded down the stretch when trying to qualify for the ATP World Tour Finals, but while he did great things for Cilic, he did not manage to turn Cilic into a consistent top player.
Michael Chang
In some ways, you can say the exact same things about Michael Chang as a coach as you could about Ivanisevic. In other ways, they're opposite. They're the same in so much as they've succeeded in turning their charges into new versions of themselves. They differ in that Ivanisevic coached Cilic to a major champion but mostly inconsistency, while Chang has turned Kei Nishikori into one of the most consistent players on tours who can't win the big events.
Chang was one of the best defensive players on the tour in his day and that's what Nishikori has become under Chang's guidance. But like Chang, he often falls in the biggest matches. While the American did win a major, and an epic win it was (the 1989 French Open at 17, he remains the youngest men's singles champion in the Open Era), after winning that title, he went 0-4 in major and year-end championship finals over the rest of his career, only reaching a dozen major quarterfinals, just over 20 percent.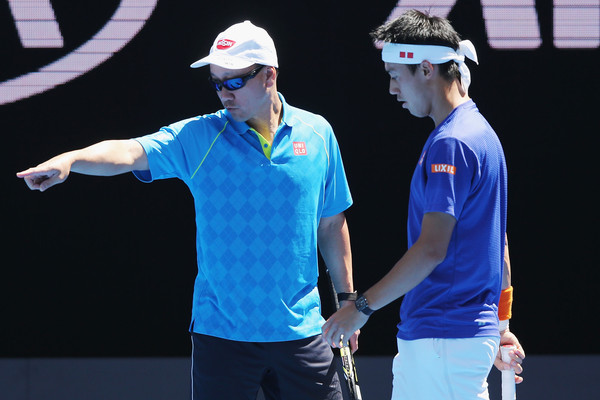 And Nishikori is pretty much the same. He's a safe bet to reach the quarterfinals of every tournament he enters. After that, it's anyone's guess. While the Japanese can push the big guys and even score the odd upset, like when he beat the red-hot Andy Murray at this year's US Open, he still falls short in big tournaments. He fell flat after that upset of Murray in the US Open semifinals, was blown out in the 2014 US Open final (by the Ivanisevic-coached Cilic, no less) after upsetting number one Djokovic, is 0-4 in major and Masters 1000 finals and has lost his last four finals in a row. Chang has shown that he can help a player build consistency, but hasn't been able to build a champion.
The Bad
To give full credit to former players, there have not been very many supercoaches that have failed completely or could be classified as bad. There have only been some who have been less successful than others or could be called disappointing. None of these coaches below were bad coaches. They were simply less successful than the players who hired them might have hoped.
Jimmie Connors
Former world number one and eight-time major champion Jimmy Connors had one big shot at making an impact on the ATP Tour as a coach and didn't meet expectations. In actual fact, Connors did fairly well on his stint with Andy Roddick, helping the former world number one and US Open champion back up to number three in the world. After a quick start that saw Roddick win Cincinnati and reach the US Open final in 2006, the American would struggle in big matches, despite posting some consistent results.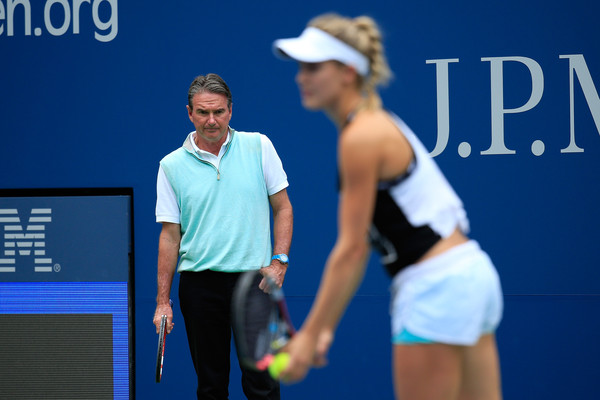 He would win three titles with Connors in 2007, but did not reach a major final (his first year without a major final since 2002) or a Masters 1000 final during their time together. In fact, days after parting ways, Roddick would win his biggest title since Cincinnati in 2006, the 500 event in Dubai. The most-remembered moment of their partnership was Roddick's blowout loss to Roger Federer in 2007 Australian Open semifinals, where he only won six games.
Since the focus here has been the ATP, it may be unfair to talk about WTA coaching results. But you can't talk about Connors and coaching without bringing up his disastrous one-game coaching stint with Maria Sharapova. No other supercoach has a mess quite like that on their record.
Amelie Mauresmo
Timing may have been key to Amelie Mauresmo's lack of success with Andy Murray, but the fact remains that the years between stints with Ivan Lendl were a letdown for the Scot. Mauresmo's shouldn't really be blamed, but the fact is that Murray had won majors in 2012 and 2013 and proceeded to not only fail to win a major title in his first year with Mauresmo (or at all during their partnership), but failed to reach a major final outright.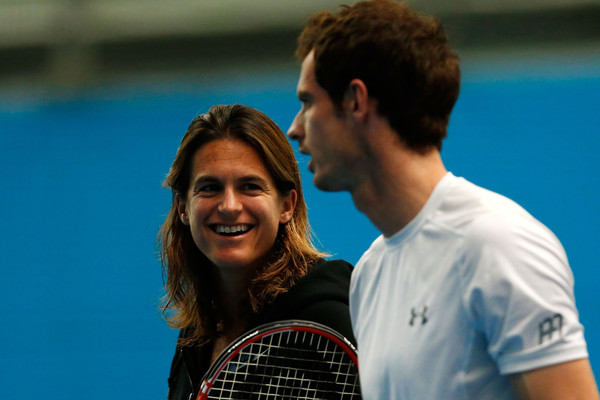 During their time together, Murray only reached two major finals, both at the Australian Open, both disappointing losses to Novak Djokovic. After finishing six straight years in the top four, Murray fell to number six in 2014. Now, full credit to Mauresmo, Murray was injured at the start of their time together which derailed much of his 2014 season. She also had a great effect on his clay court game. But it does not reflect well on Mauresmo that in the periods sandwiching her time with Murray, he was a far stronger player than he ever was with her. And while Lendl should be given full credit, it certainly doesn't look good that months after parting ways, Murray became number one in the world.
Ivan Ljubicic
Ivan Ljubicic started so well. His first 18-months coaching Milos Raonic were fantastic. Within two months of being hired, he guided Raonic to the biggest final of his career at that point, at the Masters 1000 event on home soil in Montreal. Helping the Canadian perfect his power game, Raonic had a career year under Ljubicic in 2014, reaching his first major quarterfinal at the French Open, first semifinal at Wimbledon, another Masters 1000 final in Paris, the ATP World Tour Finals and won the biggest title of his career up to that point at the 500 event in Washington.
Expectations were high for Raonic entering 2015, but the success never materialised. After another solid start, where he reached the final in Brisbane, quarterfinals of Australian Open and semifinals of Indian Wells, upsetting Rafael Nadal along the way, Raonic's season nose-dived. It all started with injuries in May and the Canadian never recovered, stumbling through the final months of the season and finished the year outside the top ten. Ljubicic has had an element of bad luck as a coach, as his second charge, Roger Federer, was injured off court in early 2016, which derailed his season almost entirely.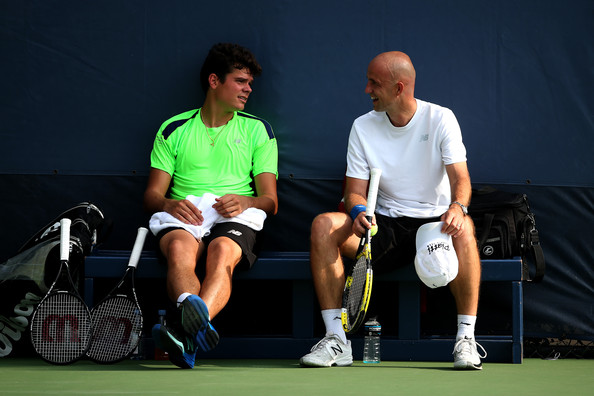 While Ljubicic can't be blamed for his players injuries, it was abundantly clear in 2016 that he wasn't really helping Raonic by the end. In a similar situation to Mauresmo, a new coach for his player made it clear that he was not the right person for the job. While Ljubicic helped Raonic hit the ball bigger, he did not help cover the Canadian's weaknesses: his movement and his consistency. As Carlos Moya showed, Raonic didn't need to hit the ball bigger. If anything, he needed less power. Ljubicic was guiding Raonic in the wrong direction. And while Federer was injured for most of 2016, the Croat failed to do much to help him. Federer was blown out in the 2016 Australian Open semifinals and, in a match that really doesn't reflect well on Ljubicic, lost a tight five-setter to Raonic at Wimbledon, in a rematch of the match Federer won in 2014 when Raonic was coached by Ljubicic, making Ljubicic 0-2 in Raonic vs. Federer semifinals at Wimbledon.
Are Supercoaches a Good Thing?
Yes. Even the coaches listed above as "bad" were not really bad coaches. For the most part, they were still better than a lot of standard coaches. They were often the victims of circumstance or may not have been the right person for the specific job. The number of successful supercoaches/players who have had great success with supercoaches massively outweighs the number of players who have struggled with supercoaches.
Supercoaches bring positives that regular coaches cannot and the potential negatives are about the same as you risk with a regular coach. As with hiring any coach, it's a bit of a gamble, but the potential positives of hiring a supercoaches massively outweigh the negatives.
It's still early. Supercoaches are a relatively recent phenomenon. As we've seen, a lot can change in ten years. Perhaps over the next decade, there will be more supercoaches who aren't so super. But for now, if there's a former player looking to get into the coaching business, you can bet tour pros will be lining up for their services.