 After a breakthrough 2016, Kazakhstan's Yulia Putintseva is already looking forward. The 21-year-old rising star, who reached a first career Grand Slam quarterfinal this season at the French Open, is already eyeing greater heights in 2017 after ending a career-best season ranked 33. In an exclusive sit down with the Russian-born rising star, Putintseva discusses her breakthrough 2016 as well as outlining her even greater goals for the upcoming year.
In a year which featured the Kazakh's first major quarterfinal as well as two top-10 wins, it would be easy for the 21-year-old to be satisfied. Instead, Putintseva looks ahead. Asked how she would rate her season and the improvements made this year, Putintseva said, "Of course the 2016 year was like the best for me so far, yes. I'm really happy about my performance. There was the good moments and the bad moments of the season. I'm happy that I did better than the year before and I'm looking forward for the next year for the 2017," concluded the Kazakh.
While the Moscow native may have reached a career-best 5 quarterfinals this season, the clear highlight of the year was always going to be her run to the last eight at Roland Garros.
When discussing that breakthrough run in Paris, the 21-year-old said, "I think of course the French Open was one of the biggest results in my career so far. So, I'm really happy about that. I played some great matches there. Not enough experience in like quarters because I never played like quarters or 3rd round or 4th round before [of a Grand Slam] so I think it was a good experience for me for the future and I just want to keep moving forward," added Putintseva.
During that French Open run, the world number 33 scored some career-best wins, most notably over former top-10 players Andrea Petkovic and Carla Suarez Navarro. Despite not dropping a set en route to her first Grand Slam quarterfinal, arguably Putintseva's best match of the season came in a losing effort to then world number one and 22-time major winner Serena Williams.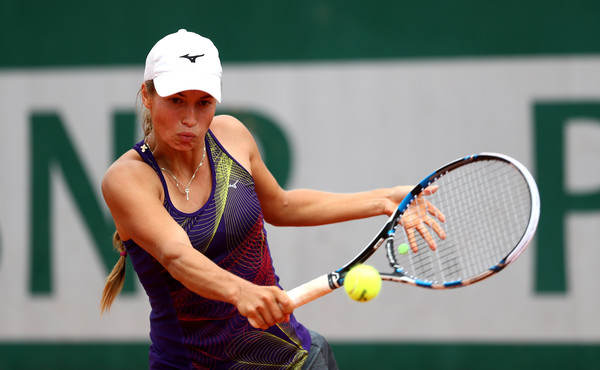 While the 21-year-old had already faced the American great twice before in Madrid and Indian Wells, nothing compared to facing one of the greats of the game in the last eight of a major for Putintseva. After eeking out a tight first set against the three-time French Open champion, the Kazakh rising star kept inching closer and closer to a monumental win, reaching withing six points of defeating Williams.
Eventually, the then world number one clawed her way back, upping her level to defeat Putintseva 5-7, 6-4, 6-1, but for the 21-year-old, the near-victory against the American great was not a lost cause.
"I think I didn't have enough experience. I was like close for the end of this match to win but in the same time it was a little bit far and then there was cold and the break points for me in the second set after I won the first one so I was just a little bit nervous about that and I start to think too much and I think that's why I didn't show my best level afterwards," said Putintseva, who uses the match against Williams as a learning point to move forward in her promising career.
"But as I said it's experience and I'm still 21 so I have a few years ahead of me, so I should just take it, learn from it, and go forward," said a confident Putintseva.
Despite the heart-breaking loss to Williams, the Kazakh youngster still takes a lot of confidence out of her first major quarterfinal run. "Of course it's very inspiring and I had a lot of confidence there because I love to play on clay," said the 21-year-old and WTA year-end number 33.
"Beat some great players there like Andrea [Petkovic] obviously and all of them were like really great and Carla [Suarez Navarro] and so yeah was just when I came there like was really focusing to do my best as like all the tournaments but because it was on clay I had even more chances so was just doing step by step and it went well in the end," concluded Putintseva.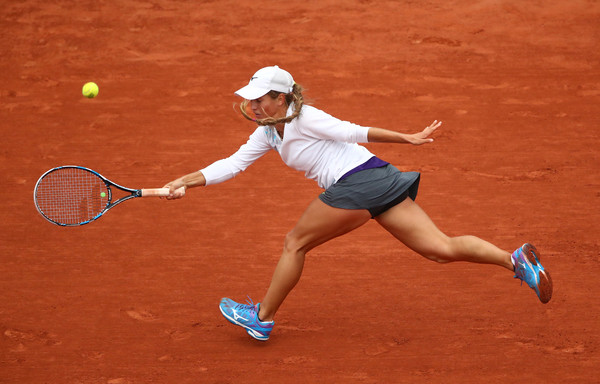 Now though with the 2017 season beginning in a matter of days for Putintseva, the Moscow native must now turn her attention towards what looks to be a promising year for her. The world number 33 will begin her season in Brisbane at the Brisbane International, before heading to Melbourne for the first major of the season, the Australian Open.
When asked about what improvements Putintseva and her coach Roman Kislyanskiy have been making for the upcoming season, the 21-year-old said, "I want to improve everything: forehand, backhand, serve, volley, everything that's possible. I mean I want to just to improve all my level and keep on going and do as best I can for the next season," said a seemingly hungry Putintseva.
While some players narrowly focus on one specific shot to improve, Putintseva and her team seem to have the bigger picture in mind, focusing simply on improving the Kazakh's all-around game. Putintseva continued on saying, "I'm actually doing everything I'm not like saying for one thing. I'm doing fitness, I'm doing forehand, a lot of backhand work, and lots of serves and stuff so I cannot like say that I'm working on that and only on that. I'm just working in general on everything," concluded the world number 33.
Despite Putintseva's clear hunger to improve her game and to better her results in 2017, the goal remains simple for the 21-year-old rising star. "My first goal is to be healthy and not get any injuries and try to be positive and enjoy the game," said the Kazakh.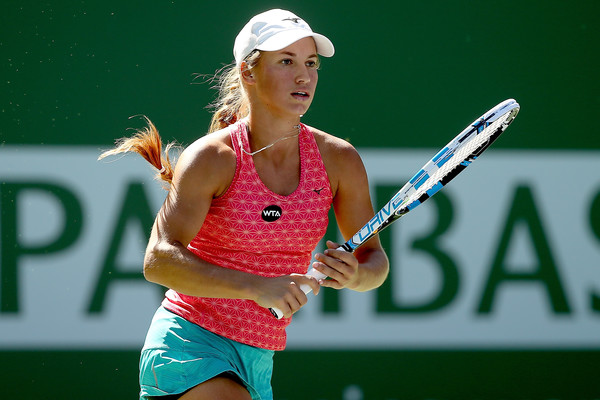 For the Russian-born Kazakh, Putintseva spends much of her rigorous off-season training in South Flordia, a hotbed for many of the game's elite to train. For any professional tennis player, the training and work put in during the offseason remains crucial, with key improvements always looking to be made as well as fitness hoping to be replenished and strengthened.
When asked about how her offseason preparations went, the world number 33 said, "It's perfect time in Florida. I have perfect conditions here it's not raining a lot. It's very good weather. I have here fitness coach, my coach, my hitting partner, so it's going pretty well," concluded Putintseva.
Now the focus turns to putting all the goals and hard work of the offseason into fruition with the first major of the season just around the corner in Melbourne. Reaching the third round at Melbourne Park last year, Putintseva will be seeking a deeper run in Australia this time around in 2017.
Asked about her goals or expectations for the first major of the season, the Moscow-native said, "I don't have any expectations. I just gonna go there and do the best because you know that tournaments like in Australia like all the Brisbane, Sydney, and Australian Open have all the best players there so you cannot really like expect something because even when you have like two of the best players playing, one of them is going to lose so I'm just like looking positive in the way that I'm improving and for me it's the most important that I will play good there. And the results, we'll see," said a cautiously optimistic, yet confident Putintseva.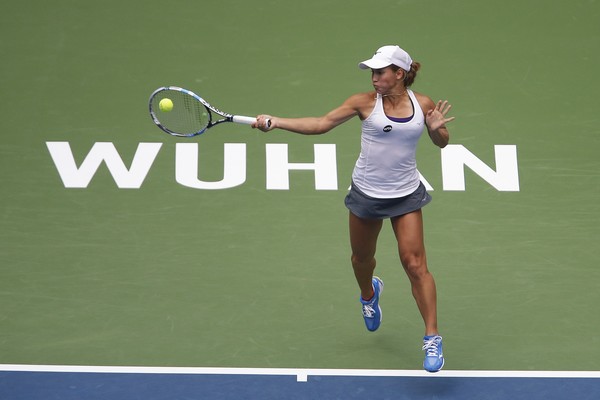 One of the things Putintseva will look to keep going in 2017 will be her effectiveness in third sets. During the 2016 season, the 21-year-old enjoyed high amounts of success in deciding sets, particularly against the top players. Two very tight third sets help lift the Kazakh over seven-time major winner Venus Williams in Charleston as well as a third-set tiebreak victory over top-10 player Madison Keys in Tokyo.
Asked about her success against the very top in deciding sets, Putintseva said, "It's very tough. First, you have to be physically ready to make the third set especially against very great opponents like a Muguruza or Serena. The first one has to be fitness like you have to be ready physically to make it to be able to get to the third set and finish it in the end like it was in Australian Open, it was crazy conditions," said the Moscow native.
"But yeah, it's just first off, it's fitness and then it's mental, and all together it's very tough. Very, very tough. But it's the way it should be and it's not going to be easy for anyone to get to the pros and to keep the level there," concluded an insightful Putintseva.
Now after her breakthrough season, Putintseva finally seems to have reached the level many expected of her after an incredibly promising junior career. For many, the transition from the junior level to the pros remains a very tough one and for the 21-year-old it was no different.
"Unfortunately, it was a tough one because, first of all, when you transfer from juniors to the pro level it's more a mental game as well. The women's are tougher on the important points, and that's why you have to like show your mental strength as well. Also, I had some injuries at the start of the year so I was coming back so it was very difficult to come back and to make the pros again," concluded a very honest and open world number 33.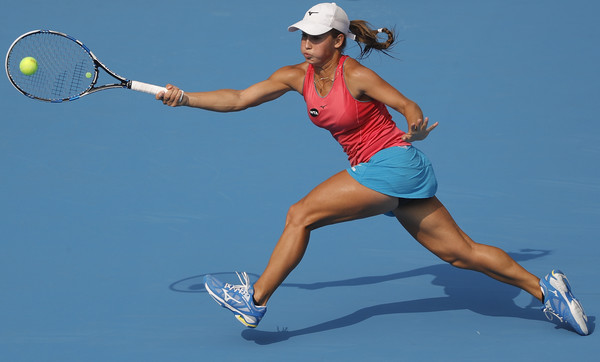 Now having finally broken through and reached the level many thought she was capable of, the focus of this coming season for Putintseva will be building on the success she enjoyed in 2016. Asked how she would rate her season, the 21-year-old rising star said, "6 or 7," Now the question for Putintseva will be how much closer can she bring herself to competing for the biggest titles in the sport and just how much more can this 21-year-old star rise in 2017?