World number one Angelique Kerber returns to Brisbane as the runner-up from 2016 ahead of her title defence at the Australian Open which gets underway in Melbourne on January 16th. The two-time Grand Slam champion spoke to the media in Brisbane, and she begins her first match in 2017 against Australia's Ashleigh Barty.
"To be honest, I'm really not thinking about defending points or pressure, whatever." The German who claimed three titles in 2016 added, "I was like really happy to be back in Australia like the trip was really long again. It's always nice to be back here. Everything starts here last year for me. Everything actually, this is my only feeling I have now to being back here and trying to get used very fast to everything, the jet lag, the weather conditions, and just playing like I always playing game after game.Yeah, of course, to play my best here again."
The 28-year-old usurped Serena Williams as the world number one at the US Open ending the 22-time Grand Slam champion's three-and-a-half-year reign at the top of the summit. During the press conference, Kerber was asked if Williams will be her main threat this season, and the German spoke gracefully about her rivalry with Williams.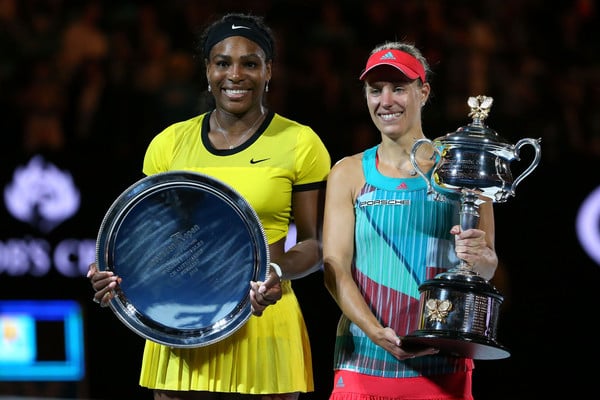 "Serena is one of the best players in the world and she's a champion. So it's always, yeah (an) honour to play with her. I (am) really looking forward to play against her on big courts and big matches, yeah I'm sure that will not be easy."
To conclude the press conference, Kerber was asked about her best friend and former world number one Ana Ivanovic's retirement from professional tennis, which the 2008 French Open champion announced last week.

"I think she was thinking a lot, and I think she, for her, like, that's her decision. I'm really close to her, and she's one of my best friends on tour, so I will miss her really much. I told her that, I was like okay Ana, I will miss you now. Yeah, but I know I will see her very soon again, and she is still my friend. Of course, it's a little bit sad, but that's her decision. If she's happy, I'm happy."
Kerber had a stellar 2016 season winning the Australian and US Opens, and most notably being a runner-up at Wimbledon losing to Williams, losing to Karolina Pliskova inCincinnati and a silver medalist at the Rio Olympics losing to Monica Puig.