 Last year's US Open finalist Karolina Pliskova is currently competing at the Brisbane International in preparation, for this year's first hardcourt Grand Slam tournament of the year at the Australian Open in Melbourne. However, the Czech spoke to the media about her Fed Cup teammate Petra Kvitova's shocking stabbing from an intruder that invaded her home last month, and that the two-time Wimbledon champion will be out of competitive tennis for six months, nonetheless, Pliskova is backing her compatriot to come back stronger than ever but it's a long road ahead.
"Mentally, it will (be) hard for her to get back from this, but she is a strong girl. She's really not the girl who deserves this. I don't know if it was unlucky or on purpose. They haven't found the guys, the police but hopefully, they will soon."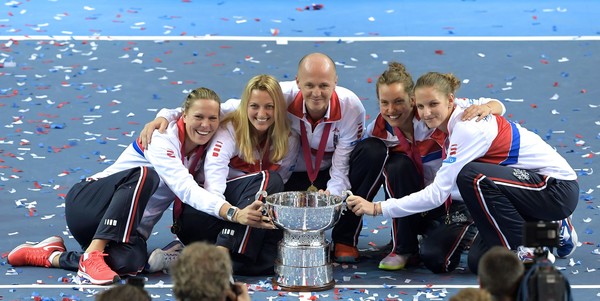 The world number six claimed the biggest title of her career at the Western and Southern Open in Cincinnati last August has revealed that she has been sending text messages to her compatriot who has been keeping herself busy.
"Petra has a lot of people texting her right now, so she's kind of busy. Hopefully, she is feeling fine and will be back soon."
Unfortunately, Kvitova was targeted on her left hand which she uses to play tennis during her terrifying ordeal with the burglar and she defended herself bravely, but she will be unable to play tennis for at least six months completely ruling out the world number 11 from competing at the Australian and French Opens, and most likely will miss her beloved Wimbledon.
Pliskova's been a part of the last two Fed Cup successes with Kvitova, and the duo have competed on tour against each other on two occasions with Kvitova being victorious both times.