 We're only four days into the tennis season, and one thing that is already a worrying sign for David Ferrer is his inability to close out matches or keep them short. That was evident against young Jordan Thompson of Australia at the Brisbane International. The Spaniard's match went three sets against the Aussie, and that is something we are not accustomed to seeing Ferrer do against lower-ranked players. The Spanish number three lost 6-4, 5-7, 5-7 to Thompson
Early on, it was a hold of serves as the two just let the rallies play out, letting them catch on any patterns they would go through in key points of the rallies. After that, the Spaniard began to start punishing Thompson's short balls and groundstrokes which allowed him to take the first set. However, Thompson knew that once he found his footing, he could hang with Ferrer. The world number 79 played an intelligent last two sets, grinding out the points and making Ferrer work. Normally, this is something that Ferrer would punish you for, but the years of that punishing brand of tennis has taken a toll on the Spaniard. Thompson may not have the resume that Ferrer has, but his younger, fresher legs aided him to victory in what was the biggest win of his career.
The Fall
Ferrer has been a perennial top-ten player throughout the last 10 years of his career. Despite that, the toll of having no big weapons and relying on consistency, movement, and ruthlessness has seen the Spaniard dip in form in a massive way. 2016 marked his first season since 2004 where he did not reach the 40 win threshold, and it was his first season without a title since 2009. 2016 also marked his lowest win total since 2006; 2006 he won 41 matches, and this past year he won 36. He started the season ranked 7th and ended the season 21st.
Deja Vu
Last season, Ferrer also started his season with a loss to someone ranked much lower than him. Illya Marchenko upset Ferrer in three sets and had to come from behind just like Thompson did. Unlike this match though, the Ukrainian really punished Ferrer in the last two sets, winning 6-3, 6-2 after dropping the opening set tiebreak.
Upsets Upon Upsets
Buenos Aires last year represented the first major blow in the Ferrer armor. After 15 straight wins against Nicolas Almagro, he was favored to defeat his countryman, especially on his favorite surface. It was no luck though as Almagro played brilliantly to exercise his demons of 15 losses in a row to defeat his countryman.
Miami and Madrid proved no better as Lucas Pouille took him out in Key Biscayne and was forced into two three-setters against an opponent he's dominated plus an opponent whose weak surface is clay (Guillermo Garcia-Lopez and Denis Kudla). To be fair, Pouille finished the season inside the top 20 after a hot run, but to most of the tennis world, it was a massive upset.
Rome proved to be no better with Filippo Volandri putting the Spanish number three on upset alert after taking the first set before Ferrer restored order, and the grass season only worsened it for Ferrer.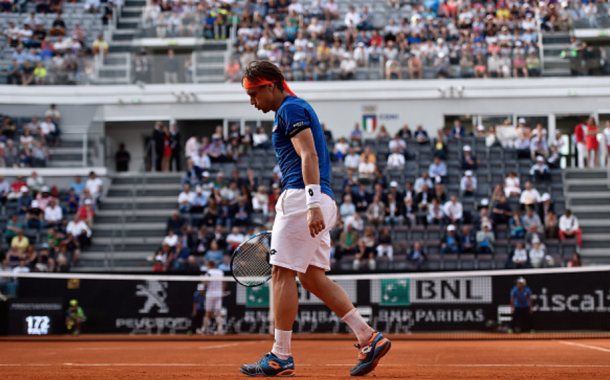 Summer of Sulking
Unexpected and/or bad losses was the second major blow. Andreas Seppi took him out in Halle and following that was a beatdown by Nicolas Mahut at Wimbledon. It went from bad to worse as unknown Calvin Hemery and the entertaining yet erratic Dustin Brown both took a set from Ferrer on the clay of Bastad before he righted the ship.
That ship was righted for only a short time though as his six-match win streak to Albert Ramos-Viñolas came to an end. He took nearly a month off for the Olympics, but that had no end product as he lost to Evgeny Donskoy in a second round upset. An upset loss at Cincinnati to Julien Benneteau ended the summer of upsets since losing to Juan Martin del Potro at the US Open does not count as an upset.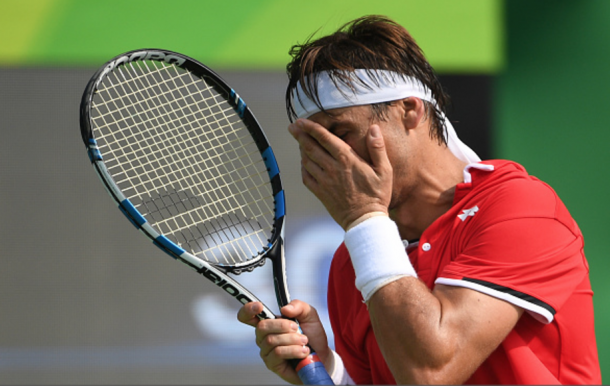 The New Normal
After a sweep of his two rubbers in the Davis Cup plus a strong semifinal run in Beijing, it all looked like it was going back to normal for Ferrer. That was not the case though. Feliciano Lopez stunned him in three sets in Shanghai, ending Ferrer's seven-match win streak over him. His season ended with another loss, this one to John Isner in Paris which ended his four-match win streak against him. The Spaniard had beaten Isner earlier in the year at the Australian Open in straight sets and had even defeated the American at the BNP Paribas Masters the year before.
At 34, nearing 35, it might not be time to pack the bags just yet for Ferrer. However after over a decade-plus of success and being a top-ten regular, the new normal for the Spaniard will have to be dealing with these losses to players he should be beating.