Despite some struggling moments, especially during the second set, world number one Angelique Kerber signed a positive debut for her 2017 season at Brisbane International, defeating local wild card Ashleigh Barty after a three-set fight.
The more experienced Kerber had been able to overcome some difficult moments, especially during her service games - with 9 double faults - and with a large number of return errors. A more confident game in the deciding set, in which she had been able to build the momentum, had cleared her path to the win.
20-year-old Barty, who had come back to tennis in 2016 after two years of hiatus, could still mark it as a positive start for her season, with a clear win against Aleksandra Krunic in the first round already in her belt.
Kerber overcomes a slow start to take the first set
The world number one wasn't at her best as the set started, letting her opponent taking full control of the game to mark a 2-0 lead, scoring multiple points with powerful backhand winners. Kerber reacted right away, looking more and more for Barty's forehand. Some crucial errors from the Australian and Kerber broke back, then held her serve for a 2-2 scoreline.
Barty reacted with a good game on her own serve, but could nothing as her opponent held to love. Back on the Australian's serve, the world number one converted her chance to take the lead for the first time in the set. Refusing to give up already, the 20-year-old set up a close battle on Kerber's serve, scoring important points at the net and with her backhand, but failing to convert any of her five chances to break back. An error at the net from the Australian eventually delivered the game into Kerber's hands.
Probably affected by all the missed chances, Barty found herself in a struggle while serving to stay in the set, and two more forehand errors closed the game with one more break for the German, who won the first set with a 6-3 score line.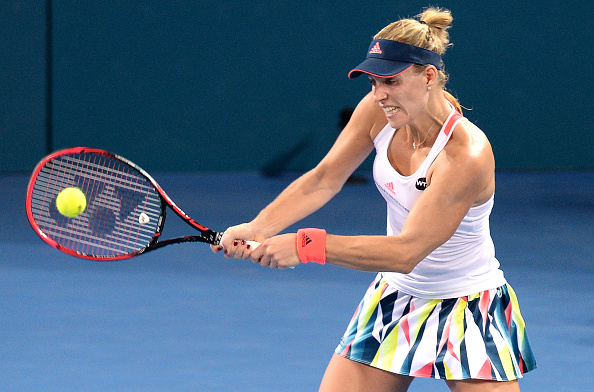 Barty takes advantage of a struggling Kerber to book the second set
The second set started as the first, with Barty securing a 2-0 lead, but this time more because of her opponent's demerits than for her own, with Kerber hitting two double-faults on her way to lose her serve and struggling to keep the ball in during the Australian's first service game.
Another battled game on the German's serve closed in the world number one's favour, despite she needed to save two break points and wasted herself three chances before being able to close it with a winner.
The Australian didn't get discouraged this time, and recovered from 0-30 down in her own serve by scoring four points in a row to consolidate her lead, helped by her first serve and a couple of winners from the net. She kept attacking during Kerber's serve, and helped by her opponent's own struggle, she immediately broke her to love; another quick hold, and the Australian led the score from 5-1 up.
One set point saved and a battled hold during her serve hadn't been enough for the German to recover; the Australian put to use her chance to serve out the set, converting her second set point to win it with a 6-2 score.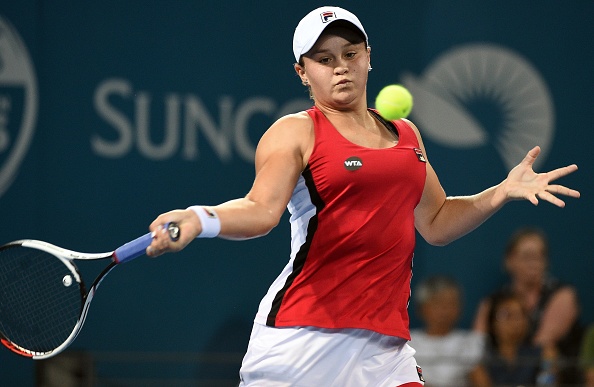 Kerber holds down her early lead to claim the match
For the first time in this match, the world number one started a set in a positive way, easily holding her own serve and breaking her opponent right away, leaving Barty just two points in the first two games. She saved one break point with a timely ace and held to consolidate a 3-0 lead.
Despite two double faults that could complicate her path, the Australian held her serve without dropping any more break points, winning her first game of the set. After Kerber held, Barty quickly fell 0-40 down on her own serve, giving the German three chances for a 5-1 lead. The 20-year-old showed all her fighting spirit, battling back to save all of them and one more right after, closing the game with an ace on her first chance to hold. With both players more confident on their service games in the late part of the match, Barty couldn't find a chance to battle back to level the score. With one more ace, the fifth of her match, the German converted her second match point and close the match with a final 6-3, 2-6, 6-3 score line.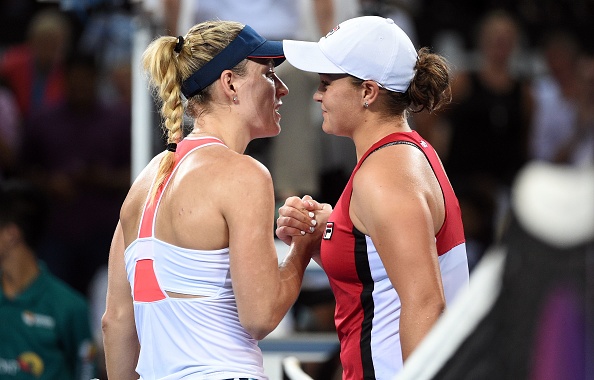 Both players' performance had been affected of many unforced errors during the match - 27 for Kerber, 38 for Barty - despite them both had scored a larger number of winners - 32 and 41 respectively. Barty had shown to be more vulnerable when unable to hit the first serve in, while Kerber had faced very struggling moments with her serve throughout all the match.
Angelique Kerber will meet Elina Svitolina for a place in the semifinals. The players had already met 8 times in career with the German leading the head to head with 5 wins and three losses, while the Ukrainian had won their last meeting, at 2016 China Open, in straight sets.