 The quarterfinals of the Shenzhen Open pit the world number 10 Johanna Konta up against the twin sister of another top 10 players, Kristyna Pliskova. It was expected to be the closest battle of the quarterfinals as Pliskova led their head-to-head record by 2-0, but Konta is the much higher-ranked player of both. Nevertheless, those two previous meetings came in 2014 where Konta was still an inexperienced player. Now in 2017, Konta is a totally different player, with her game improving rapidly, coupled with the rise of her ranking. The match turned out to be a thrilling one, with Konta winning it in three sets after 2 hours and 15 minutes.
Konta wins a tight first set
A tight first set saw both players being very solid on their serves, characteristic to their normal self, with both players unable to make a breakthrough in their return games. The Czech utilizes the lefty advantage which is of a great help in tennis, coupled with her ability to hit fast serves that consistently go beyond above 180 km/h. Meanwhile, despite Konta's serve not being able to reach those speeds, she was able to consistently send the well-placed first serves in and produce a good follow-up which was enough to win most of the service points for her.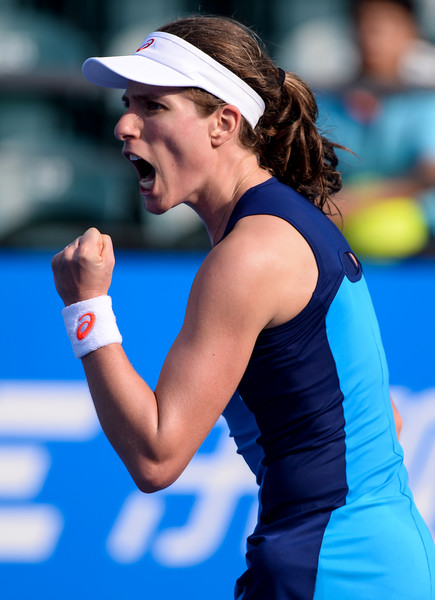 After six excellent service holds to start the match with, and both players not looking like they would lose their service games anytime soon, Konta stepped up her game and broke Pliskova's powerful serves by winning four consecutive points on her service. The Australian-turned-Britain then made sure that hard-earned lead did not slip away easily, and eventually closed out the set 6-4 after she successfully served it out.
Pliskova fights back
After the first set victory, most would expect Pliskova's confidence to be greatly affected and lose her focus on the match. However, it turned out to be completely wrong as she was still very into the match, holding her service games comfortably and was always searching for a chance to break. Unexpectedly, the second set was much tighter as none of them managed to earn a break point throughout the whole set. Furthermore, the only game that went to deuce was only in the 11th game, where the Czech maintained her composure and showed nerves of steel to hold her serve and prevent Konta from running away with the match. The first eight points of the tiebreak were all won by the servers, and what followed was four consecutive mini-breaks, which did not make the difference as the score was tied at 6-6 after the string of mini-breaks. The hard-hitting Czech then earned her first set point but wasted it to let Konta have a way back into the set. Points came and went as both players won all their service points and none on their return from then until the last moment when Pliskova finally won a point on Konta's serve which gave her a fifth set point of the tiebreak. Previously, Konta owned two match point opportunities too but was just not good enough for the strong Pliskova serve which helped her save the match points. The Czech took the advantage that the set point was on her serve, and reliably won the crucial point which gave her the second set and made her level in the match.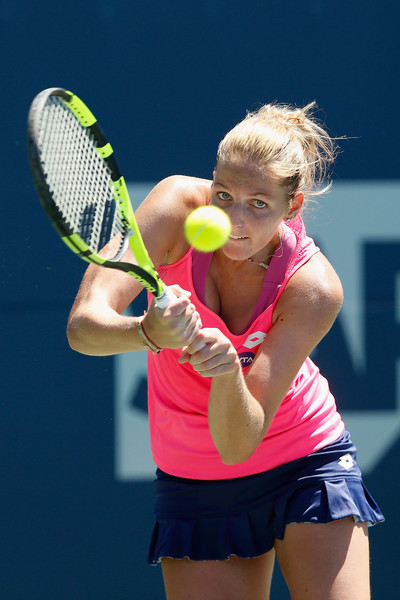 Konta holds her nerves
The higher-ranked player saw her surviving a tricky opening game in the final set, showing nerves of steel to save two break points, and eventually winning the game. Characteristically, there was another string of service holds, but the next break came much earlier in this set at 3-2, with the world number 10 once again making the first breakthrough. Similar to the first set, Konta did not let the lead slip away, holding on to it tightly and eventually closed out the match successfully despite giving Pliskova a chance to earn a break point in the last game.
Match Statistics
Both players were especially dominant of their service, with Konta winning 86 percent of first service points and Pliskova with 76 percent of first service points being won. Pliskova failed to take her chances well as she failed to convert all three of her break points, while Konta managed to convert two of them, which was crucial as these two breaks decided the first and final set. Another impressive stat was that Pliskova hit 15 aces throughout the whole match, which managed to help her at crucial moments.
Next up for Konta
Konta would next face Katerina Siniakova, who created a huge upset when she defeated second seed Simona Halep in the second round. Konta would be thfavoritevourite because of her powerful game and the fact that she is the higher-ranked of both, but Siniakova is definitely capable of an upset and would want to prove that her win over Halep was not a fluke.