 Novak Djokovic got through a tough three-setter - Fernando Verdasco in Doha. Down a set and 2-6 in the tiebreak, the Serb saved five match points and edged Verdasco 6-3 in the third. After his match, he spoke to the press and felt positive about turning around the match and talked about potentially playing until 40.
Hoping for a Long Career
For Djokovic, he was impressed with the longevity of Radek Stepanek, his quarterfinal opponent. He said that if Stepanek could have a long career, he could do it to and that we are going to see a lot more of the world number two in the future.
Happy With the Turnaround
It was a huge win for Djokovic, who was the defending champion in Doha, being able to turn the match around. He said, "I obviously feel content that I managed to turn the match around, the match that looked very much in hands of Fernando tonight. He was clearly a better player for two sets." Djokovic said. "I started the match well, 4-2, and then just six games in a row when I lost the timing completely. Fernando started playing quite freely from the back of the court, serving high percentage of first serves, and using the first ball after the serve very well."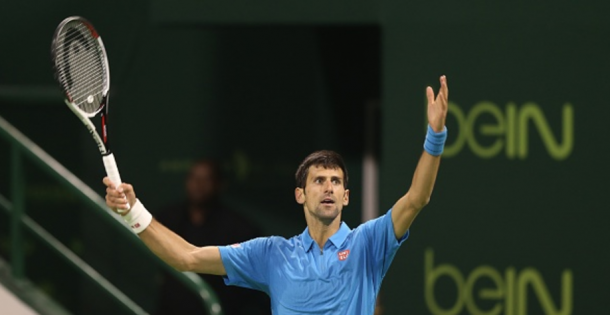 Tough Conditions
It was another windy night in Doha and that clearly affected Djokovic and his game. He looked to be out of rhythm and missing plenty of normal rally balls that he would make on any normal given day. He said, "Again, it was very windy. Obviously both of us, we were quite cautious with our play. In the end of the day, it was quite a thrilling experience for me to be able to go five match points down. I'm obviously very pleased, because you need these kind of matches, these kind of confidence boosters, for whatever is coming up after that. Sometimes the player on the other side of the net is just better. The only thing I could do is fight and get myself in a position to win the match. That's what I've done."