 There was going to be a blockbuster match-up on the first day of action at the Sydney International between wildcard Belinda Bencic and Yulia Putintseva. Bencic was just ranked in the top 10 in February last year, but many injury problems caused her ranking to drop rapidly and eventually caused her to end the year as the world number 42.
Whereas, Putintseva had her career-best season which saw her reach a grand slam quarterfinal at Roland Garros, where she had a set and a break lead against then-world number one Serena Williams but eventually fell in three sets after she failed to take her chances. Bencic was a defending semifinalist here and retired in last year's semifinal against Monica Puig due to a gastrointestinal illness.
Eventually, Putintseva won the match after Bencic broke her toe nail which made her unable to move well and caused her to retire, most probably as a precaution for the Australian Open.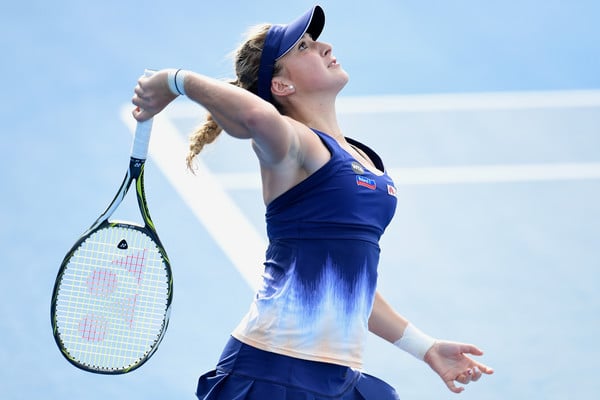 Putintseva takes a tight set
Bencic made the worst possible start to the match as she threw in a double fault immediately in the first point. The Swiss' backhands were very disappointing in the first game as she made two unforced errors on them to gift the break away to Putintseva to let her have the early advantage. Putintseva followed the break with an excellent hold of service as she held her serve to love to affirm her lead in the scoreboard. Bencic then got herself onto the scoreboard when she had a comfortable hold of serve of her own after winning four straight points on her serve. Putintseva almost had a chance to run away with the first set after she earned went up 0-40 and earned a total of four break points during Bencic's service game at 1-3. However, Putintseva failed to find a good service return at the crucial moments as she wasted all four break points to allow Bencic to hold her serve. The Kazakhstani would rue the missed opportunity as she was broken back by Bencic in the next game, which leveled the scores and gave Bencic a way into the first set. The Swiss made sure that she did not let Putintseva regain the lead immediately as she saved another two break points to hold her serve once more. What followed up was a nightmare for Bencic as she lost twelve straight points to hand the set to Putintseva, with the Swiss visibly having struggles to move around freely on the court.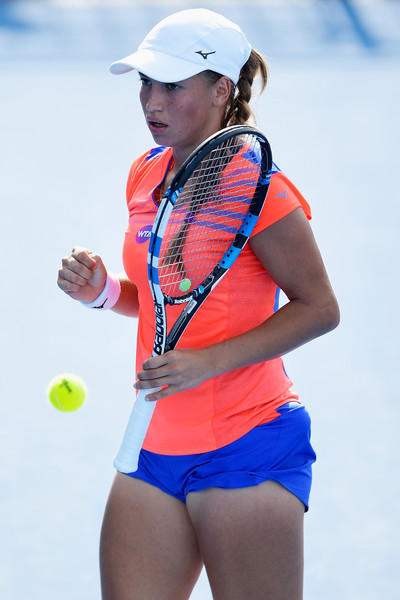 Bencic retires due to toe injury
A tight start to the second set saw both players start the set with an exchange of service holds. The Swiss was having problems with her toe and could not move freely on her own will and had to rely on adding to her groundstrokes speed to win points for her. The stronger groundstrokes by Bencic proved effective as she made the first breakthrough in the second set as she broke Putintseva's serve and take the lead for the first time in the match. However, her celebrations were short-lived as she was broken to love in the next game to return the match on serve. With her struggles to serve properly due to her toe injury, Bencic decided to retire from the match to give Putintseva a place in the second round. It was the Swiss' fifth retirement in almost just 10 months, reflecting her struggles with injuries in the past year.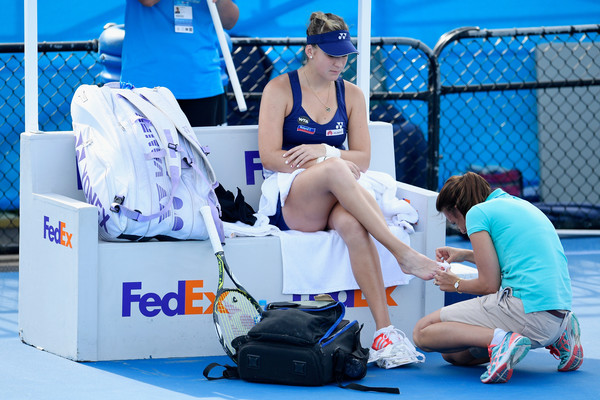 Match Statistics
Bencic was disappointing on her service today largely due to her toe injury as she threw in six double faults during the whole match. The Swiss only won 33% of second service points, which helped Putintseva to earn a total of three breaks during the match. Despite hitting 19 winners, Bencic was also very erratic during the match which saw her hit a total of 21 errors. Whereas, Putintseva was solid throughout and had only hit 7 errors coupled with 16 winners.
Next up for Putintseva
Putintseva would face a very tough second round opponent as it would either be the Rio Olympics gold medalist Monica Puig or former world number one Caroline Wozniacki awaiting there. It would be a difficult task for Putintseva against either player, but she would definitely be well-prepared to face any one of them.