 One year ago, Roger Federer finished the month of January needing knee surgery, the first major surgery of the Swiss' career. This year, the 17-time Grand Slam champion is hoping for a much better month down under as he makes his return to the ATP World Tour in Melbourne for the 2017 Australian Open.
The Swiss Maestro is seeded 17th, his lowest seeding in a Grand Slam since being unseeded at the 2001 French Open. However, as Federer described it, simply having his name in the draw makes it a good draw in his opinion.
Federer held his pre-tournament press conference on Friday, and the former world number one made it clear that he is excited to be back on the court, and he is confident in his form as he returns to the tour.
Federer: "It's nice to see everyone again"
For many professional tennis players, traveling the world for most of the year means there are not many consistencies in day-to-day life. However, the locker room is one exception.
For the most part, players compete in many of the same tournaments week-by-week, meaning they spend a good amount of time together. While many players develop rivalries on-the-court, most also develop friendships off-the-court and in the locker room.
When asked what he missed being away from the sport, Federer did say that he missed being around everyone.
"I guess you do miss the matches at some point," Federer said. "You miss the feeling of winning, walking onto a stadium, seeing the guys. You know, it's like an extended family to some extent anyway. You walk around here, it's probably the same for you. You see faces you haven't seen in a while. It's just nice to see everybody again.
"Plus, I have a lot of friends on the tour, you know, because I'm the returning guest for like 20 years everywhere I go," he continued. "It feels good to see those familiar faces every single year. It's something I couldn't quite enjoy the last six months. That's probably what I missed the most."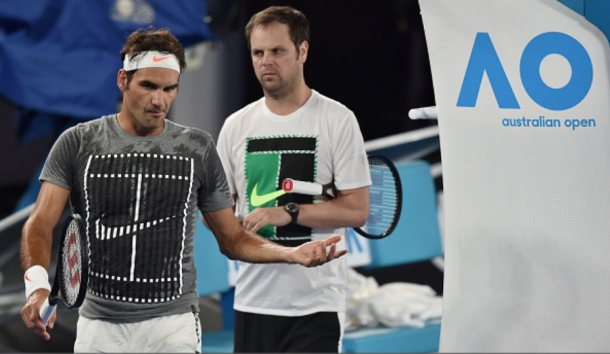 Swiss Maestro has no concerns about his fitness
Perhaps one of the biggest questions entering the Australian Open is how Federer will play after so many months off the tour. He played well last week in Perth at the 2017 Hopman Cup, yet Grand Slam-level tennis is a whole different game. The world number 17 assured reporters that his rehab went great, and he's ready to go.

"Yeah, it's under control. I felt great," Federer said. "I felt [the] Hopman Cup was great preparation. We'll see if it was perfect or not. But conditions felt virtually identical to me. Center court in Perth was sort of similar size. Court speed felt the same. Obviously same continent, all that stuff.
"Then practice was more about just managing, maintaining, not over training, but nevertheless still play enough to get used to the conditions here again, even though it's the same," Federer continued. "You know how it is, you just have to put down the hours, play the sets. I did that. I was training extremely hard [in Dubai]. I don't have to do that anymore this week, so I feel like it's been a light week."
One reporter asked Federer how he thought he would hold up in a four- or five-set match, as he has not had that level of match play in a while. However, the Swiss number two argued that no player has an edge, as no one plays four- or five-set matches every week.
"I guess it's slightly the unknown. You could then argue that it's the same for everybody," Federer said. "We don't play four-setters, five-setters every single week. You only play them in Davis Cup now and in Grand Slam play. I went through a year where I didn't play any five-setters, an entire year.
"You could think that's a good thing for longevity, but it's not a good thing because you don't know how it feels to play a five-setter anymore," he continued. "Yeah, a lot of guys haven't played four-setters or five-setters in a long time, or never in their life. From that standpoint, I don't feel like it's a huge advantage or disadvantage for them.
"I trained as hard as I possibly could, so I will be ready for it. I did numerous sessions where I trained over two and a half, three hours. I feel I'm ready."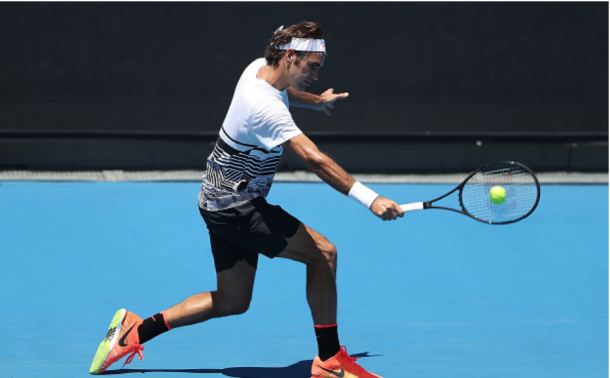 World number 17 embracing his new underdog role
For Federer, being seeded number 17 is a drastic change from what he is used to. After spending years of being the number one player in the world, Federer was asked if his mindset has changed now that he is seen as more of an underdog going into the season than a favorite to win it all down under.
"I prefer to be the favorite," Federer admitted. "Underdog is okay. Yeah, no, it's fine. As long as I'm healthy and I feel like I can go four, five sets, I can go many matches in a row, then I think it's going to be fun. If I feel like I'm in pain in the matches, then obviously, it's no fun. Then it doesn't matter what your seeding or ranking is, it's always the same."
"But, no, it's a great draw because I'm in the draw. So for me, I'm super pleased that I made it here, that I have an opportunity to win matches."
Federer will face qualifier and former world number eight Jurgen Melzer of Austria on Monday. He is second on Rod Laver Arena in the night session. The two last played in 2011 in Monte Carlo. Federer owns a 3-1 head-to-head over the fellow 35-year-old.