 Garbiñe Muguruza opened her first press conference at the Australian Open with a lot of confidence for the upcoming tournament. Coming from a good run in Brisbane, where she has surely shown her fighting spirit in all the matches she had played - especially the ones against Samantha Stosur in the first round and Daria Kasatkina in the second round - she came to Melbourne claiming a good physical form and the motivation to fight.
Muguruza reaches Melbourne in good form
Muguruza said she doesn't feel "very different from last year".
"I think it's just like the continuation", she said, "I don't know if it makes sense, of the last year. I know it's a new start. Like you said, I'm very motivated. I think I'm in a great position to be, and looking forward to play, try to find my best level, hopefully more weeks. Yeah, that brings me a lot of motivation".
As of her off-season training, Muguruza said she didn't do anything different compared to the previous years. "I think I did a good preparation with my team. We focus a lot my kind of weak parts of the body, just to not get injured, or to be more days more prepared for the matches".
"I spend a lot of time on the court", she added. "But I think it's part of the pre-season, you know, schedule".
After Brisbane, the Spaniard said she "got some rest". It is perfectly understandable, since two of the three wins she had collected in Australia had been three-set battles, fought until the last point. "When I stop Brisbane", she said, "I just rest actually for a lot of days. Like rest, did nothing, no tennis, no fitness. I just trying to recover with my physio until I arrived here, and I started playing again. You know, just refreshing my body from those difficult matches to try to be here 100%".
Despite the tough matches she faced right at the start of the year, and a thigh injury that forced her to retire to Alizé Cornet in the Brisbane semifinal, she claimed to feel confident about her physical form. "I had enough off days to prepare", she said. "I think it took me long than I thought to recover from those matches".
"But, yeah, I feel good. I've been training here for the past three days. Yeah, I feel ready", she said.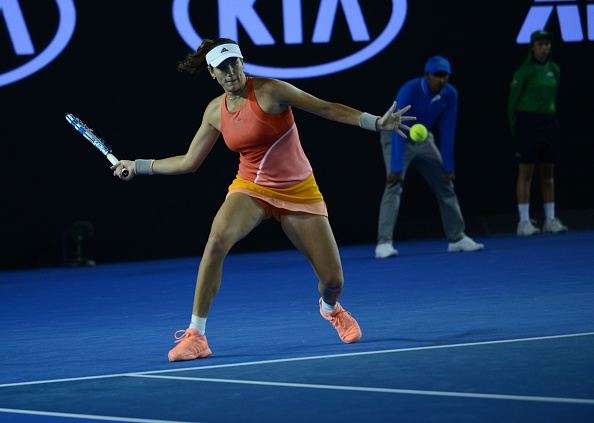 Muguruza feels ready for the challenges to come
Being asked what would be the trickiest challenge to find in Melbourne, the world number 7 had no doubt. "I usually fight with the heat", she admitted. "I mean, I think not only me, everybody fights against the heat. Sometimes is very tough. I know when you play in the beautiful center courts, there's air-conditioning. But we all started in the outside courts, you know, where you have to fight. It's 40 degrees. You're exhausted. So I think that's the most harder".
Despite the climate, Muguruza claims that playing in Australia got its special, unique atmosphere.
"I think I feel when I come to Australia there is like a tennis month", she said. "It's like crazy. I'm okay, tennis month. I put the TV, everybody is watching tennis. The fans, they're so involved in this month because of the tennis".
A reporter reminded the Spaniard about her epic match at 2015 U.S. Open against Johanna Konta, booked by the British with the final scoreline of 7-6, 6-7, 6-2 after more than three hours of play. Being asked if she had expected the rival to go that far, the Spaniard replied that she "knew her before. She used to train sometimes in Spain. I remember that match. It was like five-hours match. It's true that since that year, kind of, she went very like this, up".
After winning her first title of the year in Sidney, Konta could most likely be one of the trickiest opponents on the Spaniard's campaign in Melbourne.
"I think she's just a very good player, and she's showing it", Muguruza said. "I mean, everybody takes their moment and their timing to start climbing. But she's definitely showing a lot of consistency since last year. She's improving, improving. I saw little bit in Sydney".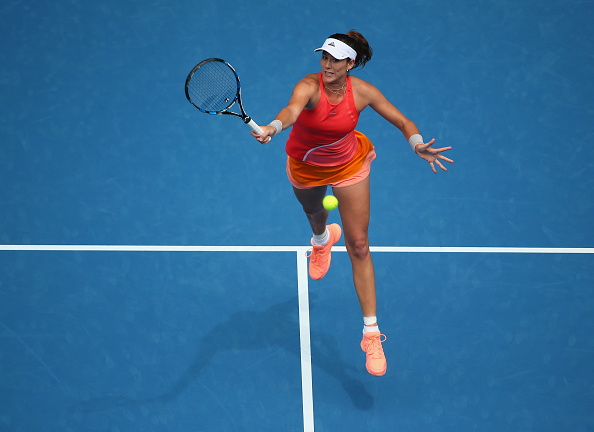 Muguruza doesn't feel emotionally different in playing as a top-player
The Australian Open remains nevertheless an important tournament in Muguruza's career.
"Well, I remember this was the first Grand Slam - was it first one? Was not the first one that I played the main draw, but was the first one that I win a match in the main draw. I was very happy. So it brings me a lot of memories, you know, getting into more level matches. I remember playing on Rod Laver and Hisense. Like you said, very good matches that make me more, you know, self-confidence".
This will be the first time Garbiñe Muguruza will play the Australian Open as a Grand Slam defending champion, having won the French Open in 2016. Compared to the first time she competed in Melbourne, Muguruza claims that it "is different, but is not that far away".
"Okay, like, five years ago I came here, I'm like, I'm in Australia. It's a Grand Slam. I walking through the rooms and I see all these top-10 people. Amazing, I follow them and stuff. You are so nervous, so nervous".
"But now", she added, "you come and you're so nervous, too, for different reasons. Is a very important tournament, you work so hard to go out there and play good and perform well. It's different, but at the same time emotionally it takes a lot of energy".
Nevertheless, for the 23-year-old, playing in Melbourne remains a special experience. "I think I always play well here, so I'm very happy to be back. It's one of our favorite tournaments, Australian Open. They improve a lot of things every year, which is amazing for us. My manager still remember the first match he saw me here. It was 14-12 the third set, so is funny".
Muguruza's best result at the Australian Open is the fourth round, reached in 2015.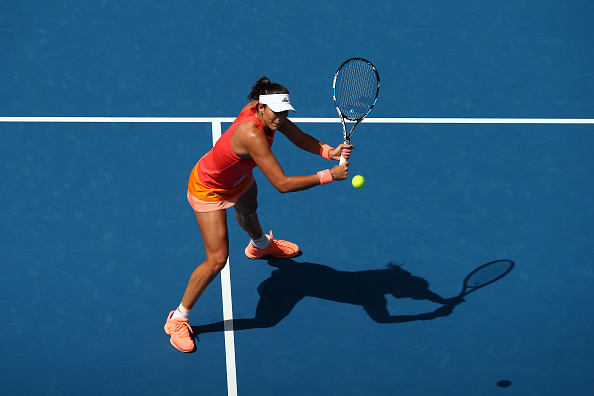 Muguruza is set to meet Marina Erakovic in the first round; on their only previous meeting, at the first round of 2015 Australian Open, the Spaniard had prevailed in straight sets. On her side of the draw, Muguruza could potentially find defending champion and world number one Angelique Kerber in the quarterfinals.