 Third on Hisense Arena on Tuesday, this match-up between former world number one Caroline Wozniacki and Aussie wildcard Arina Rodionova will be the first meeting between the pair. It is sure to get the crowd going, especially as Rodionova gained Australian citizenship in 2014, therefore she will have the support of the home crowd.
Wozniacki will be the 17th seed at this year's Australian Open after a strong end to 2016 which saw her make the semi-finals of the US Open, losing to eventual winner Angelique Kerber. The Dane will be looking to stop a run of negative results in Melbourne where she went from a quarter-final exit in 2012 to a round one exit in 2016. However, the only way is up and Wozniacki will be looking to take advantage of a relatively favorable draw in which she could face a few wildcards in the first two rounds. If she makes it past the first two rounds, the former world number one could set up a blockbuster clash with 9th seed Johanna Konta, who has already won a title this year in Sydney, or with the talented youngster Naomi Osaka, who Wozniacki beat in the final of Tokyo last year.
Rodionova, who is ranked just inside the top 200, has been given a wildcard into this year's Australian Open and will be looking to make the most of her opportunity to perform on a big stage in front of a home crowd. The Aussie is perhaps better known for her doubles success with her sister Anastasia Rodionova, where they made the quarter-finals of the doubles here in 2016. Rodionova mainly played ITF tournaments and WTA qualifying in singles last year, so she will be looking to step that up this year by qualifying for more main draws.
Road to the Australian Open
Both players have played the same two tournaments leading up to Melbourne, but with differing results.
Wozniacki started off her 2017 season in Auckland, where she produced a dominant first match display to dispatch Nicole Gibbs for the loss of just one game; 6-1 6-0. She then produced an equally good round two performance to beat Varvara Lepchenko, also in straight sets. She then came up against Julia Goerges in the quarter-final, where another strong 6-1 first set gave her one foot in the semi-finals. However, errors started creeping in and the German upped her game, and the Danish number one went on to lose the match 6-4 in the final set.
After a reasonable first week of the season, Wozniacki then flew to Sydney which had a loaded draw full of top quality players; there wasn't an easy first round match-up anywhere. After a revised draw due to withdrawals, Wozniacki ended up facing Monica Puig in round one, which was a tough three setter that the former world number one won 6-4 in the third set. A slightly more straight forward match in round two against her nemesis from Melbourne last year, Yulia Putintseva put her into her second straight quarter-final. However, after a 3 hour 20-minute marathon match with Barbora Strycova, Wozniacki's Sydney run ended and she made her way to Melbourne with some good match practice under her belt.
Arina Rodionova's 2017 also started in Auckland, where she made it through three tough rounds of qualifying to make the first round. Her toughest battle in qualifying came against top seed Nao Hibino, where she played three tight sets to qualify for the main draw, 6-3 6-7 (3) 6-4. Rodionova then faced Varvara Lepchenko where she was beaten in a relatively straight forward match 6-3 6-4.
The Aussie then made the journey to her adopted country, where she again had to play qualifying in Sydney. Like with Auckland, she managed to get through all three rounds of qualifying beating sixth seed Danka Kovinic along the way. However, in the first round of the main draw, she came up against the British number one Johanna Konta who proved too strong in the end; the Aussie lost 6-3 6-4. Rodionova does have a lot of good matches under her belt this year, which should give her some confidence going into Melbourne.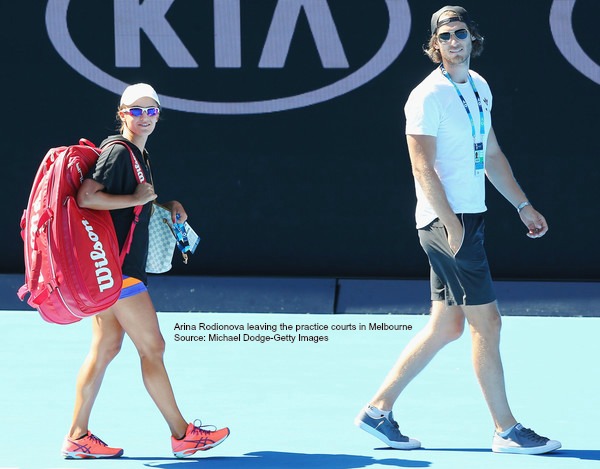 Who will win?
Having never played each other previously, this match could take a while to get going as both players will want to try and outsmart their opponent to gain the upper-hand. Rodionova will also have crowd support which may give her an extra bit of confidence going into the match.
We all know about Wozniacki's great defensive skills. Every single ball that Rodionova hits will be chased down by the Dane so the Aussie may have to resort to variation in order to keep Wozniacki on her toes from the off. This should be quite easy for Rodionova, especially as she is a good doubles players which will give her more confidence at the net.
There is a good chance that this match may be dominated by Wozniacki if the Aussie shows some nerves early on. In her first two tournaments, the Dane has come out of the blocks flying, winning the first set of nearly every match she has played so far. With her strong backhand and ability to vary her shots, Wozniacki could make her mark on this match early on. Furthermore, Rodionova has never won a main draw singles match at the Australian Open, therefore she may take a while to get going, which could be costly against someone with plenty of big match experience like Wozniacki. If the Aussie is to score an upset, she will have to be on the ball from the off and she should use her good doubles skills to try and draw errors from the Dane. For Wozniacki, as long as she stays consistent and keeps the error count down, she should be able to take control of this match and play it at her own pace.
Prediction: Wozniacki in two sets.