 29th seed Monica Puig opened her 2017 Australian Open campaign in fine style Monday morning, needing just 53 minutes to deliver a shutout 6-0, 6-1 victory over Romania's Patricia Maria Tig to and become the first woman into round two, where she will meet the dangerous big-hitting German Mona Barthel.
Puig Pounces on Early Opportunities to Move a Set Clear
Keen to get off to a stronger start than in her first two matches of the season, a dialed in Puig made her intentions clear right from the off. With her easy power simply proving too hot for Tig to handle, the Puerto Rican quickly found herself up a double break, and never really looked back from there. Once there, the reigning Olympic champion quickly shut the door on the opening set, imperiously wiping away any hope of a late fightback for the Romanian.
"Pica Power" Powers to Shutout Victory Under the Hour Mark
Continuing to pounce on anything within her strike zone, the second set proved to be a similar story for the Puerto Rican number one, as she continued to efficiently move her way to victory. With Tig simply unable to absorb and redirect Puig's heavy ground strokes, let alone get a look at attacking many second serves, the Romanian soon found herself being forced out of her comfort zone in a desperate attempt to stop the rot, but to no avail.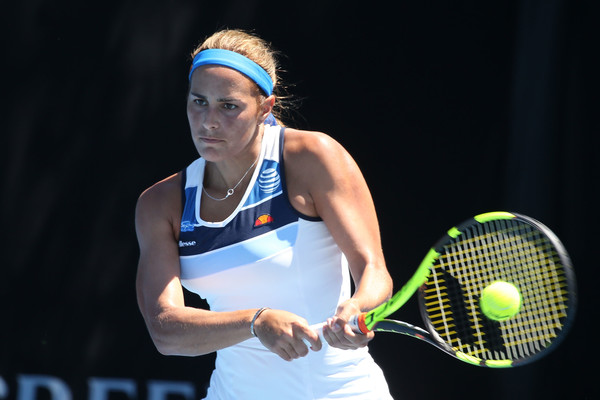 In a case of déjà-vu, history would prove to repeat itself in the early stages of the second set as Puig continued her ascent to victory, racing out to a double break lead before emphatically consolidating the advantage with a serving masterclass, putting herself within one game of the infamous "double bagel" victory.
In a last-ditch effort to avoid leaving Melbourne Park without a single game to her credit, Tig finally produced her best game of the match, but it was certainly a case of too little, too late; Puig wasting no time in serving to secure her first victory of 2017 in rather imperious fashion.
Next Up for Puig: Mona Barthel
Next up for the reigning Puerto Rican gold medallist is German qualifier Mona Barthel, who ended the hopes of local wildcard Destanee Aiava, who happened to be making her Grand Slam début at just 16 years of age. This will be the pair's first-ever meeting and a very important one at that, as they will both be aiming to get one step closer return to the second week of a Grand Slam, made easier by the first-round outing of fourth seed Simona Halep, the highest seed in their section.