 Caroline Wozniacki started her Australian Open campaign with an impressive win over Arina Rodionova. Last year, the Dane failed to win a match in Melbourne but this year she came back and dominated throughout the match only losing three games to reach the second round. In over an hour, Wozniacki clinched victory over Rodionova 6-1, 6-2.
Wozniacki dominates from the start
Caroline Wozniacki couldn't have asked for a better start, after a hold to 15, the Dane went on to break the Australian to lead 2-0. In an attempt to recover the break, Rodionova gave the former world number one a tough game of serve, but Wozniacki still was able to keep her serve and go up 3-0. But the pressure remained on the Australian, who once again had to face a break point. This time Rodionova stopped Wozniacki from getting a second break and held to get on the scoreboard.
Everything was working for Wozniacki, whose serve was helping to end the points early. In total control, Wozniacki held to lead 4-1. Back on serve, Rodionova's shots lacked accuracy while she desperately tried to outwit Wozniacki, who was returning every ball. Once again, Wozniacki easily got two break points to increase her lead. The Dane didn't need more chances to convert the second break with a smash winner to lead 5-1. Serving for the set, Wozniacki didn't drop her level and held her serve to 15, taking the first set, losing only one game.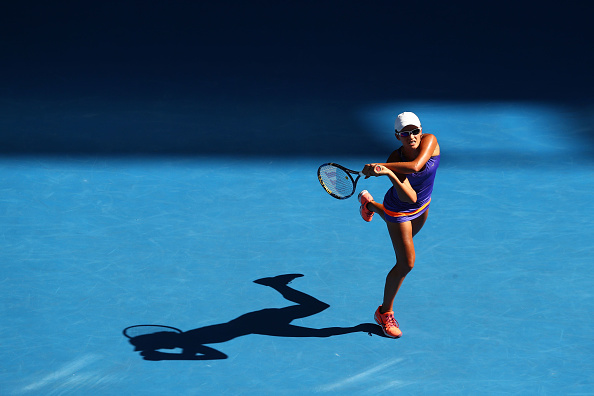 Wozniacki prevails and secures her spot in the second round
In the first game, Rodionova seemed more confident as she didn't give in to the pressure the Dane kept putting on her to hold her serve and lead 1-0 in the second set. The Dane didn't slow down and even if the Australian was starting to take more points off her serve, she still held rather comfortably to level at 1-1. Rodionova was playing more aggressively and on her serve quickly raced to a 40-0 lead but Wozniacki went on to win two more points to later force a deuce after an unforced error from the Australian. It was a lengthy game of serve for the Australian who faced one break point and had to endure five deuces to hold and stay in the lead at 2-1.
Despite the long previous game, that didn't affect Wozniacki's game as she went on to hold to love to equalize to 2-2-. The first break of the set seemed imminent as Wozniacki got three break points. Another unforced error from Rodionova confirmed the break. Now leading 3-2, Wozniacki kept her streak of solid games of serve as she only lost a point to extend her lead to 4-2.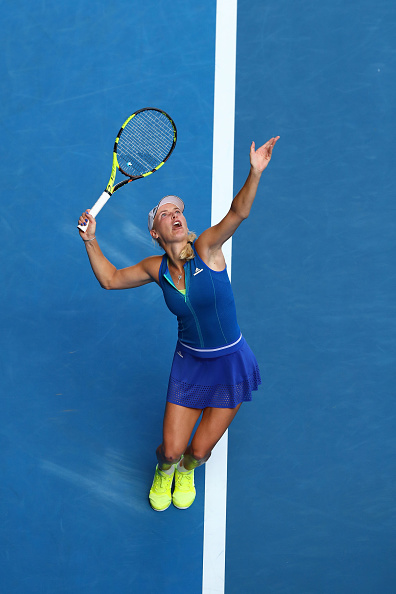 The Dane was in full control and now the Australian couldn't even win a point on her serve as Wozniacki broke for the second time to win her fourth game in a row and have the chance serve out for the match. Being two breaks down, Rodionova now had to play to stay in the match and began with a return winner. A double fault and an unforced error gave the Australian her first chance to break in this set. The Dane found a way to turn things around and saved the three break points to force a deuce. Rodionova had another chance to break after hitting a smash winner, but a forehand unforced error ended that opportunity. An ace gave Wozniacki her first match point, and that's the only one the Dane needed after firing up a great second serve that Rodionova left at the net.
Next for Wozniacki
In the second round, Caroline Wozniacki will face Donna Vekic from Croatia. This match will be their second meeting. Previously, they had also faced at this stage of the Australian Open but in 2013. The Dane came out victorious from that match after winning in straight sets.