Johanna Konta spoke to the press at the Australian Open after her 7-5, 6-2 win against Kirsten Flipkens, on Margaret Court Arena. The British, who had won her second title in career last week in Sydney, had been a semifinalist in Melbourne in 2016.
"I was really happy I was able to work myself into the match and through it"
Konta opened her press conference telling that Melbourne's heat hadn't had much influence on her performance.
"I'm very happy to have come through", Konta said. "I think more specifically to difficulties that my opponent presented today more so than the weather. I mean, it was hot, but last week in Sydney, we experienced something a lot hotter. So I think it was always cool in comparison".
About her opponent, she said that Flipkens "made it difficult for me out there. She's got this great ability at really frustrating her opponents with some of the balls she's able to hit. She's very creative in that way, so I think I was really happy I was able to work myself into the match and through it, to come through".
The press asked the British number one about some smaller episodes happened during the match, like an accident with a moth, which she thought had gone under her skirt after disappearing between her legs, and a lob that hit her on the foot. "It's never happened before", Konta said, "and hopefully won't happen again. It's gotta happen sometime in your career, doesn't it?"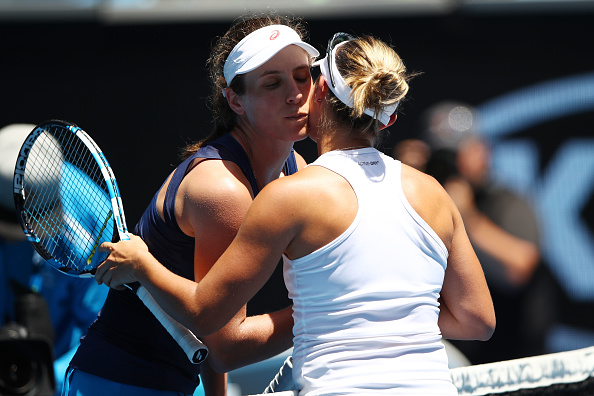 "First rounds are always difficult for numerous reasons"
Asked whether playing at the Australian Open was similar to playing in Sydney, Konta replied that "it felt different".
"I think that's also just to do with the general atmosphere", she said. "And you'll get that even within Melbourne Park. Certain courts play a little different. That's just the way it is when you have lots of courts".
"But that's also another reason why I think I feel very happy to have worked my way through that match", she added. "First rounds are always difficult for numerous reasons, besides it being, for the obvious, that it's a first round at a tournament".
"It's also everyone else's emotions around the spectators, everyone is excited for things to get going. There is always a number of challenges for everyone".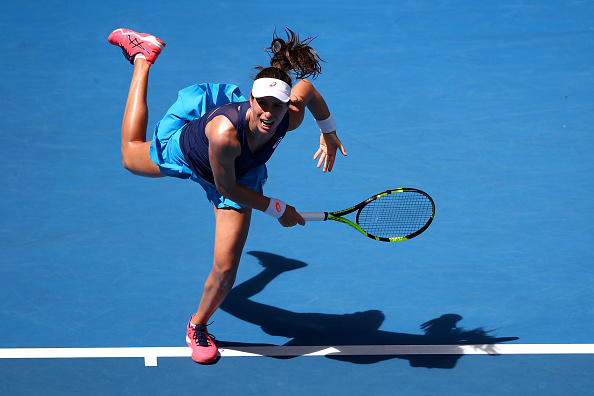 Happy for her results in Sydney, Konta sees the Australian Open as a "new challenge"
Konta said she didn't "consciously" feel great pressure in playing at a major right after winning a tournament.
"I wasn't actively thinking about it", she said. "I'm always aware how you do the week before is no reflection of how you're going to do the week after. I really try to take each on its own merit, and I'm very happy with the level I was able to produce last week and the number of matches and how I was able to come through each one".
"But this tournament is a new challenge", she added, "and it comes with completely different obstacles. So I'm happy to have just given myself one more chance to play another one here".
She added that she needed to leave Sydney behind to move on. "You kind of need to", she said, "because that's already gone. I think we are also spoiled in tennis in the way that the tour moves on so quickly, and you always have another opportunity the week after. Not many sports can say that. It's both a blessing and a curse", she concluded, smiling.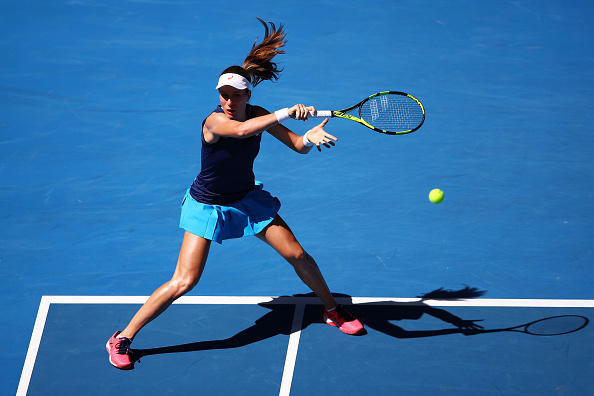 Konta hopes to have many days to settle in the rhythm of a major
The rhythm at a major is different from other tournaments, Konta said. "It's also something you also get used to. I think that's why the first couple days of a slam, it was also about adjusting and settling into your routine that you have here".
"Hopefully", she continued, "I will have many days to keep this routine going, but for now, I'm just happy to have come through today and will do the right things. Train tomorrow. Take care of my body. Just, like you said, switch off a bit and then prepare for the next one".
Konta said she watches tennis on her days off. "The Australian Open and the US Open are some of the funniest tournaments to watch on TV, because when you go back to the hotel room or an apartment, there is usually a couple of channels showing them. I don't know. Like in the evenings I always have Channel 7 on".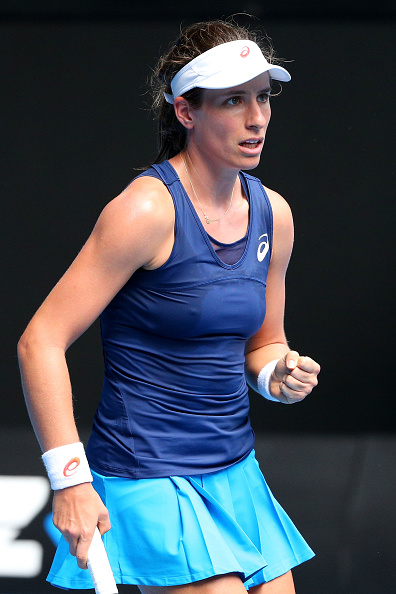 "I'm definitely prepared to go in for a battle"
About her next opponent, Naomi Osaka, she said, "I played her once before. I think it's only once, although someone's probably going to come up with a stat somewhere. I remember her playing once in the US Open, 2015 in the qualies. Since then, she's improved a lot. I have tried to, as well. I know she plays a big game. She has big shots. I'm definitely prepared to go in for a battle".
On what would mean playing a big hitter (Osaka) compared to a different player (Flipkens), and how she would change her game plan facing someone with a similar aggressive game, Konta said that "first and foremost I still look to do what I aim to do in all of my matches: I look to dictate and take control of the points".
"But, I think it's also having good acceptance and tolerance to the fact that she will sometimes have control, and also just really try to accept those situations and do my best to really stay strong and keep myself in those points", she added.