 Day three at the Australian Open on Hisense Arena, Kei Nishikori defeated Frenchman Jeremy Chardy 6-3, 6-4, 6-3 in two hours six minutes to progress into the third round. He will now play Lukas Lacko who overcame Dudi Sela in four sets.
Nishikori takes a set lead
A forehand winner brought up immediate break points. He broke in the very next game with a backhand winner to get off to a great start. A hold of serve made it 2-0 to Nishikori. An unforced error led to Chardy gaining a break back point at 30-40. The Frenchman netted as he missed a break point with the game going to deuce. The Japanese won the next two points and held serve to stay in front at 3-1. More break points arrived in the match as Nishikori earned double break points.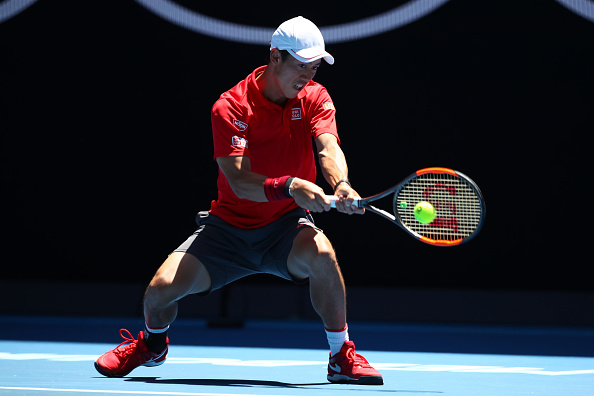 The 29-year-old denied Nishikori and went on to hold serve. Both players then held their serve with the score now at 5-3. The Japanese claimed a first set point at 15-40, with frustration building for Chardy. The world number 72 then hit two great serves bringing the game to deuce. Nishikori then ventured into the net and hit a volley winner to bring up a third set point. This time, the fifth seed took the set to the crowd's delight.
Chardy troubles Japanese comes through for a two-set lead
The Frenchman started the set with intent, bringing up double break points. Nishikori excellently denied Chardy to bring the game to deuce. However, a third break point went the way of Chardy and he won the next point to ruffle the world number five. Nishikori fired a backhand passing shot to bring up a break back point. Chardy then was forced into playing an extra shot which hit the net as he was broken back for 1-1.
The Japanese held serve to love to take a 2-1 lead. Chardy then followed suit with the set hotting up, 2-2. Causing all sorts of problems, Chardy took Nishikori to deuce before smashing a forehand winner to gain a set point, which he took to regain the lead. Once again, Nishikori upped his game and forced Chardy to produce an unforced error with two break back points on offer.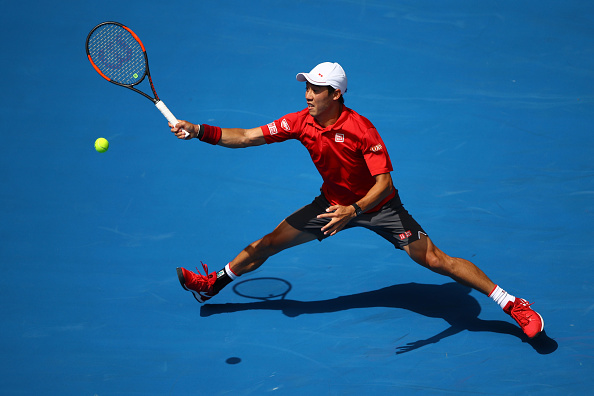 The Frenchman opted for the serve down the middle which worked as one break point was saved. This was followed by a powerful forehand winner with another break point being saved. The Frenchman would go on to save two more break points but with Nishikori's constant pressure, Chardy caved in and once more failed to consolidate with the set back level at 3-3.
The 26-year-old held serve to edge back in front at 4-3. Two games later, Nishikori was being put under more pressure, facing a break point. He managed to save it before going on to hold serve. Serving to stay in the set, Nishikori grabbed a set point and eventually stopped the Frenchman's resistance making it two sets to love, 6-4.
Nishikori powers through
Just like the first set, Chardy came out and grabbed a break point. One of them was saved but the Frenchman broke. However, he failed once more to stretch his lead and was broken back faltering on serve. Nishikori went on to hold serve to love to go in front at 2-1. Chardy also held serve for 2-2. The very next game saw break points for the 72nd ranked player in the world. The Japanese impressively denied his opponent twice, then going on to hold for 3-2.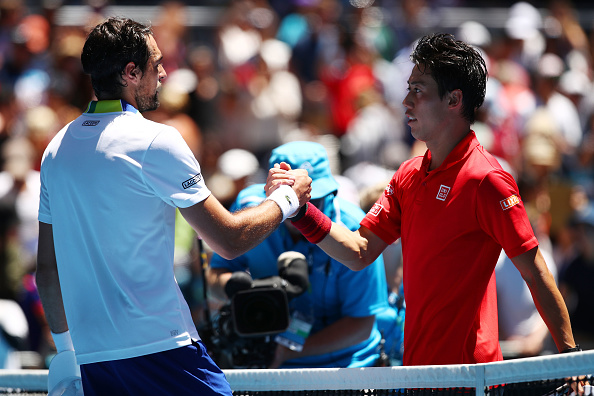 It was the turn of the fifth seed to earn a break point, at 30-40. But Chardy saved the point and went on to hold. Just a couple of games later at 4-3, more break point arrived in the match, this time two of them for the former US Open finalist. Chardy could only save one as he was broken in the very next point. Now serving for the match, Nishikori raced ahead to a love-40 lead. The Japanese hit a backhand wide but made no mistakes in the next point, going on to clinch victory and advance to the third round.