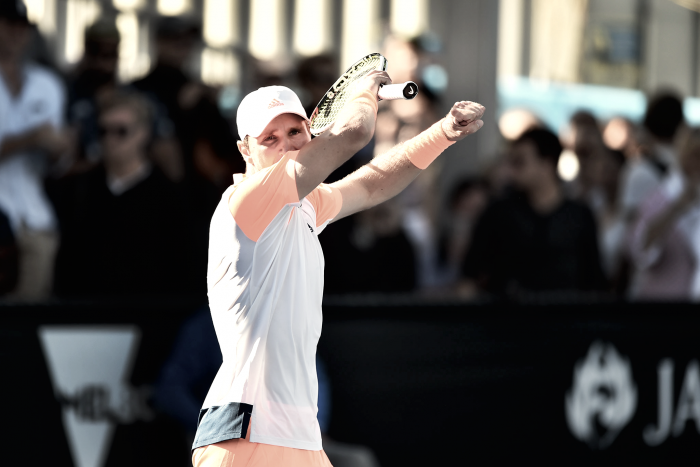 With his impressive comeback win over John Isner, Mischa Zverev reached the third round of the Australian Open for the first time in career, marking only the second time he went past the second round at a major after Wimbledon in 2008. After falling two sets down, losing the first tiebreaks, the German confirmed his good form fighting back to get the best of the big server, with a 6-7(4), 6-7(4,) 6-4, 7-6(9), 9-7 final score line. The German spoke to the press after his emotional win.
"I was just focusing on playing, trying to see if I can get some chances."
Prior to the match, Zverev didn't think it would've been a five-sets battle, thinking it would've probably lasted no more than three or four sets. "I didn't really think what was going on," Zverev said. The longest the match lasted, the more he became unaware about the score line. "At times I didn't even know the score. I think in the fourth I had Love-40 on his serve and I didn't even know that. I don't know if helped or not."
The confusion was such that Zverev didn't realize he needed to save a match point in the fourth set. "I thought it was 4-3," he admitted. "I think it also helped me a lot because I was just focusing on playing, holding serve, trying to read his serve, trying to see if I can get some chances here, there, not get annoyed at what's happening. Trying to return his serve for, like, four hours is really frustrating."
The confusion about the score didn't prevent Zverev to focus on his game. Quite the contrary, maybe it helped him in facing the pressure at the end of the match. "At one point I didn't know if it was 9-7 or 10-8. I didn't really care. I just knew I had to break him and try not to lose my serve at all."
Looking at his player box did help the German towards the end of the clash. "My mom is the only one smiling and laughing the whole time. She's like, Whatever, it's going to be fine. I think that helped me a lot," Zverev concluded.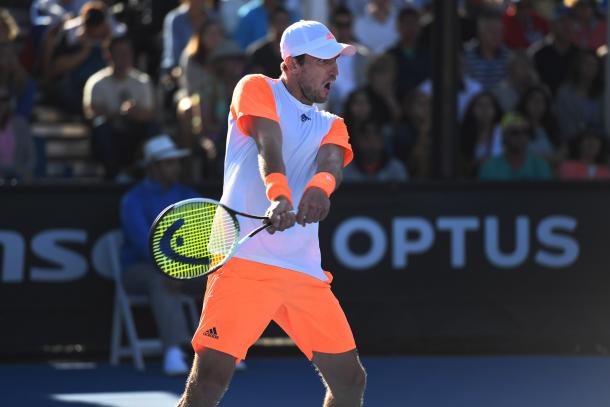 "That was the moment you live for as a tennis player."
The clash against Isner marked the second day in a row that one of the Zverev family engaged a marathon battle until the very last point. The day before, his younger brother Alexander Zverev needed all the five sets before defeating Robin Haase to advance in the second round. "At one point I thought about him [Alexander] winning in five sets yesterday, being two sets to one down, a break down in the fourth. I felt like maybe I could do the same today," Zverev said. "I have to do the same thing, I'm his older brother."
The happiness of finally reaching the third round in Melbourne, and advancing at a major after a long streak of first round (or qualifying draw) losses - interrupted only by a first round win at last year's U.S. Open - had been overwhelming for the 29-year-old.
"I've never actually won a best-of-five match if I haven't won the first two sets," he said. "I was so happy that tears were coming. I was looking at my box. I couldn't believe it. Really, that was the moment you train for, you live for as a tennis player."
Mischa Zverev had done quite a run since last year, reaching in Shangai his second quarterfinal at a Masters 1000 after seven years, and climbing up the rankings to reach the top 100 for the first time since 2011, and then the top 50, getting closer to the career-high ranking of 45 he had reached in 2009. Having his younger brother on tour had been among the reasons that boosted up his motivation. "He's ranked really high and he's playing really well. But I feel like I can keep up with the level," he said. "When I practice with Sascha, I feel like if I can keep up with him, return his serve, feel like what the baseline game is like, those are little things that help you as a player."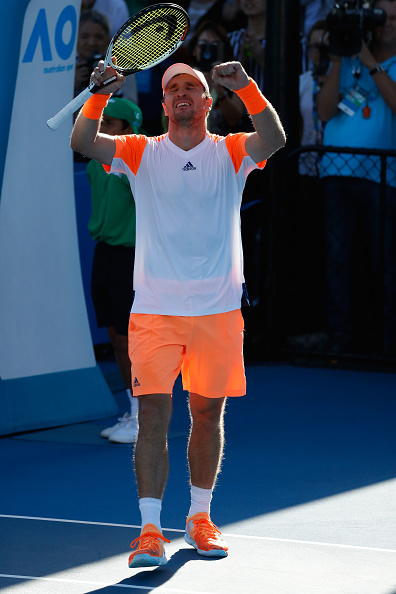 "I like to enjoy the moment and live right now."
Mischa Zverev will face Malek Jaziri for a place into the final 16 of the Australian Open. They've already played twice in career, but never on an ATP level match; Jaziri had won both meetings. Zverev, however, quite knows what to expect. "I played him a long time ago," he said "My brother played him last year twice on clay. I've watched him play quite a bit."
"He likes to slice," he added. "His backhand is very effective. Slice is good. Good forehand. He's a good player. He's not ranked top 20 in the world, but you never know."
For the match to come, the German felt confident about his physical condition, saying that he'd been feeling good during his match against Isner, and that he feels fit for the challenges to come. Nevertheless, he didn't want to think about anything further than his third round match. "I was really mad at my mom when she said second round was going to be Isner," Zverev confessed. "I hadn't even played the first round. I don't like to do that. I like to enjoy the moment and live right now. So we'll see."