 Milos Raonic continued his hot start at the 2017 Australian Open with a second consecutive straight-sets win without having his serve broken. Faced with fellow big server Gilles Muller, the Canadian took control early in the match and never looked back, racing into the third round with a 6-3, 6-4, 7-6(4) victory, despite a cough and flu-like symptoms.
Raonic flies out of the gate
Raonic was on the ball from the start, opening with a hold to love and quickly applying pressure on his opponent's powerful serve. In the fourth game, the Canadian made his move racing ahead 0-40 and converting with a forehand up the line that Muller could barely get a racquet on. Another easy hold followed for the Canadian as he stretched the lead to 4-1 in only 11 minutes.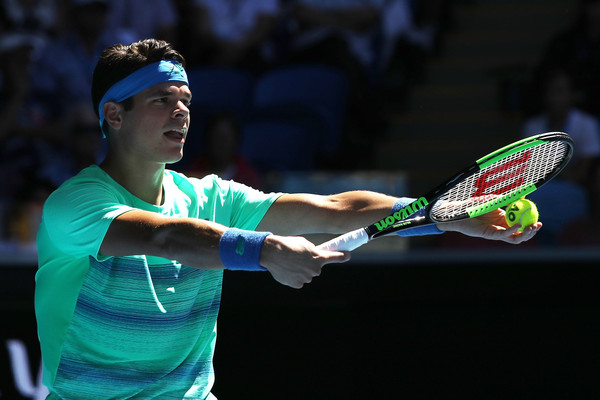 The Canadian continued to clip along on serve, giving Muller no chances to get back in the match. He had a chance to break for the set at 5-2 when he held double break/set point, but missed a low volley on the first, drove a forehand wide on the second, and couldn't reach a Muller forehand when a third came up at 40-AD. Still, Raonic was not deterred as he would crack three aces and an unreturnable serve to wrap up the opening set with a love hold in only 25 minutes.
Muller can't convert chances
After being lights out on serve in the opening set, only dropping three points, Raonic doubled the number of points he lost on serve in his first service game of the second set, double faulting twice on his way to a 15-40 hole. But the Canadian turned things around quickly, ripping a forehand winner and an unreturnable serve to save the break points. In the following game, Raonic once again found himself down break point, but Muller sent a short forehand long.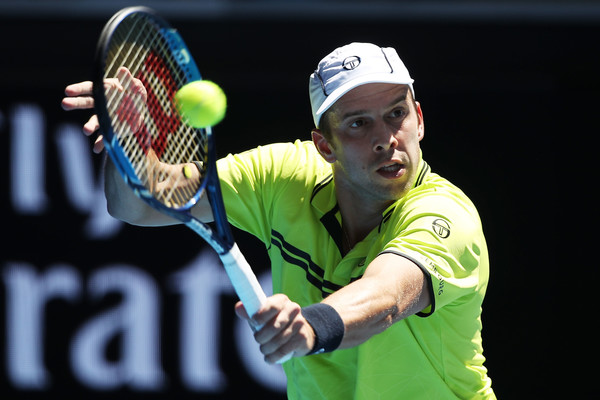 For most of the second set, it was Muller who was in control, out-serving his opponent and applying more pressure on return. But his failure to convert his opportunities would prove costly late in the set. Serving at 4-4, Muller blew a 30-0 lead as Raonic won four unanswered points, three by dominating rallies before Muller dumped a routine forehand into the net to gift the Canadian the break. Raonic would hold in the following game, taking a two-sets-to-love lead after only an hour.
Raonic hangs on for victory
Again, it was Muller who got off to a slightly stronger start, but Raonic's big forehand came to the rescue as he dug himself out of a 15-30 hole in the opening game. The third seed responded by forcing a deuce on his opponent's serve in the following game. Once again, Raonic had an opening at 4-4 when a desperation lob dropped in to give him a break point, but he missed his passing shot wide. The third seed got a look at a second after Muller missed the serve and volley, but he missed his return. Muller would hold for 5-4.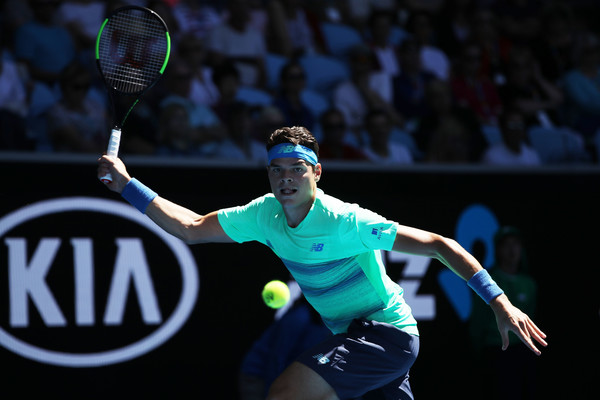 The Luxembourger would get his chance as Raonic served to stay in the third set. Some strong play gave him a break point at 30-40, also a set point, but he would bury his forehand into the net. The miss would prove costly as Raonic would hold to force a tiebreak. The third seed came out flying, claiming a minibreak on the first point with a beautiful backhand passing shot up the line. Muller would reclaim the minibreak, only to hand it right back as Raonic stretched the lead to 5-2. The Canadian would serve for the match at 6-3 and while Muller would save the first by running Raonic ragged, but he drew an error on the second to wrap up the victory.
By the numbers
As usual, Raonic was dominant on serve, out-acing Muller 21 to 7 while claiming 84 percent of his first serve points. The Canadian was also incredibly consistent with his shots, hitting a whopping 56 winners to a mere 15 unforced errors, a ratio of 3.7 winners for every one unforced errors. He also saved all four break points that he faced, while converting two of his seven. The normally strong serving Muller was unimpressive in this match as he won 68 and 64 percent of his first and second serve points respectively.
With Novak Djokovic's upset loss, Raonic now has a golden opportunity to reach the final. The next player standing in his way will be his first seeded opponent, 25th seed Gilles Simon, against whom Raonic owns a 3-1 head-to-head advantage.