After an impressive first round win, Rafael Nadal had to survive some shaky moments in his second-round match. He would manage to overcome some sloppy play to turn the match into a blowout. Despite committing a ton of unforced errors, Nadal was able to defeat Marcos Baghdatis 6-3, 6-1, 6-3 to book his place in the third round of the Australian Open.
Sloppy opener falls to Nadal
The expectation heading into the match was that the two men would be engaging in long rallies and putting each other's serve under pressure and that was the case early in the first set as both men had to battle through their opening service games, with Baghdatis needing to fight through deuce. The errors were flying off Nadal's racquet in the early stages and a wild forehand gave the Cypriot a break point in the third game, but Baghdatis committed a forehand error of his own to give it away. In the following game, the ninth seed started to final his range and struck a forehand winner at 30-30 to bring up a break point of his own. Baghdatis would dump his forehand into the net to surrender the break.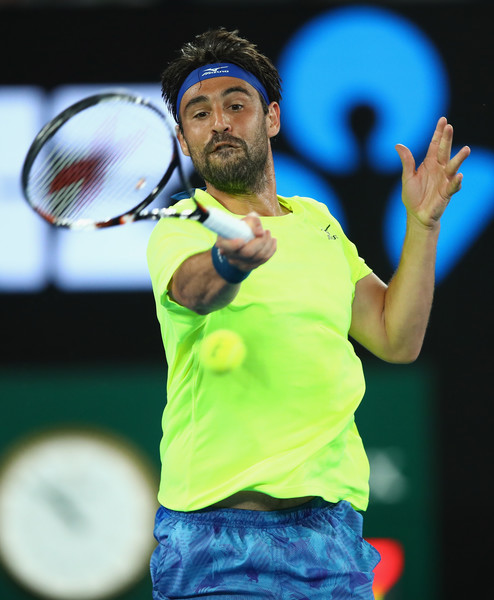 Undeterred, the Cypriot pushed right back and some persistent baseline play gave him a double break point opportunity. But once again Nadal was up to the task, grinding his way back to deuce. The Spaniard was now rolling and raced ahead 15-40 in the next game, converting the second to make it a double break lead. Baghdatis still refused to give in and managed to bring up more break points in the following game and this time drew a Nadal half-volley into the net with a low passing shot to reclaim one of the breaks. But the 2009 champion was not about to let the set slip away and held his next game to wrap up the opening set.
Former champion takes control
Nadal came out flying in the second set, pushing Baghdatis to deuce in the opening game of the set and drawing three straight errors from AD-40 to secure a break to start the set. The Cypriot would push back in the next game, but could not even secure a break point. It would prove to be a costly missed opportunity as a run of unforced errors in the following game gave Nadal double break point, which he converted with a backhand winner.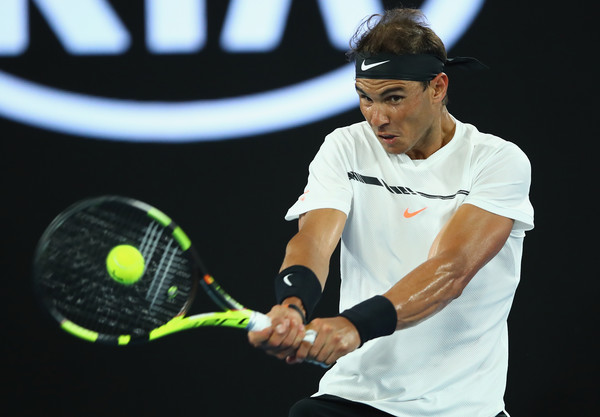 A love hold stretched the lead to 4-0 for the ninth seed before Baghdatis finally held at deuce in the following game to get on the board, although not before digging himself out of another 15-40 hole. After another love hold put Nadal within a game of winning the set, Baghdatis was under pressure to hold just to keep the set alive. He continued to crack under the relentless pressure applied by his powerful opponent, as four more errors gave Nadal a third break and the set.
Nadal powers through
The Spaniard carried his momentum into the third set with a third straight hold to love to open the set. Finally Baghdatis was able to hold serve without facing a break point in his first service game of the third, although he still had to battle through deuce. After Nadal held in the third game, this time to 30, he had a chance to take control of the set when he raced ahead 15-40 in the next game. However, back-to-back errors saw the game sent to deuce. Twice more the Spaniard stood at break point, both times he was undone by forehand unforced errors.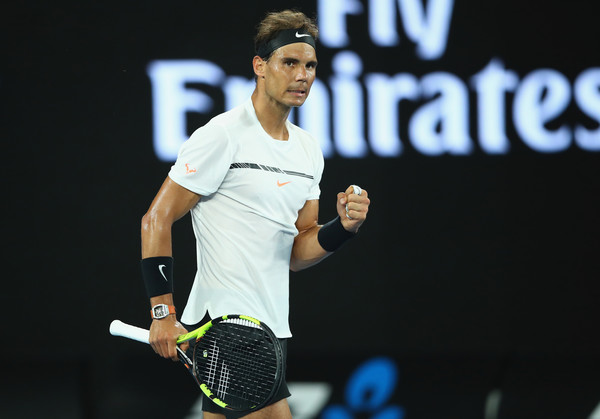 Two games later, after a love hold, Nadal was at it again. He missed two more break points at 15-40 but this time when he brought up a third at 40-AD, he did not need to hit a ball as Baghdatis threw the break away with a double fault. Nadal consolidated with a second consecutive hold to love. Down 2-5, the Cypriot wasn't going away quietly. A strong hold put the pressure on Nadal to serve it out. He would miss a pair of match points at 40-15 up, but ripped a forehand winner to end it at AD-40.
By the numbers
Both men had higher unforced errors counts than winners, although Baghdatis had twice as many which proved costly. Nadal had 32 winners to 33 unforced errors, while Baghdatis struck 20 winners while giving away 42 unforced errors. As he often does, Nadal preyed on his opponent's second serve, limiting his opponent to 36 percent of those points won. With the exception of aces, Nadal held the advantage in every statistical category. The Spaniard did not face a break point in the second or third sets.
Nadal will next play young gun Alexander Zverev, the 24th seed, in a blockbuster third round clash.