 Dan Evans says Bernard Tomic was shamed by his box during his straight sets defeat to the Brit at the Australian Open on Friday afternoon.
The world number 51, who fell to Gilles Muller in the final of Brisbane last week, prevailed in a little under three hours to book a showdown with the twelfth seed Jo-Wilfried Tsonga in the fourth round.
Tomic's father, John, famously deemed Evans an unworthy opponent for his son to practice with in 2012 and the 26-year-old admitted he remains baffled by the suggestion after his second round win over Marin Cilic.
Unsportsmanlike
Speaking to reporters after the triumph, Evans says Tomic's box embarrassed the mercurial Australian, slinging verbal digs at the Brit during changeovers.
"I just don't think they conducted themselves that well," said Evans, who reached the last 16 of a major tournament for the first time in his career.
"John was fine, but the rest of his team acted like complete idiots."
The 26-year-old said he was upset by the screaming that was directed towards him from Tomic's box during the changeovers, ignored by the umpire.
Evans said pre-match that he has no ill-feeling towards Tomic himself and thanked the 24-year-old for his graciousness in defeat.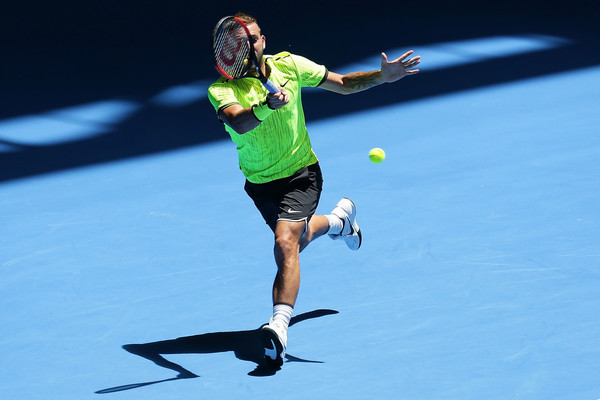 Taxing encounter
Quizzed on his mentality heading into the match, the Brit says any inferiority complex was quickly dashed as he believed he had a strong chance of prevailing on the day.
Evans did concede, however, that the tie-breaker in the second set was crucial as the crowd was beginning to crank up the volume in Tomic's favor.
"If I lose that second set, the momentum would completely switch," added Evans, who battled through two pulsating tie-breakers to join his Davis Cup teammate Andy Murray in round four.
Tsonga, in the meantime, overcame the American Jack Sock in four sets to book a date with Evans on Sunday.