World number 17 Roger Federer continues his run down under against world number five Kei Nishikori Sunday night in the round-of-16 of the 2017 Australian Open.
In his first tournament back from an extended recovery due to knee injury, the Swiss number two hopes to continue playing strong. However, he will face a tough test against the former U.S. Open finalist. Federer owns a 4-2 head-to-head advantage over Nishikori.
The Swiss number two has won the last three meetings, with the pair last meeting in November 2015 at the ATP World Tour Finals in London. Nishikori's two victories over the four-time Australian Open champion came in Madrid in 2013 and in Miami in 2014.
Federer, who is seeded 17, his lowest in Melbourne in 15 years, steamrolled world number 10 Tomas Berdych in round three.
As the Swiss Maestro seeks to continue working his way back into form, his victory over the Czech number one brought flashbacks of the vintage Federer who won 17 Grand Slam titles.
Nishikori had an impressive victory in the third round as well, defeating world number 121 Lukas Lacko in straight sets. The Japanese number one's greatest test came in round one, as Nishikori fended-off Andrey Kuznetsov in a five-set thriller.
Speaking after their respective third round matches, both players told reporters they knew this match would be very tough.
"I'm aware of the big test for me," Federer said. "This one's going to be completely different to Tomas. Not so much just serving, serving, serving, but there's going to be more rallies, even though the surface remains fast."
"I said it at the beginning of the week … when you serve well, it pays dividends," the world number 17 continued. "I hope I can keep that up against Kei. It's definitely an exciting match for me, anyway."
"It's not going to be easy," Nishikori said. "He [Federer] was playing great tennis today. But, you know, it's always great to play Roger. It's big challenge for me."
"I'm just happy to play him because I think we needed him on the tour," the world number five continued. "Happy to see him back a hundred percent. Yeah, excited to play next round."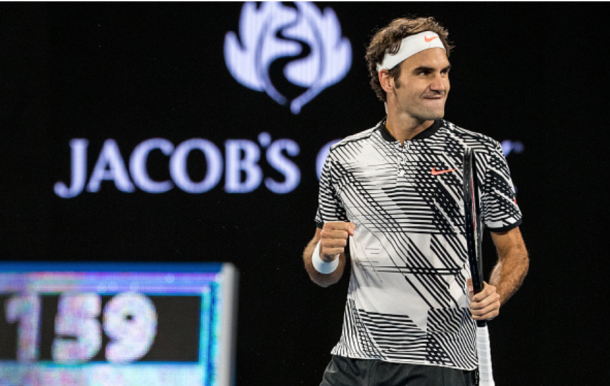 Federer crushes Berdych in third round
After much hype and anticipation, the third round clash between Federer and Berdych turned out to be a 90-minute straight-set victory for the 35-year-old Swiss.
Many questioned how Federer would be able to compete against the world number 10 given he had only had two matches on the ATP World Tour since Wimbledon in early July 2016.
However, Federer squashed all concerns early on. The Fed-Express got rolling quickly, breaking Berdych early and often in each set. The world number 17 was quick on his feet, keeping Berdych off-balance. In fact, Federer never allowed the Czech to get into any kind of rhythm. Before the Czech number one knew it, the match was over.
While Federer was the slight favorite in the match, no one expected the former world number one to win in the fashion he did. Federer did not even face a single break point.
Nishikori cruises past Lacko to set up clash with the Fed-Express
The world number five won easily in his third round match, dispatching Lacko 6-4, 6-4, 6-4. The Japanese star broke the Slovak qualifier four times while also losing his own serve once.
Of his 46 winners, 27 of them came off his forehand. Nishikori dominated the rallies and cruised to victory in just over two hours.
The 29-year-old Slovak never got his footing in the match, while the 27-year-old Japanese number one continued to sharpen his game as he got closer to victory.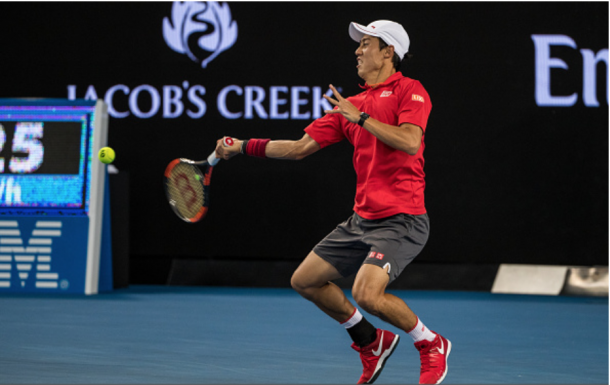 Analysis
Fans in Rod Laver Arena will be treated to an exciting match on day seven of the 2017 Australian Open. Nishikori, only 27, continues to improve and fine-tune his game. His strong forehand is dominant, and his backhand is always a threat for a winner down the line.
On the other side of the net, the 35-year-old Swiss is more of a question mark. After nearly six months off, it remains to be seen which Swiss Maestro shows up.
If the Federer of rounds one and two, the one who won but was rusty, shows up, the 17-time Grand Slam champion will be in trouble.
However, if the Federer of round three, who made easy work of a very quality opponent, shows up, Federer will put himself in a great place for victory.
As he did in that round three win, Federer will look to gain the upper hand at the net, which will help him keep the points short and hopefully keep the world number five off-balance.
The Fed-Express will also look to continue his dominance on his serve, which has helped him get through his matches so far.
For Nishikori, look for the 27-year-old to vary his shots, hoping to keep the 35-year-old on the move, which could wear him down. In addition, Nishikori will also look to keep his opponent off-balance.
If Federer gets into the same rhythm he was in on Friday night, Nishikori will be in trouble.
This match is somewhat of a toss-up, as it largely depends on which Federer shows up. If he can continue to play as he did against Berdych, Federer can win this match. However, if his game slips, Nishikori will pounce and glide to victory.
Either way, this should be an entertaining battle. Both players have similar games, which usually equates a back-and-forth match. Andy Murray likely looms for the winner of this match in the quarterfinals. Therefore, whoever gets off to the faster start will look to capitalize on that and win quickly.
Prediction: Federer in four sets