 One of Denis Istomin or Grigor Dimitrov will be going to the quarterfinals of the Australian Open. When the draw first came out, many expected the Bulgarian to be in this position against Novak Djokovic, but the Uzbek stunned the world number one and followed it up with a win over Pablo Carreno Busta to get him to this point. The match will be the last to play in Margaret Court Arena.
Head-To-Head
The two have met only twice in their career and both times their career trajectories were at different points. They first met in the Besancon Challenger while Dimitrov was still a junior on the come up with Istomin already a seasoned professional by then. The Uzbek won that match in three, but the glimpses of Dimitrov were on display that day. Their second meeting came two and a half years ago at the Shanghai Masters. Dimitrov was able to take that match in straights as the Bulgarian was set to make a last push for a spot at the O2 in what was his career year to date.
Dimitrov In Melbourne
For most of this week so far, it has been cruise control for the 15 seed. After a tough first set against Australian wild card Christopher O'Connell, he finished him off in straights.
Istomin In Melbourne. Hyeon Chung provided a little of a test to the Bulgarian early on. He took the first set until Dimitrov was able to find his groove to win in four.
The former world number eight had a late night, getting on the court much later than expected with three of the four previous matches in Rod Laver Arena going the distance. Despite going down a break in the opener, Dimitrov reeled off his best performance of the tournament to down 18th-seeded Richard Gasquet in straight sets.
Istomin In Melbourne
The Uzbek met veteran Ivan Dodig in his opener and was able to take that in four sets. After that, he was tasked of trying to take down world number two Novak Djokovic, a man who he had lost to five times in a row and twice at the Australian Open. Istomin was able to take a physical first set that lasted nearly 90 minute, giving him at the time, only his second career set taken off the Serb.
Despite his best efforts in sets two and three, the former world number 33 fell behind and many were quick to have the match set in stone. The Uzbek turned it around and took the fourth set in a tiebreak and used some stone cold ground strokes to help him break the Serb early in the fifth. He held his nerve beautifully and earned the biggest win of his career.
After a physical, grueling match like the one against Djokovic, backing it up on a day's rest was a huge ask. Istomin also had not taken a match against Pablo Carreno Busta in their two head-to-head meetings as both would duke it out for their first-ever round of 16 appearance. The two went at it back and forth, trading the first four sets by the same scoreline of 6-4. It was Istomin though, who broke early in the decider and took control. He was able to break to close out the match and followed up the massive upset with another physical five-setter.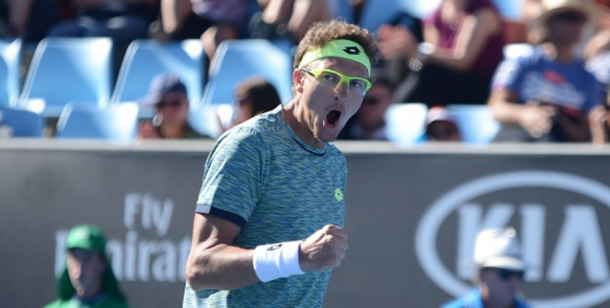 Analysis
Both players have very capable weapons from the serve down to their groundstrokes. They are both able to hit big but are able to offer a change of pace if need be. Dimitrov has the edge on the consistency with his shots, but Istomin has the slight edge on the power he can hit it with. We all know what Istomin is capable of, but what really it will boil down to is how much does the Uzbek have in the tank. After back-to-back physical five-setters, it would be easy to write him off, but with the amount of upsets we have seen this week, writing anyone off would be extremely premature. If Istomin is able to keep firing on all cylinders, it will be a matter of how long can he keep it up. The opening set is going to be a must-win for Istomin if he is to mount a serious challenge while using his free-flowing, power game.
Dimitrov is still unbeaten on the year and has shown a new focus that he is ready to make a huge push this year. With Djokovic and Andy Murray out of the tournament, it is very much possible for him to make a run for the title. For Istomin, a win would mean new heights in terms of Grand Slam success but even losing at this stage does not mean failure for the Uzbek who was outside the top 100 before heading to Melbourne Park. Istomin will have a lot to take away from this tournament and his new found confidence should really push him on to hopefully push his way back up the rankings.
All in all, it might be too much of an ask for Istomin to make it three straight upsets, especially after back-to-back five-setters. However, he will not go out silently and is going to make Dimitrov earn everything.
Prediction: Dimitrov in four sets