 Women's third round doubles action on Hisense at the Australian Open saw the home favourites Ashleigh Barty and Casey Dellacqua defeat Anna-Lena Groenefeld and Kveta Peschke 6-4, 6-4 to progress into the quarterfinals.
Number of breaks; set goes way of Australians
Ashleigh Barty started the match with a tricky hold of serve. In the next game, a break point went their way at 30-40 courtesy of an unforced error from Groenefeld. She then double-faulted handed the first break of the match the way of the Australians. However, the German/Czech pairing came back, earning a break back point with a Dellacqua unforced error. The 31-year-old German hit a volley winner which sealed the break back at 2-2. The pair then consolidated serve and brought the set back level at 2-2. Just three service games later and Barty/Dellacqua found themselves in trouble, down a double break point.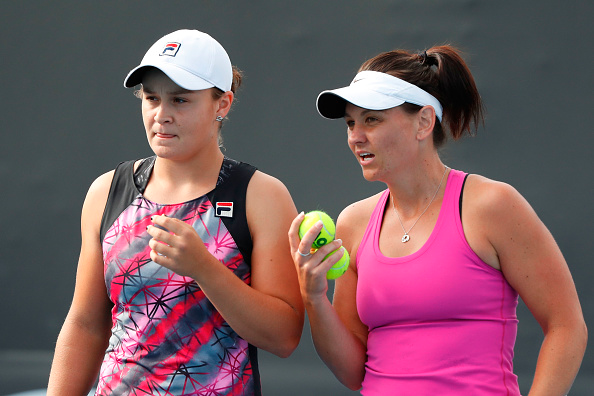 Good movement from Groenefeld/Peschke was finished off when the Czech sliced to break. Just like earlier in the set, the team that had broken was then broken back. This time the 20-year-old won the battle at the net as the set drew level once more at 4-4. Barty did a great job of holding serve to love to then pile pressure on their opponents. A double break/set point arrived for the Aussies when Peschke netted. In the next point, Groenefeld's shot trickled over the net and bounced to which Barty volleyed, wrong-footing their opponents as they grabbed the opening set, 6-4.
Aussie pair break German/Czech to seal victory
The Aussies began the set in the same way as the first, holding serve to immediately get on the scoreboard. The pair then raced away to a love-40 lead with a backhand winner down the line from Dellacqua. The 31-year-old excellently closed down the net and forced the error to break for 2-0. However, they gave the break straight back to their opponents after Barty put a volley wide. The Czech held serve the next game to bring the set level at 2-2. Barty also served well, putting the Aussies ahead at 3-2.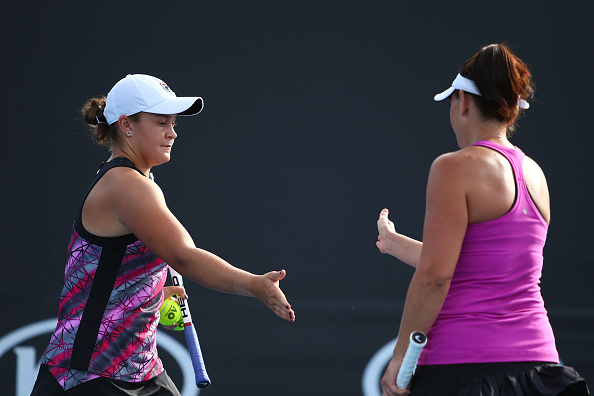 In the following game, Barty and Dellacqua put the German/Czech pairing under enormous pressure but squandered six break points as Groenefeld eventually held to bring the set level at 4-4. The young Australian continued to hold serve well a love-40 service game put them within a game of the match. With Peschke serving to stay in the contest, Barty's excellent volleying skills forced the error as triple break/match points arrived. A forehand winner left by Groenefeld clinched the match for the ever popular Australians.