Andrea Hlavackova and Peng Shuai created an upset over Ekaterina Makarova and Elena Vesnina in the quarterfinals of the Australian Open, triumphing in straight sets. Hlavackova and Peng looked to be in great form and has a chance to progress to the final for the first time together as a pair, but would have to beat top seeds Caroline Garcia and Kristina Mladenovic in the semifinal before having a chance to compete for the title.
Hlavackova and Peng clinch tight first set
The Russian pair suffered a slow start to the match as they hit some poor net shots and Makarova failed to find her first serves to gift Hlavackova and Peng two break points. A couple of well-placed serves then saw the Rio Olympics gold medalists hold their serve in a nervy game to start the match with and prevent themselves from falling behind right at the start. Makarova and Vesnina continued their slow start to the match as they hit four consecutive forehand errors to allow Peng to hold her service game to love.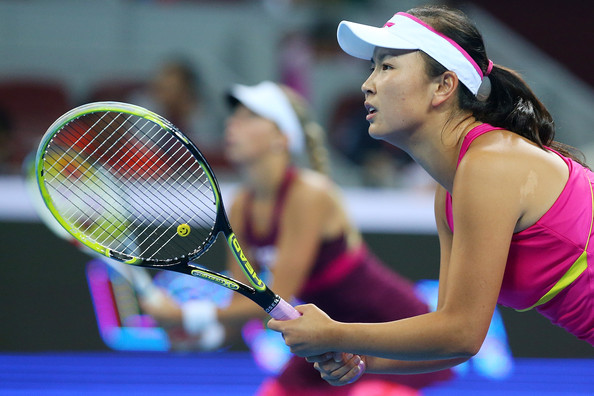 Inconsistent serving from Vesnina saw her hit two double faults and concede break point opportunities yet again, but Hlavackova and Peng had to wait until they converted their fifth break point in the game to break and get the early advantage. They then consolidated the break of serve after playing solid groundstrokes which eventually helped them to get a 3-1 lead. After a string of comfortable service holds which followed as both pairs looked very productive on their serve, Makarova had to serve to stay in the set while the scoreline was at 3-5.
The WTA Finals champions were once again in big trouble as they faced two set points during the game, but maintained their composure to save both of them with winners at the net. Some strong play at the net which saw the Russian pair hit three consecutive errors then allowed them to hold onto their service game to stay in the set. Makarova and Vesnina finally earned their first break points of the match, and they made great use of those rare chances to break back and level the match just at the last moment.
Vesnina's serve once again looked vulnerable as two double faults from her eventually saw her losing her serve once again to give the Czech a chance to serve out the set. This time they did just so, as they served the set comfortably to be halfway from a semifinal spot after 54 minutes of intense tennis.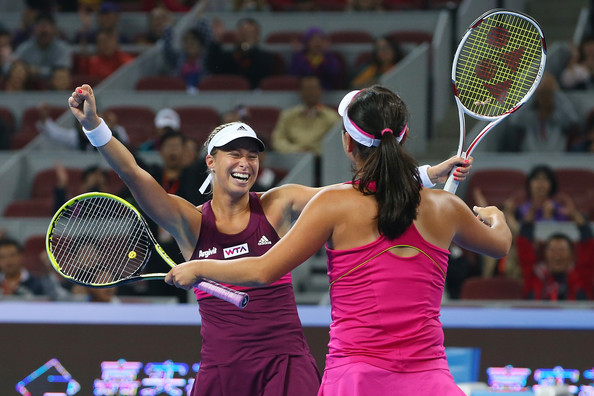 Hlavackova and Peng seal their semifinal spot
The start of the second set saw a string of comfortable service holds before the Czech-Chinese pair made the first breakthrough by first breaking serve at 2-2 with some good returns. Their celebrations were proved to be short-lived, though, as the Russian pair saved a game point to break back immediately and keep themselves in the match. There was a third straight break of serve when poor forehand shots cost Makarova and Vesnina greatly as they were broken once more, giving Hlavackova and Peng the lead once again.
This time, Hlavackova and Peng finally consolidated the break of serve as she held her serve to affirm her lead in the scoreboard. Similar to the first set, Makarova and Vesnina made a small comeback right at the last moment as she broke serve at 4-5 with three consecutive backhand winners, leveling the match once again.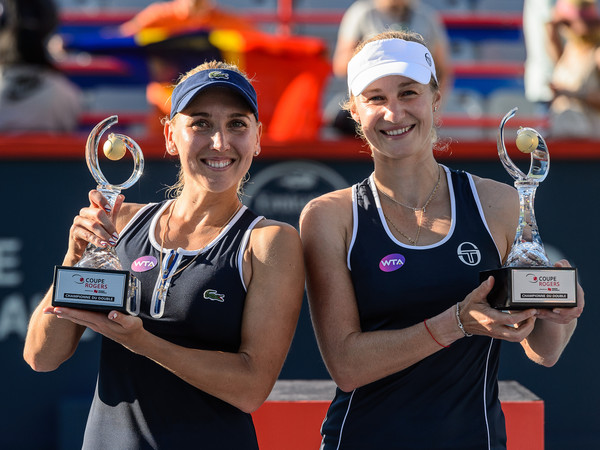 The second set was eventually extended into a tiebreak to decide its winner, and the Russian pair looked to level the match as they jumped into a 3-1 lead within a blink of an eye. Hlavackova and Peng then won three straight points to take a 4-3 lead and won a mini break at 4-4 to have the advantage in their hands. Makarova and Vesnina got back the mini break at 4-6 but failed to win their service point to eventually allow Hlavackova and Peng to be victorious.