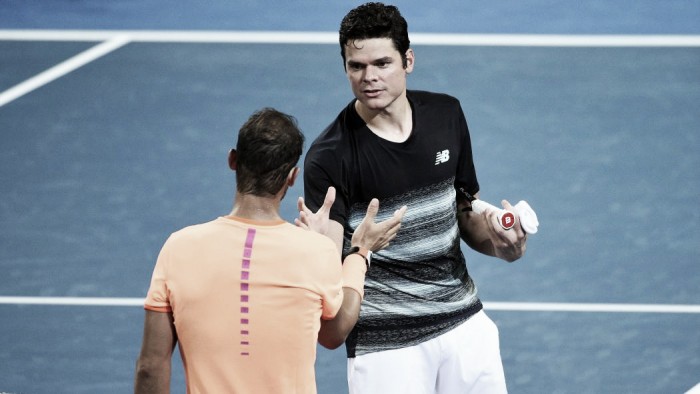 Ninth seed Rafael Nadal will be competing in his first Grand Slam quarterfinal since the French Open in 2015. The 14-time Grand Slam champion has been playing some sublime tennis at the Australian Open, and the 2009 champion has the chance to regain his title. Nadal's compatriot, Carlos Moya has joined his coaching team, which has slightly changed the Spaniard's game as Nadal has been serving to his opponent's body.
To add a little narrative to this match with Nadal's quarterfinal opponent being the highest seed left in the draw, Milos Raonic. Raonic was formerly coached by Moya, last year and the duo had some considerable success last year. The Canadian reached the semifinals in Melbourne last year and his first Grand Slam final at Wimbledon. Furthermore, the draw has opened up in both halves of the draw with the two favourites, Andy Murray and Novak Djokovic both falling before the quarterfinals.
Nadal's route to the quarterfinals
The former world number one began his 12th Australian Open campaign against Germany's Florian Mayer. Mayer previously defeated Nadal on hard courts in Shanghai back in 2011, moreover, the Spaniard gained his revenge and defeated Mayer in straight sets. The second round saw Nadal square off with 2006 finalist Marcos Baghdatis. The Cypriot's best days are behind him, and the 2009 champion thrashed Baghdatis, 6-3, 6-1, 6-3. In the third round, Nadal survived an almighty scared against 24th seed Alexander Zverev. The left-handed Spaniard came back from a set down and two sets to love down, defeating Zverev, 4-6, 6-3, 6-7 (5), 6-3, 6-2. The Spaniard defeated sixth seed Gael Monfils in the fourth round in four sets, advancing to his ninth Australian Open quarterfinals.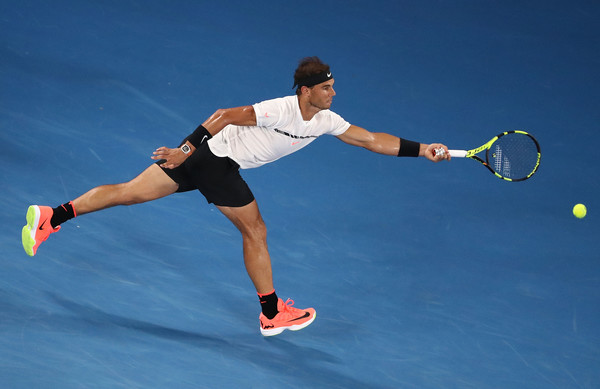 Raonic's route to the quarterfinals
The third seed recorded two straight sets victories against potentially tricky opponents in Dustin Brown and Gilles Muller. The victory over Muller in the second round was a significant one as the Luxembourg native claimed his first career title in Sydney, almost a fortnight ago. The first seed that the Canadian faced off with was Gilles Simon, the 25th-seeded Frenchman took Novak Djokovic to five sets last year in Melbourne. Furthermore, Raonic only needed four sets to defeat Simon, 6-2, 7-6 (5), 3-6, 6-3. In the fourth round, Raonic defeated 13th seed Roberto Bautista Agut, 7-6 (6), 3-6, 6-4, 6-1 advancing to his third consecutive quarterfinal in Melbourne, and fifth Slam quarterfinal overall.
Their history
Nadal and Raonic have met on eight occasions, and the 14-time Grand Slam champion leads 6-2 in their encounters. Nadal leads 5-2 on hard courts and 1-0 on clay.
The ninth seed won their first two meetings on hard courts in the round of 16 stage in Tokyo in 2010 and 2011. The former world number one continued his dominance over Raonic by defeating him in the semifinals in Barcelona on clay, 6-4, 6-0 and in Raonic's first Masters 1000 final in his hometown of Montreal, 6-2, 6-2 both in 2013.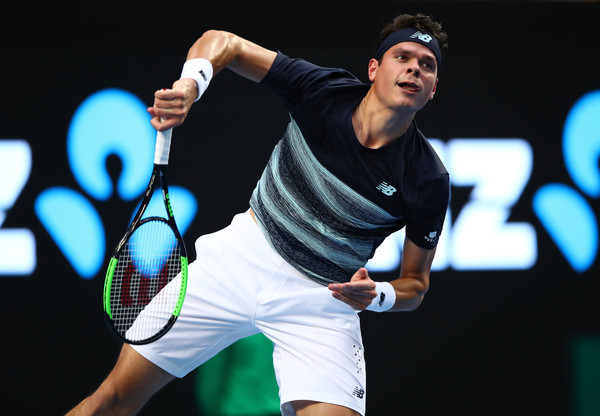 Nadal recorded his fifth consecutive victory over the Canadian in the quarterfinals of the Miami Open in 2014, 4-6, 6-2, 6-4. However, for the first time in six meetings, Raonic saved a match point and defeated Nadal in a three-set thriller, 4-6, 7-6(10), 7-5 in the quarterfinals of the BNP Paribas Open in Indian Wells in 2015. The Spaniard would avenge that loss by defeating Raonic in the third round of the Shanghai Masters, 6-3, 7-6 (3). Last year's semifinalist defeated Nadal for the second time in his career in the quarterfinals of Brisbane, 4-6, 6-3, 6-4.
Who advances to the semifinals?
This will be the duo's first meeting in a Grand Slam tournament and in a best out of five-set environment, which favours the Spaniard. The third seed has been suffering from a flu-like temperature. This will not be ideal for Raonic as Nadal is one of the fittest players on tour, who will make him work hard in this match.
The illness of Raonic will simply play into the Spaniard's hands giving him the advantage before a ball is even hit. However, Raonic will be able to keep the points short with his monstrous serve, and his movement has improved over the past 12 months. The third seed's forehand is a deadly weapon which he will be looking to utilise against Nadal. Furthermore, if Raonic's service games are quick, he will be able to swing freely in Nadal's service games by putting him under pressure immediately.
The fans at Melbourne Park will be hoping for a "Fedal" final between Roger Federer, the 17th seed and Rafael Nadal. Moreover, both players have a few obstacles to overcome before that possibility can become a reality. Should Nadal and Federer meet it will be their first Slam meeting since the semifinals here in 2014, and their first Slam final meeting since the French Open in 2011. It springs a good opportunity for both Nadal and Raonic as the Spaniard will be looking for his 15th Slam title and Raonic will be searching for his first.
The winner of this intriguing quarterfinal match between Nadal and Raonic will face a resurgent 15th seed Grigor Dimitrov or 11th seed David Goffin in the semifinals on Friday. The quarterfinal encounter between Nadal and Raonic will take place in the Rod Laver Arena at 8:30 pm local time.
Prediction: Nadal in four sets