Following his come-from-behind four-set victory over giant-killer Denis Istomin, a beaming Grigor Dimitrov sat before the media to discuss the keys to his success in 2017, which he largely attributes to the rediscovery of his love for the game late last year after a rough couple of seasons where he failed to meet, let alone surpass everyone's expectations, including his own.
Dimitrov: Fighting Helped Pull Me Through in the End
Less than an hour after ending Istomin's dream run to the second week, which included his historic five-set victory over six-time champion Novak Djokovic, Dimitrov sat down with the press to discuss a victory he felt was largely influenced by his willingness to fight despite not bringing his best tennis to the forefront. Reflective as always, the Bulgarian was quick to give full credit to Istomin for a shutout opening set, where he was simply unable to match the Uzbek's assaults from the back of the court.
"I knew I had to fight, that's for sure," he explained. "I never wanted to underestimate him. He's an excellent player. Experienced, as well. I just needed to, you know, fight. I needed that one game to kind of get into the match and have that rhythm going."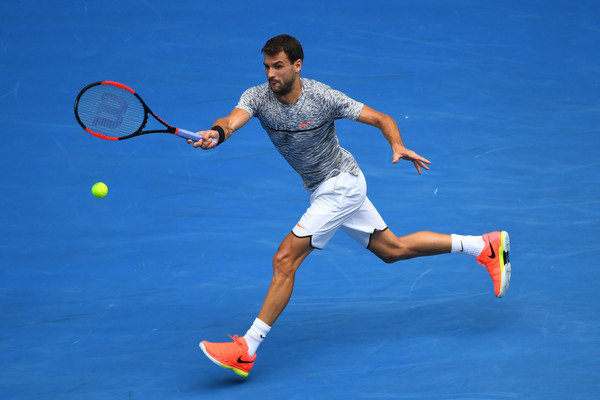 "I was just happy with the win, for sure," he continued to elaborate, reflecting on how his chances on paper against the Uzbek matched up in real life. "I mean, I fought I think through that second set. Then the third, I was just playing very steady. I was doing the right things. In the fourth, I was just stepping in and absolutely playing my game to the point I was doing everything I wanted pretty much each game. So that gives you a lot of confidence."
Fire Meets Fire: Red-Hot Dimitrov Looks Ahead to Last Eight Clash with In-Form Goffin
In arguably the most explosive of the four quarterfinals, Dimitrov will now look ahead to his clash with in-form Belgian David Goffin, who is arguably playing some of the best tennis of his career right now. After making a number of adjustments over the offseason, Goffin has now further proven himself to be a legitimate contender to consistently go deep in the second week of majors, and didn't show any signs of stopping any time soon in his last 16 clash with good friend Dominic Thiem, another masterclass of clean hitting at its finest.
Aware of the dangers that Goffin presents off the ground, Dimitrov says he just needs "to be ready mentally and physically for the battle" after practicing with the Belgian a few times over the course of the 2017 preseason. "It's going to be a tough match, for sure, without a doubt. David is an excellent player. In a way, I know what to expect from him. And he's a very dangerous player," he remarked.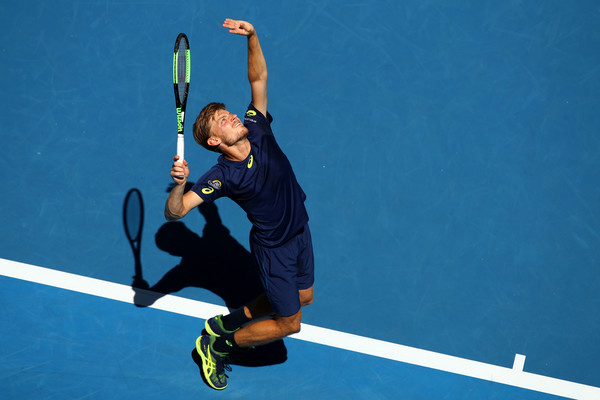 "I think recently he's been serving really well, really well. He served his way out of trouble. I think this is, for sure, one of his biggest weapons I think right now," he later mentioned when asked to elaborate on the challenges of facing a player like the Belgian. "For sure, he's [also] one of the greatest defenders out there."
"I mean, that's what I'm saying. He's very dangerous all over the court. He can hit quite a few shots, moves well on the court, reads the game well."
With the shockingly early elimination of Djokovic from the final quarter of the draw, a lot of opportunity promises to be at stake for both Dimitrov and Goffin, who will go head-to-head for just the second time with a spot in the last four of a major on the line. For the Bulgarian, it will be incredibly important for him to play as much of the match on his terms as possible, as this opportunity could very quickly slip from his fingertips and into the hands of Goffin, who has looked devastatingly good so far this past week in Melbourne.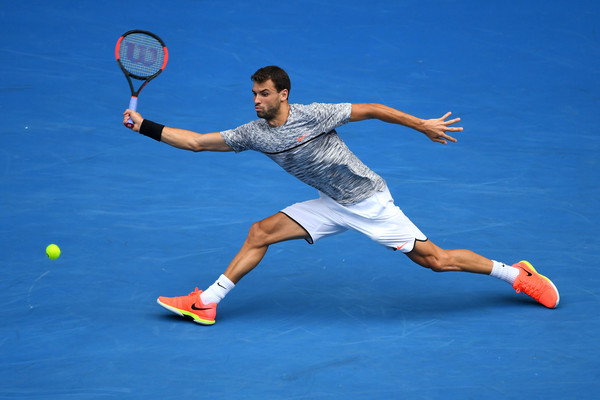 Dimitrov's Key to Success in 2017? Going Back to the Basics
A Grand Slam semifinal will not be uncharted territory for Dimitrov, who reached that stage of competition at Wimbledon a short two-and-a-half years ago, losing out to eventual champion Djokovic in a four-set thriller. Since then, the Bulgarian's results have fluctuated and had seen more lowlights than highlights until late last year, when a much-needed change in his team seemed to steer him in the right direction. From there, the former Wimbledon semifinalist has since seen his ranking shoot back up into the top 16, a dramatic difference from being on the verge of falling outside the top 40 after that same Grand Slam.
When asked what he felt were the keys to his success in 2017, Dimitrov was quick to mention his ability to draw on previous experiences to place a bigger emphasis on what needed more work during the offseason. "I mean, I've been on tour for about eight years now. I kind of know what I have to do," he said. "So, I mean, I haven't done anything different different in my offseason. I think I was just very, very composed, and I had a good structure with my team. We were focusing I think on the right things."
"I've learned a lot of new things about myself, I think, starting to work with Dani [Vallverdu], my coach. It was just nice that he came at a good time, the end of last year. As soon as the offseason was on, it was just very simple. [We] had quite a few big talks. We discussed what we can do better, what we need to work on, what we need to improve, and how we want to be in 2017. I mean, simple as that."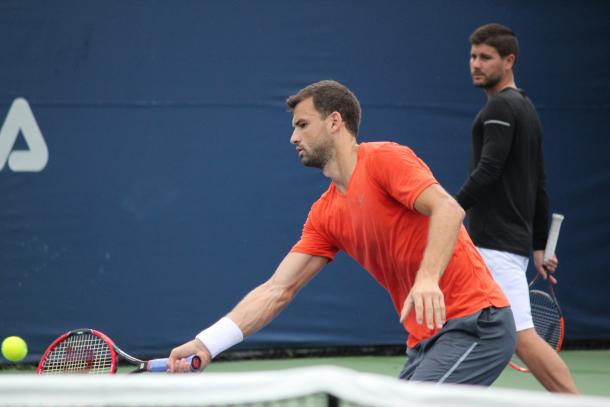 With a renewed emphasis on reverting back to the basics that propelled him into the top 10 almost two and a half years ago, even the Bulgarian himself has noticed a significant change in his self-belief, which started with a picture-perfect run to the title at the 2017 Brisbane International. So how is Dimitrov feeling going into one of the biggest matches of his career in the last two-and-a-half years?
"I feel good right now," he responded. "In the same time, [I'm] also humbled with the results I have so far. But now you enter into a different phase of the tournament, so I'm just focused on that."
Dimitrov Talks Rediscovering His Love for the Sport
Late last summer at the U.S. Open, Dimitrov admitted to rediscovering his love for the game after a rough stretch of form where he failed to live up to the high expectations set by not only himself but also the media. When asked to elaborate on his comments, Dimitrov clarified, "Well, I fell in love with tennis many years ago. Yeah, it was just a time that I wasn't in, I think, a really good mental place. I was, I don't want [to] say grumpy, but there were things going on around. I just needed to find that inspiration again. I needed to find that way of playing and enjoying again, loving again."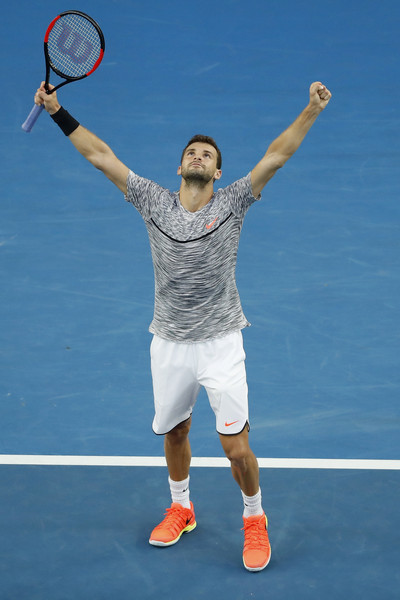 "So my best friend was tennis, of course. 'The person,' I was counting on that. I was coming on the court. There was just days after days I was going through that momentum. That's why I said I fell in love with the game again. It gives me the excitement. It gives me all those butterflies every day coming out to a match."
"I count those moments, and I appreciate them way more than actually some of the wins or anything like that. Like the moment makes you feel, like, that special feeling."
"I obviously have a soft spot for [women]," he later continued with a smile. "You know, on a serious note, I always try to keep whatever else outside the court. I think when I was younger, I was struggling to kind of differentiating love from a personal love or a tennis love or whatever else, for sure," he said, referring to his high-profile two-year relationship with Maria Sharapova.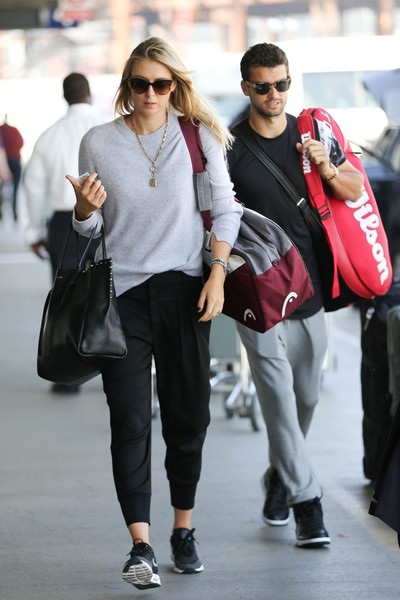 "There was [a] time, a period, that I wasn't, like, kind of sure how to deal with both things in the same time. But you learn. I guess we grow. I mean, I don't want to say I've learned from my mistakes, but I've learned myself a little bit better. I think that helps me. Hopefully, it's going to help me for the future through any kind of falling-in-love stuff."