 The 2008 Wimbledon Ladies Final: Serena Williams - Venus Williams. The 2008 Wimbledon Gentlemen's Final: Roger Federer - Rafael Nadal. Yes, the only time tennis has ever witnessed arguably the four greatest tennis players of this generation grace the court on a weekend final was on the famed grasses of the All-England Club.
And here we stand, just three sets and one Rafael Nadal win away from witnessing it all over again. However, there's a twist to this. This time around, these four are past their primes, and they're all in their 30s. They did always say that 30s were the new 20s.
After the women's semifinals at the Australian Open, one half of the "dream finals" have been complete with both Serena and Venus winning. Venus got through a tough three-setter against younger compatriot Coco Vandeweghe while Serena steamrolled feel good story, Mirjana Lucic-Baroni.
For Venus, the story is amazing. She has been fighting Sjogren's Syndrome, an autoimmune disease, fell out of the top 100 at the end of 2011 and is finally back in her first Grand Slam final since Wimbledon 2009. For Serena Williams, major finals in her recent history are nothing new. Last year alone, she made three Slam finals but only won one, but in 2015, she made the first three Slam finals of the year and brought home the titles in all of them. Everyone expected one Williams in the final, but no one expected two.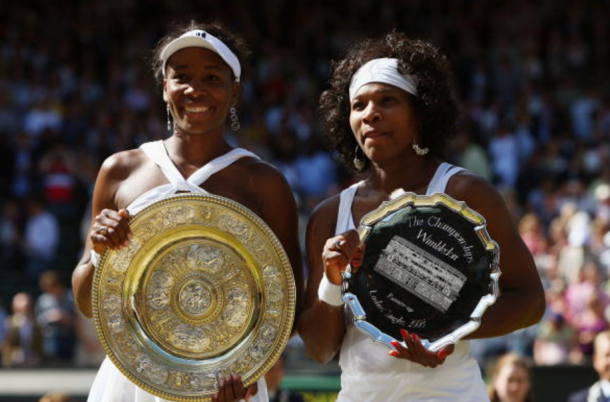 Meanwhile, on the men's side, Federer escaped a tough battle against countryman and good friend Stan Wawrinka. The 17-time Grand Slam champion looked well in control in the first two sets with Wawrinka unraveling in key moments to gift breaks to his elder statesmen. Despite that, the mental toughness of the world number four showed in the third and fourth sets, capturing them to force a fifth. Missed opportunities haunted him once again though in the fifth, as he would fall to Federer.
Three of the four pieces to the "dream finals" are set. The wait for Rafael Nadal to finish the dream finals begins. A majority of tennis fans are ready to witness something that hasn't happened since 2008, and it's up to the Spaniard to see if he can turn back the tennis clock to 2008.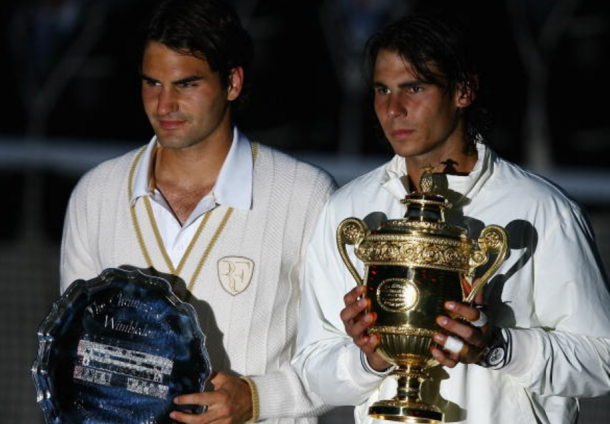 A Long Time Coming
Three years ago, Nadal was in position to compete for history. He met then first-time Grand Slam finalist Wawrinka in the 2014 Australian Open final. The double Grand Slam would not happen though, hurting his back early in the match which really hampered his ability to compete as the Swiss captured his first major title in four sets.
After capturing his 14th title on his favorite red clays of Roland Garros, it has been quite a difficult road for the Spaniard to reach the top of the throne. The end of 2014 saw him deal with a wrist injury while 2015 was one of the worst years in his career as he witnessed a massive dip in his form. Last year, there were glimpses of the "Old Nadal" edging out his opponents in key matches which helped him win his 28th Masters 1000 title. Despite that, another wrist injury and a struggle with his confidence, missing key shots with his favorite forehand.
It was a positive start for Nadal this year in Brisbane. He looked brimming with confidence, taking out two solid opponents in Alexandr Dolgopolov and Mischa Zverev in his openers before falling to a tough opponent in Milos Raonic.
If this Australian Open has shown us vintage Venus, Serena, and Federer, we've definitely seen vintage Nadal at times. In his match against Alexander Zverev, we really saw true vintage Nadal. The former world number one was two sets to one down to the teenage phenom but broke him early in the fourth set to set up a decisive decider. Despite going up a break, he gave the break back, but Nadal did his best to make every point as physical as possible, which eventually caught up to Zverev on a 37-shot rally where he cramped after the point. The classic Nadal never-say-die attitude was on full display to come back from that deficit.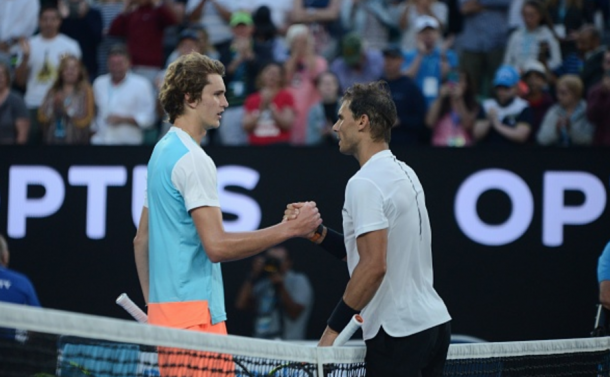 After getting through Gael Monfils, Raonic awaited again. The Canadian pulled it out in three sets in Brisbane two weeks before, but Nadal was determined to be sure that those who wrote him off ahead of the match that he was ready to make a statement. Well, the statement was made, the 14-time Grand Slam champion dictated a majority of the rallies and used both his forehand and backhand to punish the Canadian. When his back was against the wall in the second set, he did not falter, saving six set points, before winning the match in straights.
Carlos Moya A Key Helper
Since bringing on Carlos Moya, Nadal has found his aggressive old self once again. This is the same aggressive Nadal who won 14 Grand Slam titles, an Olympic Gold Medal in singles, and 29 Masters titles. A huge difference though is the serve. More and more we see Nadal going to the body serve. The body serve can jam an opponent and can catch them off guard, especially since they're likely to be wary of the serves up the tee to the deuce side and out wide on the ad side, which is to the backhands of right-handed players, the weaker sides for most of them.
Party Crasher?
Despite all of the dream final talk, Grigor Dimitrov has plans to ruin the party. The world number 15 has been on fire this year, winning Brisbane and is undefeated heading into his second career Grand Slam semifinal. The stage was not too big for him the first time during Wimbledon 2014 when he played brilliantly despite a loss to Novak Djokovic. Below are the two key factors on how he can ruin the party.
Dimitrov's Keys To Success
If there is one thing that is clearly noticeable in Dimitrov's game this season compared to the past, it's his ability to remain aggressive throughout a majority of his points. Over the previous two years where we have seen the Bulgarian's rank fall, the problem was his shot choice and court positioning. Time and again, Dimitrov would be well behind the baseline and his opponent would be the one dictating play. We'd also often see that he would not take the opportunity to rush the net at the best opportunities, leaving him susceptible to longer rallies.
This year, Dimitrov is hugging the baseline more, taking the ball early, and we see that he's looking to shorten the points by attacking the net more than we have seen in year's past. The court is playing quicker than usual which will play into the world number 15's hands; the speed of the court has extremely helped Roger Federer this year and Dimitrov has a very similar playstyle to the world number 17.
The aggressive play style is the first thing that new coach Dani Vallverdu has helped improve with Dimitrov, but the second is movement. The Bulgarian is moving much better not just laterally but his north-south running has been superb as well. Dimitrov is always now in positions to hit the best shot choices. Before, we would see him try and run around the backhand often to try and hit the forehand, despite not being the best play. We would also see him getting caught flat-footed at times, leaving him to make susceptible shot choices at times. With his better movement, he will definitely be able to keep Nadal on the move.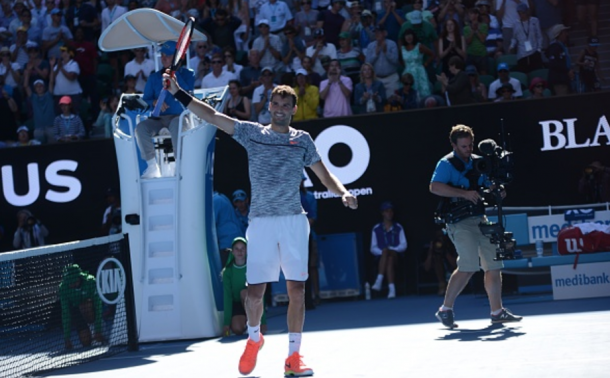 Bring on 2008?
No one would have ever imagined the thought of having four 30-year-olds, the four greatest tennis players of this generation potentially in the finals. Dimitrov may be ready to crash the party, but be ensured that the voices of his boisterous Bulgarian fans tonight will be drowned out by an obvious pro-Nadal crowd.
Even if Dimitrov wins, both finals will have historical implications, but even more so if Nadal manages a victory tonight.
Venus will be battling to win her first ever Australian Open title, leaving the Career Grand Slam in play for the French Open should she win. Serena is looking for her 23rd Grand Slam title, which would leave her the most for any player, male or female, in the Open Era and one behind Margaret Court for most all-time in singles.
Federer is looking to add to his Grand Slam haul, trying to get the 18th title which has eluded him since 2012. Nadal is looking for a shot at a Double Grand Slam, a feat that no man in the Open Era has accomplished. A win in the final would put him only two major titles behind Federer in the title race.
To finish, we'll bring up something which was previously mentioned in the article.
We are three sets and one Nadal win away. Three sets and one Nadal win away from the #MakeTennis2008Again movement being completed. Love it or hate it, get behind the movement, because that is what all tennis fans want to see.