The first round of the St. Petersburg Ladies Trophy pit defending champion Roberta Vinci against the dangerous Timea Babos, a repeat of their thriller last year at the exact same tournament where Vinci triumphed in three sets. It was the same result this time round as Vinci once again was victorious in three sets despite a very tough fight put up by Babos.
Vinci starts perfectly
The defending champion had a great start to the match as she carved out a service hold to start the match on a positive note. Vinci's effective backhand slices and net game were enough for her to earn two break points in her opening return game of the match, and she converted her second break point after Babos hit a forehand into the net to gift the early advantage to the Italian. Vinci then consolidated the service break with a comfortable service hold and extend her lead to 3-0. Babos conceded two break point opportunities yet again but managed to return to deuce as she came up with some excellent offensive style of tennis.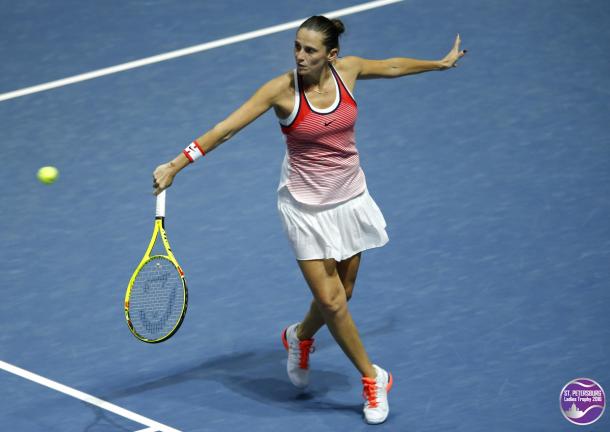 Despite that, the winner from Babos at 30-40 seemed to be out, with Vinci not challenging. Had she challenged, it could have helped her to have a double break lead. Babos eventually held her serve to clinch her first game of the match, putting her onto the scoreboard and preventing Vinci from running away with the first set. Vinci would rue the missed opportunity as she was broken immediately in the next game with Babos able to overpower Vinci with her strong baseline game, returning back on serve. Unable to take her break point chances once again, Vinci allowed Babos to escape from the brink and hold her serve once more.
Vinci finally stopped the rout when she held her serve to lead 4-3 as her backhand slices mixed up Babos' rhythm on her dominating baseline game. The Italian finally took her chances well as she broke serve immediately in the following game, earning the chance to serve out the first set. An easy service hold to love then saw Vinci successfully served the set out after 37 minutes, a set which she could have closed out games earlier.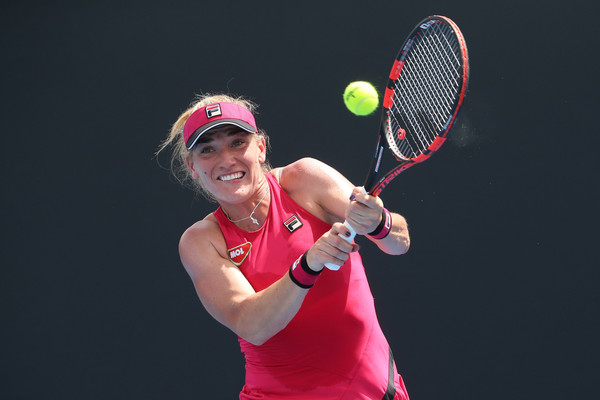 Babos fights back
A great start to the second set saw the defending champion break serve in the opening game of the set, jumping out to get the advantage in the early stages. Nevertheless, Babos made an immediate reply by breaking back straight away to return back level. Vinci had a chance to regain the lead but missed the chance as Babos hit some strong serves to hold her serve and take a 2-1 lead. A 35-shot rally at 15-30 won by Vinci then paved the way for her to hold her serve, as she heavily relied on her world-class backhand slices to trouble Babos.
A very tight game followed as Babos held her nerves to hold onto her service game to prevent herself from falling behind in the scoreboard. Vinci soon fell behind a break as Babos managed to overpower Vinci's crafty backhand slices with her own effective offensive baseline game to take a 4-2 lead. The 2015 US Open finalist did not let Babos hold onto the lead for long, though, as she earned yet another service break to return back on serve. Unforced errors started to cost Vinci greatly as Babos got another break to have the chance to serve out the second set and level the match. Babos finally closed out the second set with a wonderful drop shot winner on her second set point, sending the match into the distance.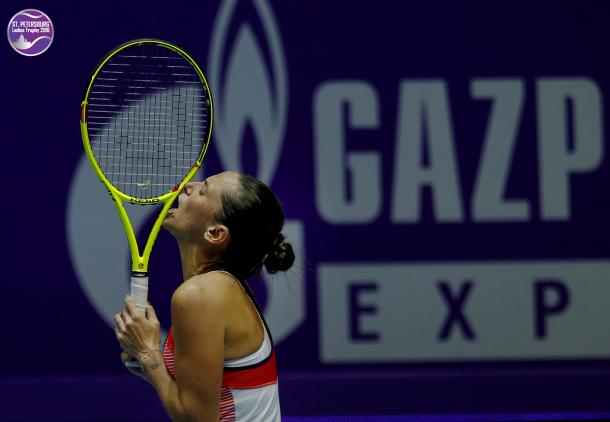 Vinci comes back from the brink
Babos had a perfect start to the final set as she broke serve in the opening game of the set with some amazing tennis played to have the early advantage. The Hungarian then looked poised for a victory as she managed to consolidate the break of serve to affirm her lead on the scoreboard. Vinci made an escape when Babos threatened to break once more but held her serve eventually to close the deficit to just one game.
Vinci looked out of sorts as Babos continued to play her offensive tennis, which managed to overpower Vinci as she held her serve comfortably to lead 3-1 in the final set. Vinci finally found her best tennis at the right moment as she broke back in the following game, and then holding her serve to take the lead in the final set for the first time. Fending off yet another break point, Babos held her nerves to hold serve and ensure that the match remains on serve at 4-4.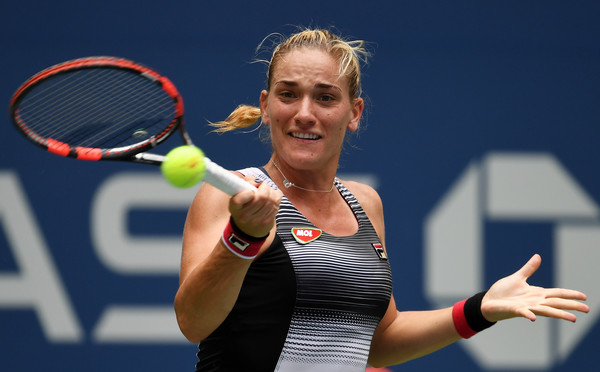 Consecutive unforced errors from the Hungarian then wasted all two of her break points and allowed Vinci to escape from the brink to hold serve and lead 5-4. The pressure and nerves got over Babos as she hit some unforced errors at the wrong moments to gift Vinci a match point, which the Hungarian saved to get to deuce. Vinci finally closed out the match with a backhand volley winner after 2 hours and 6 minutes of excellent tennis played by both.
Next up for Vinci
Roberta Vinci would next face either Andrea Petkovic or Irina-Camelia Begu, of which both are very difficult opponents. Nevertheless, with this victory in mind, Vinci would have the confidence needed to progress to the quarterfinals.