 Seeded No. 17, a 35-year-old won the year's first major after having not played an official match in over six months. If that wasn't impressive enough, that 35-year-old beat four top-10 players en route to the title, all of whom are younger than him. On top of that, his victory gave him his 18th Grand Slam title, extending his own record.
Already regarded by many as the greatest of all time, Roger Federer's victory in Melbourne solidified his title as the game's greatest of all time, commonly referred to by its acronym, the GOAT.
Federer defeat Rafael Nadal 6-4, 3-6, 6-1, 3-6, 6-3 in an thrilling final to claim the title at the 2017 Australian Open.
In addition to extending his own record of most Grand Slam titles by a male player, Federer became the first player to win three Grand Slam tournaments five times or more (five Australian Open, seven Wimbledon and five U.S. Open titles), and the Swiss Maestro became the oldest Grand Slam winner since 1972.
Six months off paid dividends for Swiss Maestro
While winning Grand Slam title number 18 is impressive on its own, the way that Federer won this title is what separates it from his other 17 titles.
Entering this year's Australian Open, the big question being asked around Melbourne and around the world was how Federer would play after so much time off the ATP World Tour. His return was welcomed with fanfare, as the Swiss Maestro is one of the most popular players on the tour.
The current world number 10 shut his 2016 season down after falling to Milos Raonic in the 2016 Wimbledon semifinals in five sets. Federer said his doctors told him he could either rest his knee for a short period and return quickly, or he could take the rest of the year off and prolong his career a few years.
His decision was unpopular at the time. While his fans and the tennis community missed the Swiss number two throughout the second half of last season, they now certainly appreciate his decision.
Federer's Australian Open got off to a semi-shaky start in the first two rounds. However, his play picked up from the third round on. As his play picked up, so did his confidence. The tennis world took notice.
His ability to come into a tournament after so much time off and play at such a high level proves Federer's status as the GOAT. As he said after the tournament, he wasn't expecting to make the final, let alone win the tournament.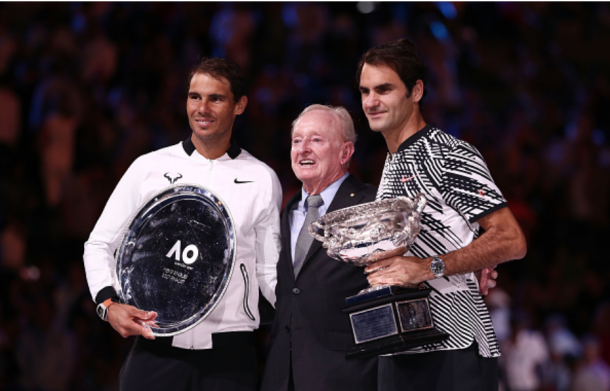 Federer continues to baffle father time
Federer's seven years in between Australian Open titles is a new record, only confirming the 18-time Grand Slam champion's longevity and endurance.
The fact that Federer is still in contention for Grand Slams in his mid-30s is remarkable. The 35-year-old has defied father time for years. Many began calling for his retirement years ago, yet somehow, Federer kept winning.
Between his 2012 Wimbledon title and this title, Federer's career was questioned year-in and year-out. As he lost a step, the retirement questions came back. Yet each time, the 18-time Grand Slam champion continued to power through.
Between his 17th Grand Slam title at Wimbledon in 2012 and his title in Melbourne, Federer was unsuccessful in three Grand Slam finals, losing to Novak Djokovic each time.
He played Djokovic twice at Wimbledon, in 2014 and 2015, and at the U.S. Open in 2015. Each time, tennis fans and analysts alike called the match his last chance to win number 18. When he lost in September 2015, most had given up hope for the elusive 18th Grand Slam title. All except for Federer himself.
At 35, most players who remain active are simply trying to win a match, let alone contend for titles. Winning the Australian Open at 35 makes Federer the fourth-oldest man to win a Grand Slam title. He is the most recent No. 17 seed to win a Grand Slam since Pete Sampras won the U.S. Open in 2002. It is only fitting that the Swiss Maestro finally moved past 17 Grand Slams as the 17th seed.
Federer's longevity separates him from pack
Perhaps the most impressive part of Federer's success has been his ability to adapt to the tennis style of the time. When he made his name on the tour in the very early 2000s, the game of tennis revolved around serve-and-volleying.
Federer was successful at this style of game. His grass-court game took off as a serve-and-volley player.
However, as the style of the game changed to more rallies at the baseline, many of the tour's veterans dropped off. Not Federer.
The Swiss number two adapted and changed his game over time to remain on top of the game. No player has played in such different eras of tennis with such success.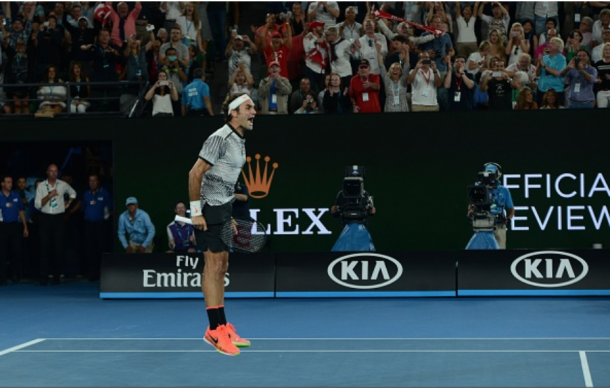 Roger Federer will go down in the history books as the greatest male tennis player of all time. Let his records speak for themselves. For example, Federer has the most Grand Slam titles.
He has been to the most Grand Slam finals at 28 appearances. He has made at least five finals at each Grand Slam. He has won at least 65 matches at each Grand Slam. The list goes on and on.
In what many called the most important tennis match in history, it was the 35-year-old Federer who avenged so many of his earlier losses to Nadal in Grand Slams. He stepped up when it mattered most, giving the sport of tennis what it desperately needed.
The Fed-Express' unexpected and successful stop in the finals of the Australian Open only adds to his arguments as the GOAT.
We do not know how much time we have left to watch both Federer and Serena Williams, arguably the greatest female tennis player of all time.
Instead of wondering about the future, it is best to sit back and enjoy the one-of-a-kind player Federer is. Put all the debate to rest. Roger Federer is the greatest male tennis player of all time. This Australian Open title is just icing on the cake.