Canada's Denis Shapovalov says he is "ashamed" of the incident which saw him strike the umpire, Arnaud Gamas, with the ball in his decisive Davis Cup fifth rubber with Great Britain's Kyle Edmund.
The 17-year-old found himself down two sets and had just been broken in the third when he arrowed the ball in the direction of the umpire.
Gamas required an ice pack to swell the bruising on his left eye and, after regaining his composure, awarded victory to Edmund and Great Britain by default.
A careless incident
"I feel incredibly ashamed and embarrassed and feel awful for letting my team and country down," the Canadian told reporters after swiftly retreating to the locker room after the match.
The crowd fell eerily silent when the ball struck Gamas and the shock quickly etched across the youngster's face.
Gamas has bruising and swelling on the affected eye and will attend Ottawa General Hospital for precautionary evaluation, the official Davis Cup website confirmed.
Shapovalov sought the umpire after the match where he offered his apologies.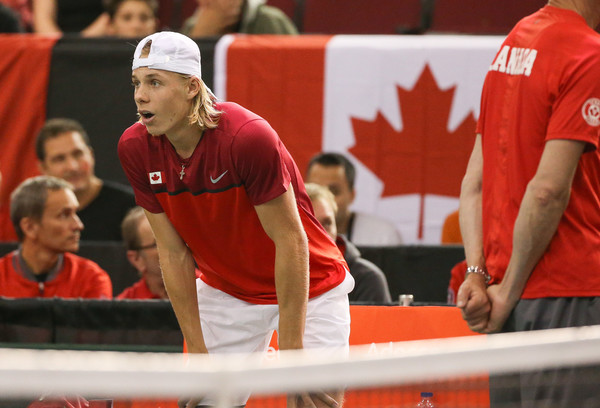 A collective sense of shock
The incident quickly drew parallels with David Nalbandian's incident at Queen's Club in 2012 where the Argentine kicked a nearby line judge in anger after losing a point.
Canada's Davis Cup captain, Martin Laurendeau, said: "I didn't see what happened. The game was over and I just heard the crowd go silent all of a sudden."
Laurendeau says he is "surprised as anyone" by the incident and that it is "a shame" for both the umpire and the player.
Great Britain's Davis Cup captain, Leon Smith, echoed a similar sentiment, saying: "It is a surprise what happened at the end there and it is a shame."
"I feel for the young lad. He's a great talent and he has learned a harsh lesson."