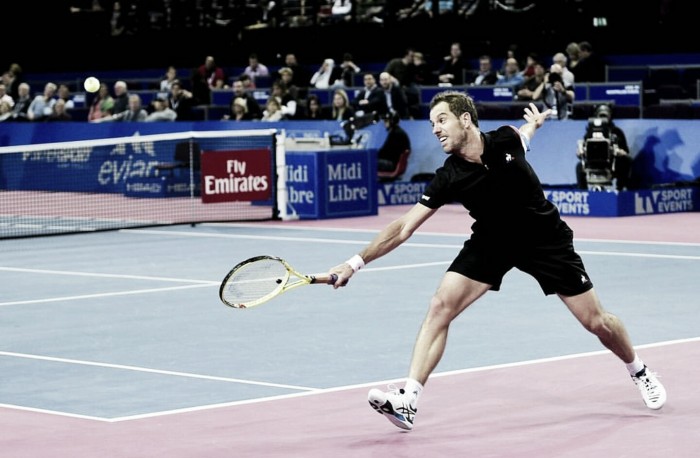 In the first quarterfinal match at the Open Sud de France, Richard Gasquet defeated Kenny De Schepper 6-2, 5-7, 6-4 to advance to the semifinals. He will now play Benoit Paire who advanced via a retirement by Dustin Brown.
Gasquet runs away with the set
Gasquet began the match by bringing up a break point at 30-40 when De Schepper missed a backhand down the line. An ace brought the game to deuce but Gasquet went on to earn a second break point and broke, with De Schepper hitting an unforced error. This was followed by a hold of serve to go 2-0 up. The world number 162 continued to struggle in the opening set and his backhand went missing once more as the three-time champion gained a double break point at 15-40. An ace followed by a forehand winner sent the game to deuce.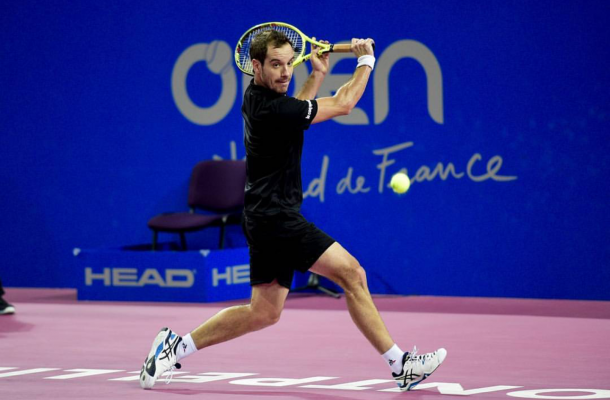 De Schepper would go on to save two more break points in the game but a passing shot from Gasquet on his fifth chance saw him break. And despite saving a break point in the next game, Gasquet consolidated and took a 4-0 lead. De Schepper stopped the rot and held serve to love for 4-1. Just two games later, the 162nd ranked was forced to save three set points en route to holding for just the second time in the set with an ace. In the next game, Gasquet would bring up triple break points but struggled to close the set-out, wasting two opportunities. But eventually finished the set off on the next point, 6-2.
De Schepper fights back
Two break points would go the way of Gasquet at the start of the set. However, De Schepper would deny the third seed before going on to hold serve. Gasquet, on the other hand, held serve much more easily as both held their opening service games for 1-1. With the score level at 2-2, Gasquet brought up more break points and once again, the 29-year-old dug in and saved two break points en route to edging out in front at 2-3. From that moment, De Schepper began to grow into the match, hitting winners and forcing errors from his opponent as both players held their next couple of serves with the set now at 4-4.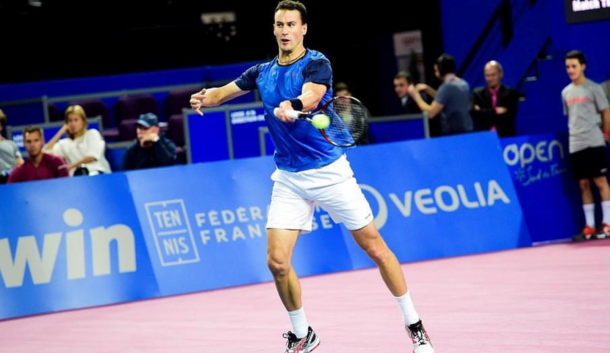 In the very next game, Gasquet took a love-40 lead and despite having being denied twice, he broke on his third chance when De Schepper sent a forehand long. However, De Schepper hit straight back at the home favorite, breaking back and then going on to break Gasquet again to go in front at 5-6. Now serving to stay in the set, Gasquet went down a break/set point at 30-40, seeing his backhand shot clip the net and go wide of the line. The next point went the way of De Schepper as he drew level, 5-7.
Gasquet finishes off a stubborn De Schepper
Just like in the previous set, Gasquet began by bringing up double break points. One was saved but the other was taken with a backhand winner. The number three seed consolidated to go up 2-0. De Schepper held serve in the third game then broke to level at 2-2 in the fourth when Gasquet served a double fault. De Schepper then began causing problems and pushing Gasquet in each service game but the three-time champion hung on in and stayed level with his opponent holding serve to draw level at 4-4.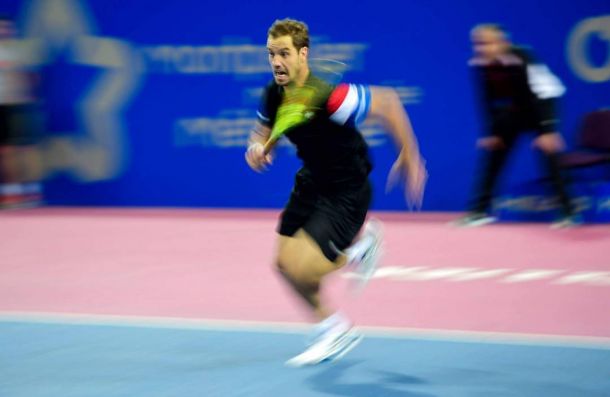 The eight-game then saw Gasquet up his game and earn double break points at 15-40. De Schepper as he has done for most of the match, dug in and sent the game to deuce. However, the world number 22 earned a third break point and broke. In the next game, a forehand winner saw Gasquet with triple set points. De Schepper cut the deficit to just one point but the match was eventually finished when Gasquet hit a fantastic first serve to progress to the semifinals.