Fabio Fognini knocked out the seventh seed Jo-Wilfried Tsonga 7-6(4), 3-6, 6-4 in two hours 30 minutes to advance to the third round at the BNP Paribas Open. Up next is Pablo Cuevas or Martin Klizan
Fabio Fognini wins the set on a tiebreaker
Both players started by holding their first service games. The third game was dominated by Fognini who managed to get to deuce before an unforced error brought him a break point. An aggressive forehand winner denied the Italian before Tsonga won the next two points and held for 1-2. Fognini held his next service game to love then applied more pressure to the Frenchman, who was struggling to deal with the 29-year-old. At 30-all, Fognini fired a forehand down the line which caused an unforced error and a break point to arrive. The Italian sent a backhand long before the Frenchman held a tricky service game to stay in the set at 2-3.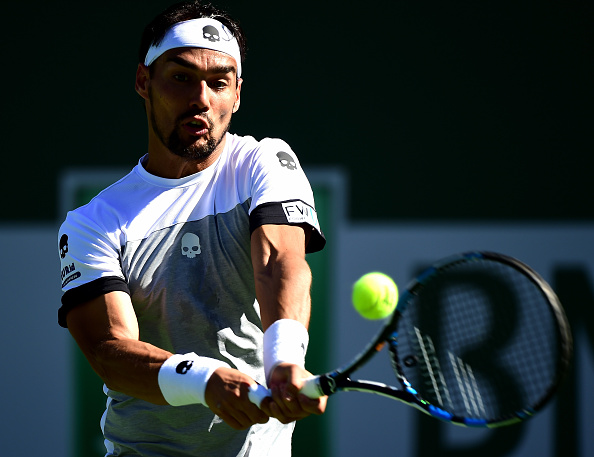 Both players, more Tsonga finally settled and were trading blows for the next six games with the set nearing its conclusion at 5-6. Serving to stay in the match, the Italian was finally challenged and Tsonga's aggressive forehand produced an unforced as a break/set point went his way at 30-40. The world number 43 saved the break/set point with a forehand winner then sent the set to a tiebreaker. With the breaker going on serve for the first eight games, the Italian broke through and won the next two points to bring up a set point at 6-4. Tsonga gifted the set by putting a slice into the net, 7-6(4).
Tsonga battles back forces a decider
Just like the first set both players began with comfortable holds of serve. In the third game, Tsonga raced away to a love-40 lead, gaining triple break points. The Frenchman opened up the court and hit a forehand winner into space as he broke for a 1-2 lead. Tsonga managed to consolidate the break but wasn't without trouble as he was forced to save two break points en route to going 1-3 up. Still being troubled, the 31-year-old faced a break point at advantage in the sixth game. He quickly erased the point with an ace down the t. But Fognini wasn't lying down and another break point came and went for the Italian.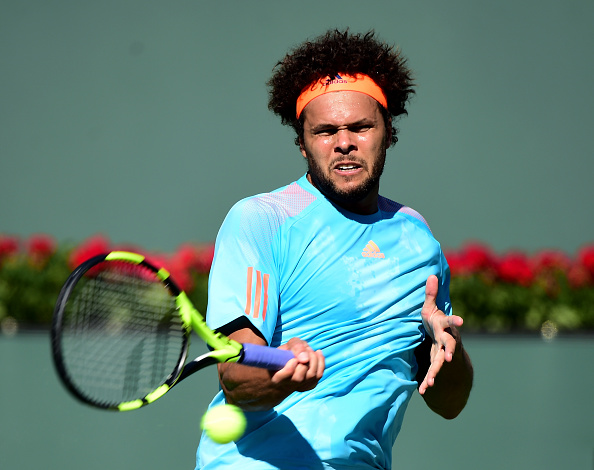 A third and final break point wasn't to be taken with Tsonga having to work to win the point and the game, holding for 2-4. With Fognini serving, Tsonga then pressured the Italian, earning a break point of his own at advantage with a stunning forehand return. Despite saving this, Tsonga would earn a second and once again would miss his chance to go further ahead in the match as Fognini held. The seventh seed held his next service game to love for 3-5. Serving to stay in the set, Fognini would save two break/set points before a third would be taken by Tsonga with a forehand return to winning the set 3-6.
Fognini finishes off Tsonga, advances to round three
The third set would start out confidently for Fognini who immediately gained a break point at advantage. This would be taken followed by a hold of serve as he took an early 2-0 lead. However, Tsonga soon found himself back in the set in the fourth game, earning three break points with a wonderful forehand winner crosscourt. A backhand struck into the net allowed Tsonga to break and draw level at 2-2. He backed this up by holding serve to edge out infront at 2-3. He would pile more pressure on Fognini in the very next game, making him double break points before holding serve to draw level at 3-3.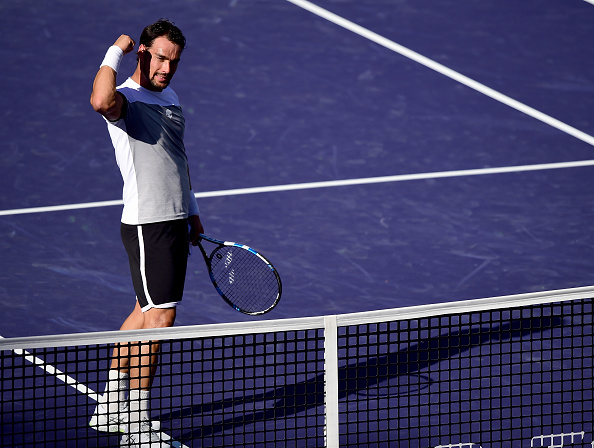 The Italian then carved out an opening in the next game running away to a love-40 lead and gaining break points. The seventh seed sent a forehand wide which gave Fognini the break at 4-3. But he couldn't stretch his lead and Tsonga came straight back at him on his second break point to draw level at 4-4. The Italian kept plugging away and even more break points arrived in the match, this time two of them at 40-15. The Frenchman would save both and send the game to deuce but Fognini earnt a third and dealt a hammer blow by breaking. This time, he finished of Tsonga once and for all, gaining a match point, taking it and advancing to the third round.