As soon as the draw at the BNP Paribas Open at Indian Wells was finalized, all eyes were on a possible fourth round meeting between former champions Rafael Nadal and Roger Federer. This will be the duo's earliest encounter since their first meeting almost 12 years ago in the third round of the Miami Open. The 14-time Grand Slam champion was successful on that occasion in their first of 35 encounters. Federer has won the last two encounters including their most recent match in the final of the Australian Open, which saw the Swiss maestro lift an unlikely but well-deserved 18th Grand Slam singles title. It was the former world number one's first Grand Slam singles title since Wimbledon in 2012, and first on hard court since Melbourne, seven years ago.
What's so remarkable about Federer and Nadal meeting in the fourth round of the BNP Paribas Open, is that both players are working their way back up the rankings. The Spaniard endured a torrid past couple of campaigns on the ATP World Tour due to ravaged injuries, and a loss of confidence. Moreover, Federer managed to reach two more Wimbledon finals in 2014 and 2015, and the US Open final in 2015. However, the 35-year-old was ruled out after Wimbledon last year due to a knee injury but has returned stronger than ever.
Nadal's route to the fourth round
The three-time BNP Paribas Open champion was suffering from illness prior to his appearance at the first Masters 1000 tournament of the year. The Spaniard reached his second final of the year in Acapulco losing to Sam Querrey, which was a surprising result. Nonetheless, Nadal has brushed that defeat off and turned his attention to a fourth title at Indian Wells. The 30-year-old is also searching for his first Masters 1000 title on hardcourt since winning in Cincinnati in 2013. Moreover, the sixth seed received a bye in the first round, and he began his quest against Argentina's Guido Pella. Despite dropping serve twice in that encounter, Nadal has been effective and efficient in his matches. He defeated Pella, 6-3, 6-2, and for the 19th time he was up against, dangerous compatriot and 26th seed Fernando Verdasco in the third round. Ironically, all three of their encounters in Indian Wells have taken place in the third round and once again, Nadal bested his compatriot, 6-3, 7-5 advancing to the round of 16.
In his press conference, the 14-time Grand Slam winner spoke about his performance. "I played a good match, no? Very aggressive with my serve, serving well, hitting good forehands, good backhands. Very happy, I think I played much better today than the first day."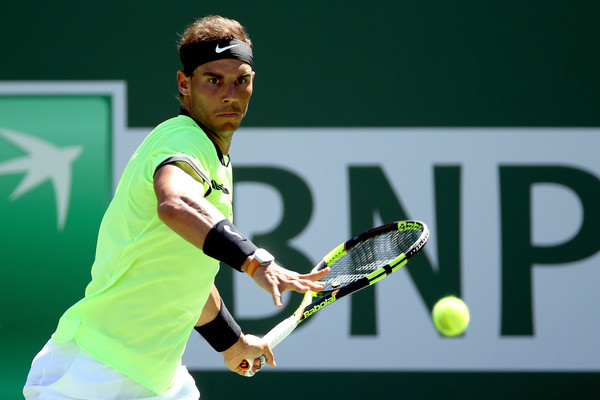 ​Federer's route to the fourth round
The reigning Australian Open champion will be looking to equal Novak Djokovic's haul of five BNP Paribas Open titles. Furthermore, the ninth seed received a bye in the first round like Nadal, and he began his campaign against France's Stephane Robert. Federer brushed aside Robert, 6-2, 6-1 in under an hour, which is vital for the Swiss number two to conserve energy for the latter stages of the tournament. In the third round, Federer was paired with 24th seed Steve Johnson for the second time, who he played in the fourth round at Wimbledon last year. The four-time champion failed to break the American's serve but won the crucial points in the tiebreak to clinch a straight sets victory, 7-6 (3), 7-6 (4) setting up this fourth round encounter with the Spaniard in the process.
Federer didn't participate at the BNP Paribas Open last year, as he opted for a lighter schedule. However, the former world number one has been formidable at the Californian Desert as he has reached the final in his last two appearances in 2014 and 2015 losing to a certain Novak Djokovic in both of those finals. In his press conference, he was pleased to renew his rivalry with fellow former multiple champion Nadal.
"That's why I came here, to play against guys like Rafa. Now we have it." Federer further elaborated, "I'm going to be excited now, I'd better be excited now otherwise I came for the wrong reasons." The 18-time Grand Slam champion was philosophical in his presser. "I try to see it really as another opportunity to build upon something for the rest of the season. So regardless of Australia, winning or losing, I'm going to try to go out there and try to play free again. I think it's really important." The Swiss maestro said that he was still feeling tired in Dubai but says he has a chance of beating Nadal. "I feel like tomorrow if I move well I will definitely have a chance against Rafa."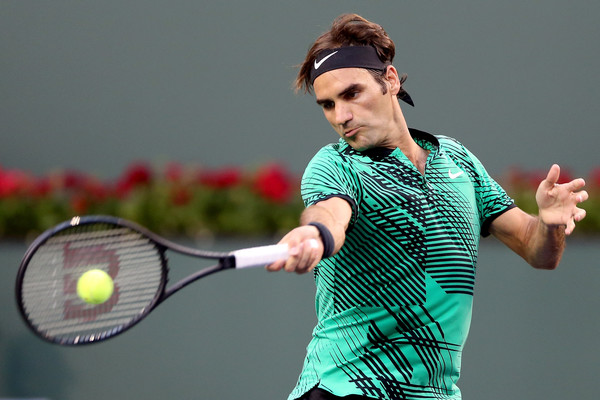 Their history
Nadal and Federer will do battle for the 36th time. The Spaniard has a commanding 23-12 head-to-head in his favor. Nadal leads 13-2 on his beloved clay courts and 9-8 on hard courts, whereas Federer leads 2-1 on grass courts. The sixth seed has a 14-8 advantage in all finals and he also has a positive 9-3 lead in Grand Slam encounters, along with a 6-3 lead in Grand Slam singles finals.
The Spaniard won their first encounter in the third round of the Miami Open in 2004, 6-3, 6-3, which has been their earliest meeting to date. However, Federer would win their first final in their second match in the final of Miami in 2005, coming back from two sets to love down. Nadal won their first meeting in a Grand Slam in the semifinals of the French Open in 2005 in four sets, en route to claiming his first of a record-breaking nine French Open titles. The former world number one would go on to win four more successive matches against his rival, including their first Grand Slam final against each other in Paris in 2006, which Nadal would win in four sets.
Eventually, Federer would snap his five-match losing streak against his fellow former world number one colleague in the final of Wimbledon a month later. It was the 35-year-old's fourth consecutive title at SW19. Once again, the duo would square off in finals at the French Open and Wimbledon in 2007 with Nadal winning the former in four sets and Federer the latter in five. The sixth seed would lead 8-5 in their rivalry at this point. After winning at a fifth successive title at Wimbledon, Federer would defeat Nadal in the semifinals of the Masters Cup in China. However, Nadal would go on another five-match winning streak against his eternal rival. Victories included wins in five finals starting with Monte Carlo and Hamburg in 2008. The 14-time Slam winner won their next three Slam finals. Thrashed Federer, 6-1, 6-3, 6-0 to win his fourth consecutive title in Paris, and one of the greatest matches of all-time at Wimbledon. Nadal ended Federer's reign as the five-time defending champion, 6-4, 6-4, 6-7 (5), 6-7 (8), 9-7 to clinch his first of two titles at SW19. Nadal got the better of his rival in the final of the Australian Open in 2009 in five sets.
Nadal had a 12-6 lead in their rivalry at this point. Federer managed to gain his first victory over the Spaniard in just under two years in the Mutua Madrid Open final on clay in straight sets in 2009 and Nadal would return the favor a year later. The Swiss maestro beat the sixth seed in the final of the ATP World Tour Finals in London in 2010. The 30-year-old won their next three meetings culminating in a four-set win at the French Open in 2011, his sixth title in seven years. Federer got the better off him in the round-robin stage in London that year but they met twice in 2012 with one win apiece. Nadal beat his rival in the semifinals of the Australian Open in four sets and Federer defeated him in the semifinals in Indian Wells.
For the third time in their rivalry, the Spaniard created a five-match winning run against Federer, defeating him four times in 2013. The Mallorca-native defeated him in the quarterfinals in Indian Wells, final of Rome, quarterfinals of Cincinnati and in the semifinals of the year-end championships. However, the sixth seed's last win to date against Federer was in the semifinals of the Australian Open in 2014, thrashing him, 7-6 (4), 6-3, 6-3. The Swiss number two won their last two encounters in the final of Basel in 2015 and in the final of the Australian Open this year.
Who reaches the quarterfinals?
Federer has never beaten Nadal in three successive meetings which is a surprising statistic. Furthermore, the former world number one will be looking to add another scalp in Indian Wells as he looks to emulate Djokovic's haul of five titles. The ninth seed hasn't returned to the form that won him the Australian Open, suffering a shocking loss to Evgeny Donskoy in Dubai. The former world number one held match points in that contest. Federer will need to serve extremely well in this match and will be hoping that his backhand is firing on all cylinders. However, Nadal's forehand is much stronger than the Swiss' backhand, which is why the Spaniard has had success against Federer over the years.
Meanwhile, Nadal will be looking for another big win under his belt to prove critics wrong, and to continue his momentum. In 2017 so far, the three-time Grand Slam winner has reached the quarterfinals or better at every tournament he has participated in. Milos Raonic got the better of him in the quarterfinals in Brisbane at the start of the year. Federer and Querrey defeated him in the finals of Melbourne and Acapulco respectively. The slower courts in the Californian Desert, also give Nadal the advantage as Federer likes to play in fast conditions.
This is the fourth match scheduled inside Stadium 1 and the winner of this match will face second seed and three-time defending champion Novak Djokovic or 15th seed Nick Kyrgios. Djokovic and Kyrgios will do battle, proceeding the Federer-Nadal match which is scheduled after at not before 5 pm local time.
Prediction: Nadal in three sets