 The Australian Open champion Roger Federer has credited a new racquet for his improved consistency off the backhand wing in recent months.
The Swiss number two had his backhand dialed in during his commanding straight sets victory over Rafael Nadal in the fourth round of the BNP Paribas Open.
He will face the mercurial Nick Kyrgios in the quarterfinals on Friday and the 35-year-old admits the decision to change his racquet in 2014 has finally bore fruit in his start to 2017.
Smart move
"I think the backhand has gotten better because I have been able to put in so many hours onto the racquet now," Federer said after his 6-2, 6-3 victory over the Spaniard.
"Since this year, I feel super comfortable with the racquet, and I think I have gained confidence stepping into it."
Federer's 18th Grand Slam success in Melbourne earlier this year was also punctuated by a rasping backhand that undone Nadal in the final.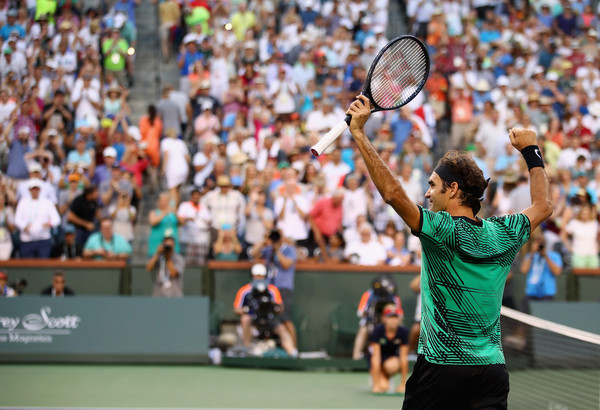 2014 change
The Swiss largely struggled to find consistency in 2013 and he took the decision to switch to a 97 square-inch frame that he initially struggled to control.
But he says the change, coupled with the countless hours he has spent on the practice courts honing the skill, has improved the velocity of his backhand shots.
"I think it was the work that I had in the offseason," he added.
"You never play 10 backhand-to-backhand shots, but in practice you practice those a ton and eventually they are ingrained in the system."
Federer has enjoyed a largely stress-free path to the quarterfinals at Indian Wells, raising several eyebrows with the nature of his win over Nadal.
He required a pair of tie-breakers to down the formidable American Steve Johnson in round three and, should Kyrgios be added to his growing list of victims, Jack Sock or Kei Nishikori await in the semfinal.