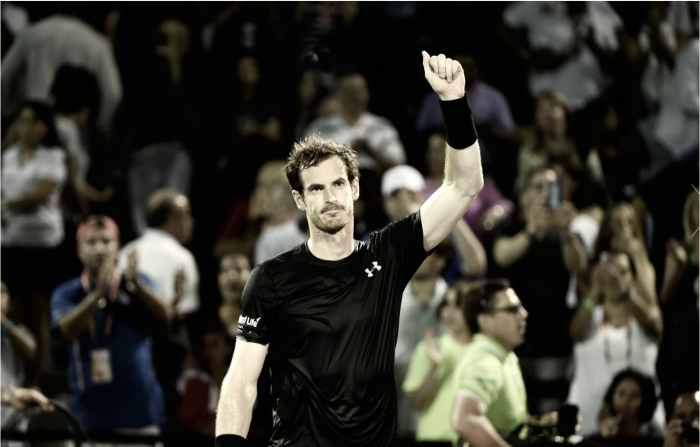 Two-time Miami Open champion and world number one Andy Murray withdrew from the Miami Open Saturday, citing an ongoing right elbow injury.
The news is the second major blow to the Masters 1000 event in one day, as it was reported earlier that world number two Novak Djokovic also withdrew due to an elbow injury.
With both Murray and Djokovic out, it is expected that current world number three Stan Wawrinka will move into the top spot in the draw.
After a disappointing start to his season with a loss in Qatar to Djokovic, Murray entered the 2017 Australian Open with championship hopes. His hopes were dashed in the round-of-16 by an unseeded Mischa Zverev.
However, Murray rebounded in the next tournament, taking the title in Dubai in late February, Murray entered the 2017 BNP Paribas Open as a heavy favorite for the title, yet he was stunned in the opening round by Vasek Pospisil.
The 29-year-old had a favorable draw at Indian Wells, with Djokovic, Roger Federer and Rafael Nadal all drawn in the bottom half of the draw. He was unable to take advantage, however.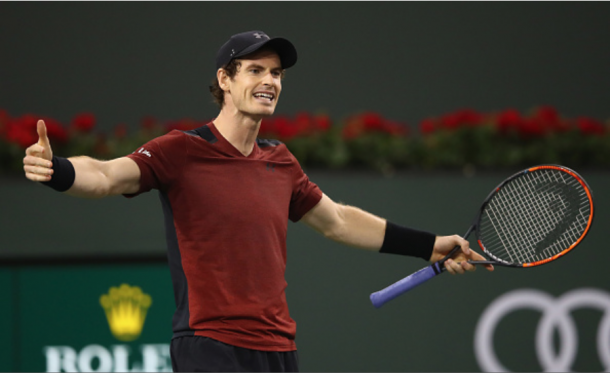 Murray moving on to clay-court season
In a statement released Saturday, Murray apologized to his fans for his withdrawl from the popular American tournament.
"Sadly, due to a right elbow injury, I won't be playing in Miami," Murray said. "Apologies to the fans, it's one of my favorite tournaments. The focus now is on getting ready for the clay season."
It is fair to wonder whether his right elbow bothered him in Indian Wells and whether it contributed to his loss to Pospisil.
Now with Miami off his schedule, Murray is slated to play next at the 2017 Monte Carlo Rolex Masters, which begins April 17.
With the top seed's departure, world number 136 Taylor Fritz, the 19-year-old American, will take his place in the main draw.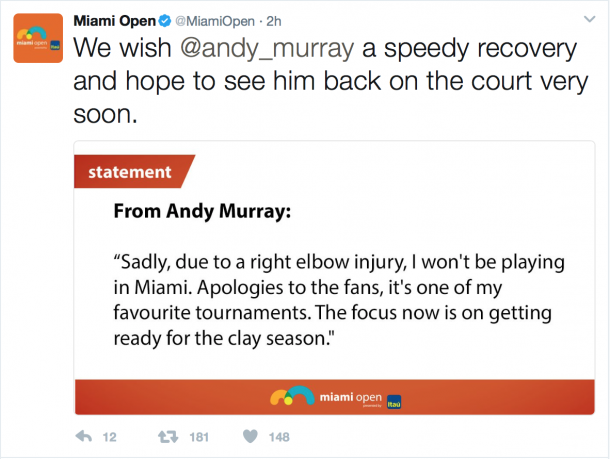 The 2017 Miami Open runs from March 20 until April 2 at the Crandon Park Tennis Center in Miami. The women's main draw begins on Tuesday, and the men begin play Wednesday.