 Milos Raonic showed some rust early in his first match in almost a month, but the third seed returned to the ATP World Tour with a win, taking advantage of some spotty play from Viktor Troicki to knock off the Serbian 6-3, 7-5 in the second round of the 2017 Miami Open. There were times in the match when the Canadian had no answer for his opponent's power, but took advantage of Troicki's wavering level late in both sets to seal his spot in the third round.
Raonic had been out for nearly a month, skipping both Acapulco and Indian Wells with a hamstring injury that forced him to withdraw from Delray Beach after winning his semifinal match. The second round clash in Miami saw the men fighting the elements as much as each other, as rain and high winds wreaked havoc from the start.
Raonic overcomes slow start
The high winds didn't appear to be having much of an effect early on, as Raonic opened with a hold to love and both players cruised through their first two service games. In the fifth game, Troicki would make some inroads on the Canadian's big serve, taking a 0-30 lead and holding a break point at 30-40, where he missed a backhand wide. Raonic seemed to be struggling to put serves in play, but he still managed to hold after an eight-minute game.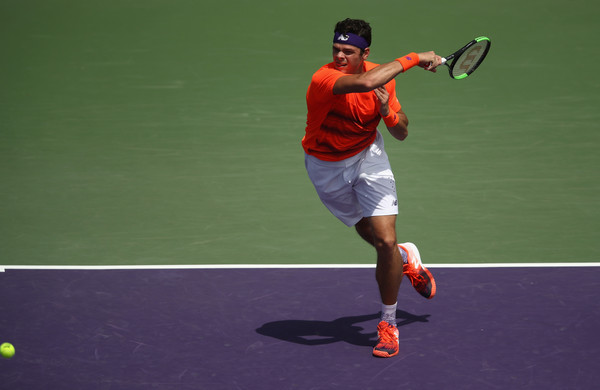 Troicki, on the other hand, continued to cruise, holding to love after Raonic's big hold. Through three service games, the Serbian had only dropped two points on serve. But after the third seed held to love, he finally turned the tables on his opponent. Troicki's serve abandoned him serving at 3-4 and quickly fell behind 15-40. He saved the first break point with an ace, but netted a backhand to give Raonic the break and a chance to serve out the set at 5-3. The Canadian made no mistake, racing ahead 40-0 and converted his second set point with an unreturnable serve.
Troicki unravels late
After just one game in the second set, rain would for the match to be stopped. The break would last just under half an hour. When the pair returned to the court, it was clear that Raonic had benefitted and it, along with the late implosion in the opening set, had completely broken Troicki's momentum. After an easy hold from the Canadian to restart play, errors poured off of Troicki's racquet in his first post-delay service game and he would double fault at break point to hand the initiative to Raonic.
The third seed continued to roll, easily consolidating the break before ramping up the pressure again on his opponent's serve. A low-dipping backhand passing shot drew an error to give him a break point, but Troicki saved it with an approach shot that Raonic couldn't handle. The Serbian would hold, and that would appear to give him some confidence. In the following game, he erased a 30-0 lead and ripped a huge forehand return winner to give himself break point. Raonic would net a forehand to level the score back on serve at 3-3.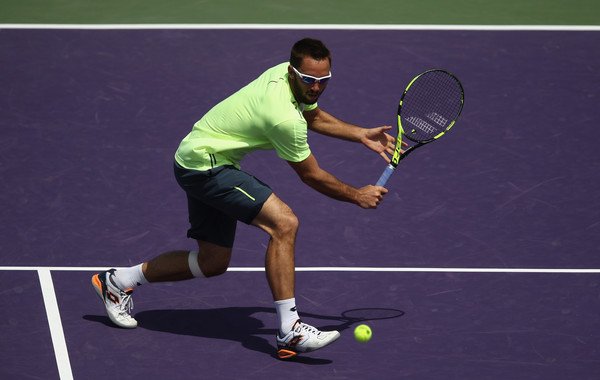 Both men were cruising after the set was levelled, but at 5-5, Troicki began to collapse seemingly out of nowhere. The Serbian led 40-0 on his serve, but double faulted which seemed to open the flood gates. Errors began to pour off of his racquet and before long, he was down break point. He would save it, but dumped a backhand into the net to give Raonic a second chance and this time, he gave the break away with a double fault to give the third seed a chance to serve out the match. The Canadian did not make it easy on himself, struggling to put a first serve in play as he attempted to serve out the match, but his ground game got the job done, holding for the match.
By the numbers
Before the match, it was no secret that both men would come out swinging with their big shots. The difference ended up being consistency. Raonic only narrowly edged Troicki in the winners department 14 to 13 (although all of Raonic's winners came either on serve on his forehand), but the Canadian was far better at keeping the ball in play, as he only committed 14 unforced errors to Troicki's 25. The Canadian held a narrow advantage between the big servers, winning 79 percent of his first serves and 59 percent of his seconds, while Troicki won 71 percent of his first serves and only 41 percent of his second serves. Raonic limited Troicki to two break points, saving one, while holding six of his own, converting three.
Raonic awaits the winner between 28th seed Mischa Zverev and American youngster Jared Donaldson in the third round.