 A year after illness forced him out of the Miami Open in the second round, Rafael Nadal got off to a far better start at this year's event as he cruised past Dudi Sela in his opening match in straight sets. The Spaniard, who is a four-time finalist in Miami, bounced back well after his dismantling at the hands of Roger Federer last week in Indian Wells, cruising through his service games and pummeling his opponents serve on his way to a 6-3, 6-4 victory.
Strong start from Nadal
During his fourth-round loss last week in Indian Wells, Nadal's serve was blown apart. There was no hangover on the other side of the country as he gave Sela nothing to work with in the early stages of the set, opening the match with a hold to love and following it up with a hold to 15. Up 2-1, he went to work on Sela's serve. The Spaniard raced ahead to a 15-40 lead and converted his second break point to take a 3-1 lead.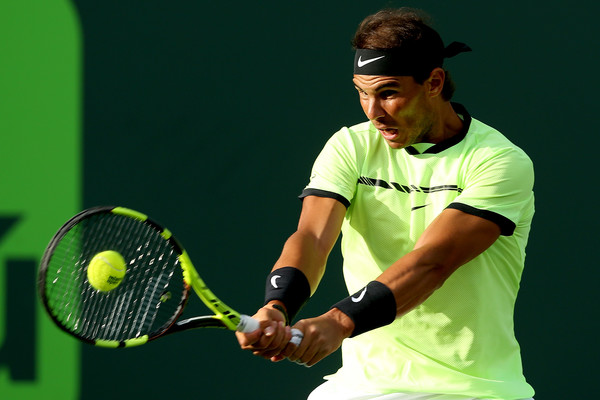 Nadal kept up the strong serving with the break lead, consolidating with a hold to love. He had a chance to extend the lead further in the following game, once again taking a double break point lead on Sela's serve, but this time the Israeli was able to fight back and hold, keeping the deficit to just one break. Sela's best look at the Nadal serve came in the following game at 2-4, when he hung with the Spaniard until 30-30, but could not push any further. The remainder of the set went with serve, as Nadal hung on to take the set 6-3, closing out with a hold to love. The fifth seed only dropped three points on serve in the opening set.
Nadal wears down Sela
Looking to strike a different tone to start the second, Sela opened with a hold to love of his own and followed it up by pushing Nadal to 30 for just the second time in the match in the second game. After a fairly routine first five games, it would be the Israeli who finally had a chance to break through, reaching break point for the first time in the match in the sixth game on the Nadal serve. However, the Spaniard was up to the task, saving it and a second that followed at 40-AD.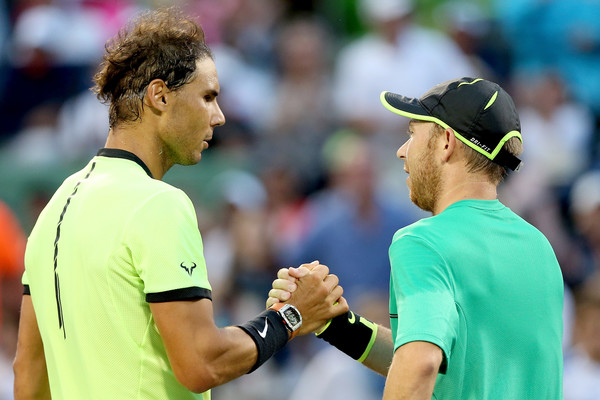 Missed opportunities would prove costly for Sela as, a game after missing those two break points, he would blow a 40-15 lead on his own serve and found himself down 40-AD. Nadal would convert the break point to take a 4-3 lead. That lone break would be all the fifth seed would need, as he held his remaining two service games to 15, reaching the third round in an hour and 31 minutes.
By the numbers
Nadal's strengths were on full display, as he managed to out-ace Sela while also not allowing himself to be aced on return. He won 83 percent of his first serve points while pounding Sela's serve, limiting the Israeli to 50 percent of his second serve points. Nadal converted two of his five break point opportunities, while saving both break points that he faced.
In the third round, Nadal will play the powerful Philipp Kohlschreiber.