The highly anticipated women's singles final of the Miami Open would be contested by 12th seed Caroline Wozniacki and the 10th seed Johanna Konta at 1 pm local time on Saturday in the Stadium Court of Key Biscayne. This is the second successive year that the final would be between two double-digits seeded players after Victoria Azarenka managed to beat Svetlana Kuznetsova in the final last year.
Caroline Wozniacki would be looking to go one-for-one as she will contest in just her first final here in Miami, having just achieved the feat of reaching the finals at all four Premier Mandatory events in her career. Wozniacki looked to be in great form, with her defense looking very difficult to get past against as she will make it a goal to take the trophy along with her on the weekends. This will also be the Dane's third final of the year, having lost back to back finals within two weeks in Doha and Dubai, where she lost to Karolina Pliskova, being yet another victim of her powerful game, and Elina Svitolina, being outclassed in straight sets, respectively.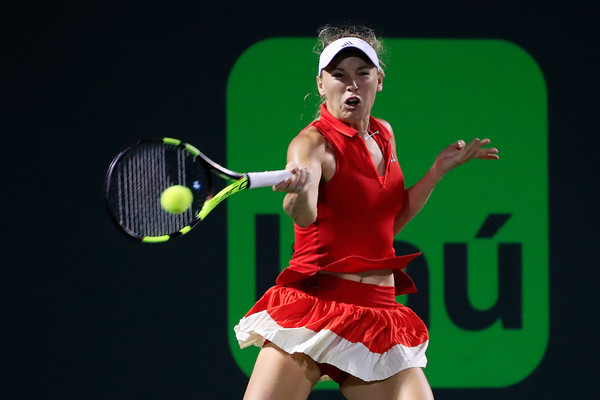 Meanwhile, this is yet another breakthrough week for Johanna Konta as she managed to reach the final in just her second appearance in the main draw here. Previously, she eased to the quarterfinals on her debut appearance last year, falling to eventual champion Victoria Azarenka in straight sets. This year, she once again stormed to the quarterfinals, but this time she managed to extend her run to reaching the final, being the first British woman to ever do so. This would be Konta's second Premier Mandatory final in just a mere seven months, showing how her stellar 2016 was not a fluke. This will be Konta's second final of the year, having won the title at the Sydney International by outclassing Agnieszka Radwanska in straight sets, and she looks to maintain her perfect record in finals this year.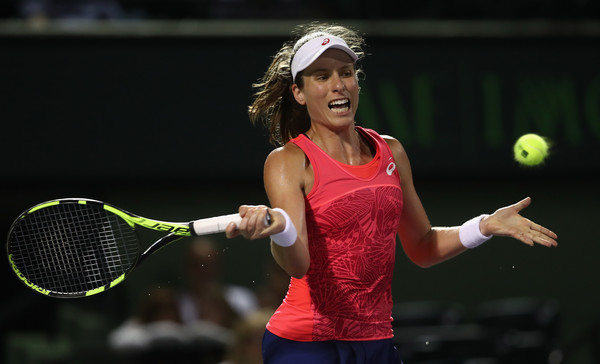 This match would have a large impact on the rankings, with these being the possible situations,
(Note: Konta is currently ranked No.11 in the official rankings and No.9 in the live rankings, and Wozniacki is currently ranked No.14 in the official rankings with her live ranking being No.12)
If Konta beats Wozniacki and wins the title:
Johanna Konta would rise to a new career-high ranking of 7 if she wins the title, soaring to greater heights in her career once again. Konta would then be holding the points of two Premier Mandatory finals in her ranking, and she would face an uphill task in defending them in near future. Nevertheless, she has proven her ability to challenge the top players and she would definitely be up for the task and put up more consistent performances in the future. Whereas Wozniacki would be just kept outside the top 10 in the rankings with the loss, but a return to the top 10 will definitely come soon as she has barely 100 points to defend until the US Open. A win for Konta would also gift Venus Williams a return to the top 10.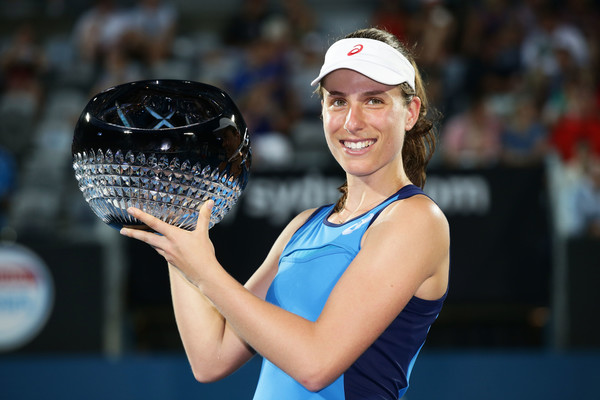 If Wozniacki beats Konta and wins the title:
Caroline Wozniacki would finally return to the top 10 after a long absence from it, having been at a huge risk of falling out of the top 100 in the rankings had she lost the second set against Taylor Townsend in the first round of the US Open. Wozniacki would then have a huge chance to return to the top 5 as she would not be defending any points until the grass court season due to an injury last year. With a loss in the final, Konta would still secure a place in the top 10 for her at No. 10, disallowing Venus Williams to get her return back to the top 10.
Road to the final
Caroline Wozniacki looked sharp in her opener here in Miami as she managed to beat old foe Varvara Lepchenko in the second round, shrugging off the disappointment of the quarterfinal loss in Indian Wells two weeks ago. Then, she fended off the challenge of Sorana Cirstea as she put up an excellent display of counter-punching to triumph in straight sets. A blockbuster meeting with Garbine Muguruza had a bittersweet ending as the Spaniard had to retire after losing a tight first set tiebreak due to an injury, gifting Wozniacki a place in the quarterfinals. Wozniacki then prevailed in a high-quality match against Lucie Safarova there, beating the unseeded players in straight sets as she sealed a return to the semifinals for the first time since 2012. She then took revenge over Karolina Pliskova for her loss in the final of Doha by strolling to the victory in three sets, outhitting her at times as she just conceded two games in the last two sets. This sealed her fourth top 10 win of the year, tying the number of top 10 wins in each of the last two years already, despite being just in April.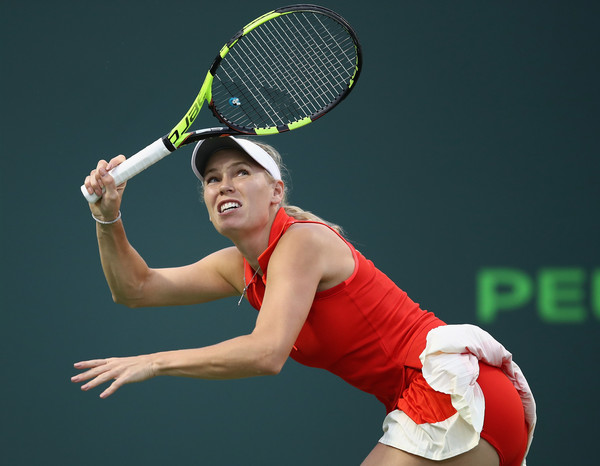 Whereas, Johanna Konta lost two sets in her path to the final as she suffered a huge scare in her opening round match against Aliaksandra Sasnovich, triumphing in three sets as she looked to mount a deep run here in Miami after suffering an early exit in Indian Wells. She then put up a clinical display in the third round as she came through a tough first set to triumph over Pauline Parmentier in straight sets, gifting the Frenchwoman a bagel in the second set. With the draw opening up for her, Konta then strolled to a routine victory over Lara Arruabarrena in the fourth round, setting up a blockbuster meeting with Simona Halep in the quarterfinals. There, she showed some great mental toughness as she came back from the brink of defeat as she triumphed in three sets against the higher-ranked player despite being two points away from defeat in the second set. In the semifinals, the red-hot Konta defeated veteran Venus Williams, who just defeated world number one Angelique Kerber and was on course for a return to the top 10. Now, it would be up to Konta's performance in the final to determine whether Williams would return to the top 10 for the first time since last year.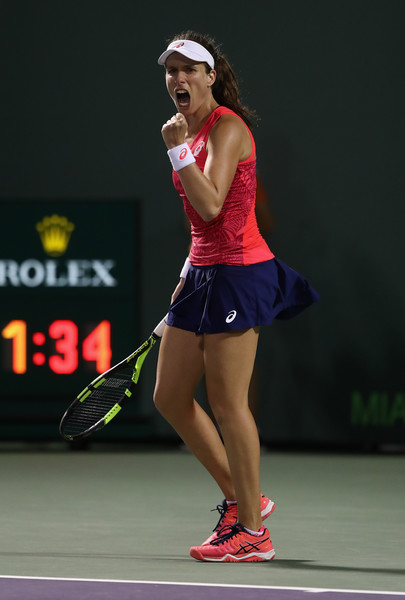 Head to head
Both players have only met once in their careers as Konta had only surfaced on the WTA tour since the end of 2015 when she made her name one to remember as she managed to rise to the top 50 and rattle off numerous upsets all of a sudden. Just when Konta's career was reaching greater heights, Wozniacki's career was declining as she started to be hampered and bothered by a couple of injuries. Therefore, their first meeting only came at this year's 2017 Australian Open, when Konta strolled to a routine straight sets victory in just 77 minutes after playing her best tennis, being merciless on her serve and hitting bombs off Wozniacki's serve, leaving her helpless most of the time. That was truly an excellent performance from the Brit, who eventually fell to the eventual champion Serena Williams in the quarterfinals.
Analysis
Both players looked to be in great form throughout this tournament, which makes this match-up furthermore unpredictable. When Konta is on top form, she would definitely be able to hit winner after winner with the minimum unforced errors, outhitting her opponent from the first rally onwards. When Wozniacki is on her top form which got her the number one ranking many years ago, her counter punching skills are definitely world-class and she would be able to stroll to victories easily. When a world-class offense meets with a world-class defense, it would definitely not be able to predict a clear winner.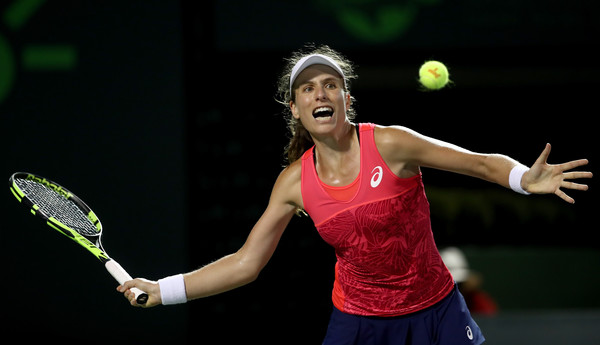 Konta would rely on her strong serves to secure her service games and would need to have a high first serve percentage to have a higher chance of winning as Wozniacki will definitely attack those vulnerable second serves to get the upper hand. Konta's solid groundstrokes might save her, though, provided if her lightning-like backhands would be able to overpower the stubborn Wozniacki's defense. It would also be interesting to see if the Dane will opt for a more offensive approach to the match as Konta will find it uncomfortable to be on the defense, but that would be a very risky move as the Brit has the ability to get some of the strong shots back into play.
Mental toughness also comes into play in this match since the courts in Miami are relatively slower, and thus rallies are naturally going to be longer and more tiring. It is actually something positive for Wozniacki as she has a good history of dealing with the heat and winning matches, and also her game is suitable for the slow courts as it allows her to have more time to prepare for defensive shots. To prevail in this match, the winner must be able to deal well both physically and mentally. In a final at such a huge event, the amount of pressure on either player's shoulder is definitely tremendous. Therefore, after all the tactical analysis, it will all come down to the mental toughness.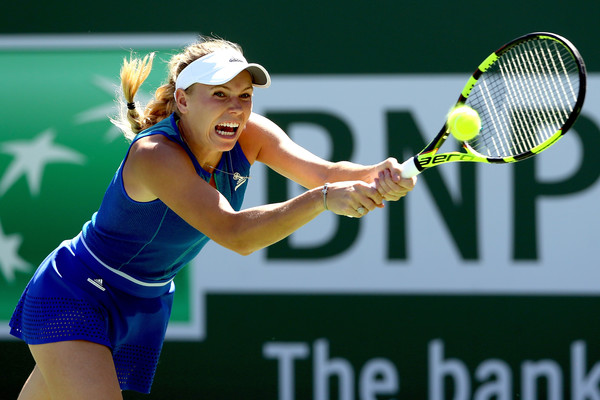 Prediction: [12] Caroline Wozniacki d. [10] Johanna Konta in three sets
With her experience and confidence level rising after every each match, Wozniacki enters this match as the slight favorite as Konta does not look to be playing as good as she did in Australia despite looking red-hot now. However, do not be surprised if Konta can sneak the win and clinch the title.