 Eugenie Bouchard's lawsuit against the USTA could be set to go to trial as early as September this year, her lawyer has revealed, after representatives for both sides failed to come to an agreement in meetings earlier this week.
Bouchard's lawyer, Benedict Morelli, told Canadian sports website TSN that the former world number five had been affected in "a very, very big way" by the incident at the 2015 US Open, which saw the Canadian slip in the locker room and become concussed, forcing her to withdraw from the mixed doubles tournament and her fourth round singles match against eventual finalist Roberta Vinci, as well as the vast majority of the remaining tournaments in 2015.
Morelli points to injury as the source of recent struggles
Bouchard's run to the second week of the US Open in 2015 came following an extremely disappointing season, with run more reminiscent of her previous season, though the fall, which she and her representative claim was in a dark and slippery locker room, ended her run at the tournament and effectively her season, retiring from the China Open later that year.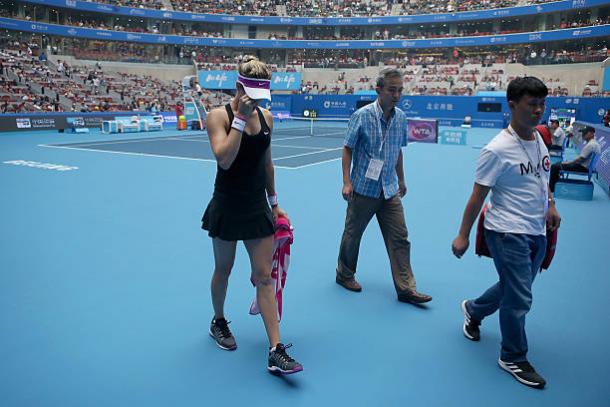 The 2014 Wimbledon finalist failed to rise back up the rankings in 2016 and hasn't had a promising start to 2017, with a 5-6 win-loss record; with the Canadian ranked 56th in the rankings, Morelli has claimed that her failure to progress up the rankings over the past season is due to the effects of her fall.
"Her record doesn't look so good because and that lack of winning has a lot to do with her lack of confidence, her emotional and physical injuries, and someone's going to pay for it," commented Morelli, who later added, "There's nothing we can sue for other than money. Unfortunately, we can't sue to get her form back."
"It's whether or not mentally and emotionally she has recovered her game or not, and we know she hasn't", added Morelli, who also claimed that the USTA were almost blaming the Canadian for the incident after the meeting, and following the USTA's announcement that they had no more to comment on the subject, having previously requested a trial; the body has always maintained that it was not at fault, though Morelli claimed their denials were "bad form" and the he hoped they "change their minds."
Bouchard will next be in action at the Monterrey Open, which takes place next week.