 For only the second time in his legendary career, Roger Federer swept the Australian Open-Indian Wells-Miami triple crown, wrapping up the treble with a straight-sets win over arch-rival Rafael Nadal to claim the Miami Open title on Sunday. In a back and forth match, the Swiss proved to be the more consistent of the pair, holding off Nadal for a 6-3, 6-4 victory. It's Federer's third title in Miami.
Nadal came out swinging and held break point after break point in the opening set, but could not take advantage. A late break gave the momentum to Federer and the Swiss never looked back. He was lights out on serve in the second set, never giving Nadal, who has now lost in the Miami final five times and twice to Federer, a chance to get back into the match.
Back-and-forth goes to Federer
During Federer's blowout win in Indian Wells, the Swiss set the tone early with a break in his first return game. Two weeks later in Miami, it was Nadal trying to return the favour. The Spaniard was ripping his backhand right from the start in the opening game and held a pair of break points on the Federer serve, but could not convert as the Swiss held to open the final. Nadal came into the final serving at an extremely high level and responded with a hold of his own, closing out his first game with an ace for 1-1.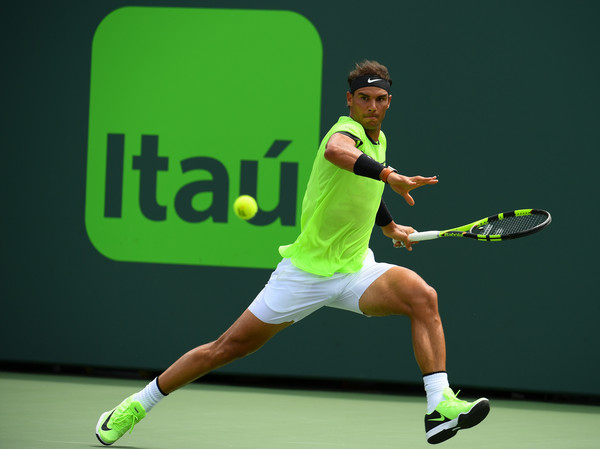 ​
Federer would get his opening in his second return game, taking a 0-30 lead and reaching break point at 30-40, only to net his backhand. This Swiss would get a second look when Nadal missed a backhand, but the Spaniard saved it with an ace. Nadal then responded by forcing Federer back to deuce and held a break point, but netted a stretching forehand. The back and forth continued as Federer had another break point in the following game, only for Nadal to save it with another big serve.
In the critical seventh game, the Swiss let another 30-0 lead slip away and let Nadal off the hook at 30-30, leaving a volley right in the middle of the court which Nadal ripped crosscourt to draw an error and set up break point. On that break point, Federer sent his opponent corner to corner, finally putting a forehand away crosscourt. A game later, twice Federer held break points, both times he failed to put his return in play. Finally, on the third break point in that game, the Swiss put his return in and used his massive forehand to draw an error to break for a 5-3 lead. Serving for the set, Federer finally had an easy hold to wrap up the opening set 6-3.
Federer seals title late
Nadal held to fifteen to start the second set, his first service game without facing a break point since his first service game of the match. While the Spaniard was serving better early in the second set, Federer upped his level even more. After showing signs of vulnerability in the opening set, the Swiss was untouchable early in the second, winning his first 12 service points in a row.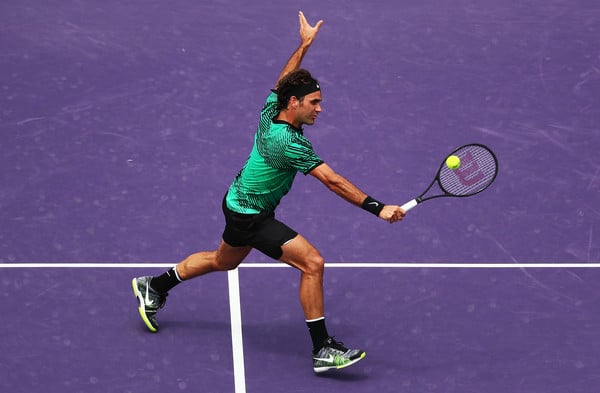 In the seventh game, Nadal struggled to keep his forehand in the court which resulted in a break point for Federer. On break point, the Spaniard tried a drop shot and followed it into the net. Federer got there and smacked his backhand crosscourt, but a lunging Nadal managed to punch it past the Swiss for a winner to save it. A backhand error gave Federer a second break point, but the Spaniard redeemed himself with a backhand winner and went on to hold. In the following game, Nadal finally won a couple of points on his opponent's serve, but the Swiss still held for 4-4.
The Spaniard's struggles to keep the ball in the court continued and he found himself staring Federer down at 30-30 on his serve again. This time, fortune favoured Federer as a net cord sent his shot over the head of Nadal who couldn't chase down the accidental lob to set up break point. Another backhand long from Nadal gave the break and a chance to serve out the championship to Federer. The Swiss didn't make it easy on himself as he tried to serve out the match, double-faulting on the opening point, but a tightly-angled forehand dropped in for a winner to bring up match point and Nadal sent a return long to surrender the title to Federer.
By the numbers
Nadal had been dominant in almost all facets of the game coming into the final, but his level dropped immensely in the final, only winning 66 percent of his first serve points and 50 percent of his second serves. He was nowhere near consistent enough to put any kind of pressure on Federer, leaving his forehand short and struggling to keep his shots, particularly his backhand in play, committing 23 unforced errors to only 15 winners.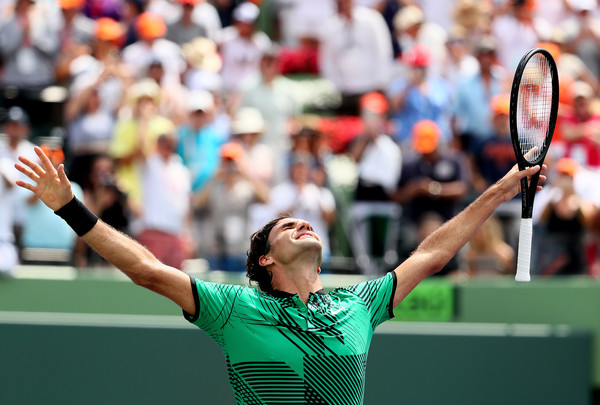 Federer's aggression paid off, as he ripped 29 winners, responding to Nadal's assault on his forehand with 19 off his main wing, including 5 aces. He only converted two of nine break points, but that's all he needed as he saved all four he faced against his own serve, all in the first half of the first set. While Nadal was his usual strong self in returning Federer's second serve, he had no answer to his opponent's first serve as they Swiss won 87 percent of those points.
For the third year in a row, the Australian Open, Indian Wells, and Miami have been swept by the same player, only this time it's Federer's turn after Novak Djokovic managed the feat the last two seasons. It's Federer's second early hard court hat trick, 11 years after he did it the first time. It's Federer's third title of 2017 already. He beat Nadal, who is now 0-3 in finals in 2017 and 0-5 in Miami finals, on his way to all three titles.
With the win, Federer improves to 19-1 in 2017 and will climb to number four in the world on Monday. Nadal will rise to number five.