The final of the Monterrey Open would be contested by the top two seeds in the tournament, world number one Angelique Kerber and the in-form Anastasia Pavlyuchenkova. Both players have achieved impressive victories in their path to the final and have each only lost one set in the process. Pavlyuchenkova, who is a three-time champion here in Monterrey and owns a 3-0 record in finals here, would look to win her fourth title here on Sunday. Whereas, Kerber would want to exact revenge for her loss in the 2013 final as it was the same opponent who defeated her in three sets then.
Path to the Final - Angelique Kerber
Angelique Kerber suffered a huge scare in the opening round of the tournament as she had to battle through former Grand Slam champion and veteran Francesca Schiavone in three sets, looking very rusty in her game. Nevertheless, the German then rebounded back to outhit Mandy Minella in the second round, losing just a mere four games in the process to qualify for just her fourth quarterfinal of the year.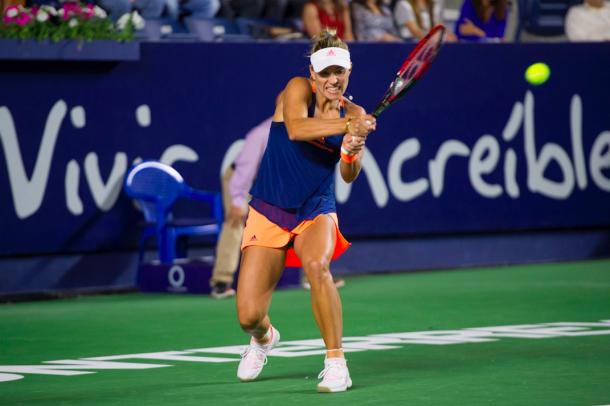 There, Kerber faced a very tough challenge as she faced off with defending champion Heather Watson. Despite the Brit putting up an excellent performance, Kerber displayed some wonderful tennis of her own as she came up with some solid groundstrokes to triumph in straight sets, setting up a meeting with Carla Suarez Navarro in the semifinals. A spirited performance from the Spaniard almost won her the first set, but Kerber was just too good and arguably played her best tennis this year to eventually triumph in straight sets, coming through that 64 minutes tough first set.
Path to the Final - Anastasia Pavlyuchenkova
Anastasia Pavlyuchenkova had a similar path to the final, but she opened her Monterrey campaign with a straightforward and comfortable victory over Tatjana Maria in the first round, losing just four games in the process. A tricky opponent followed as the dangerous American qualifier Kristie Ahn stretched her to the limits, forcing her to narrowly get through to the quarterfinals with a tight 7-6 6-4 scoreline, with Ahn playing her best tennis to give Pavlyuchenkova a tough challenge.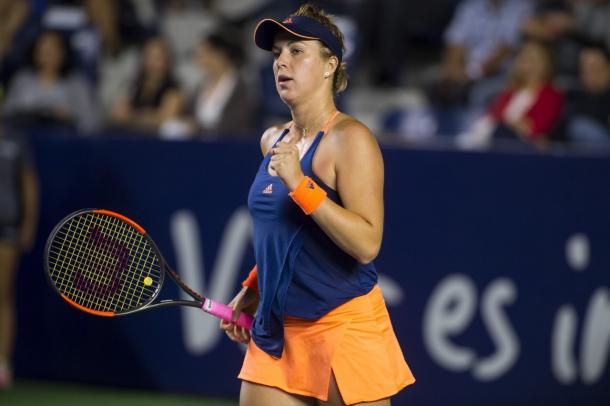 In the quarterfinals, Pavlyuchenkova faced her doubles partner Timea Babos for the first time in her career and she managed to earn the very tight victory in three sets as she had to recover from a break down in the final set to do so, progressing to the semifinals for the fourth time in the tournament's history. Something worth noting is that whenever Pavlyuchenkova has progressed to the semifinals, she eventually won the title at the end of the week. The Russian then comfortably qualified for her first final of the year when she defeated Caroline Garcia in straight sets, despite not looking at her best.
Head to Head
Angelique Kerber leads their head to head series by a 5-3 scoreline, with their matches usually being a must-watch. Surprisingly, only two of their eight matches have gone the distance as Pavlyuchenkova triumphed in both of their three-set matches, the first being in the final of this tournament in the 2013 edition. On hard courts, it is Pavlyuchenkova who leads their series 3-2 with one of Kerber's win being a retirement from the Russian.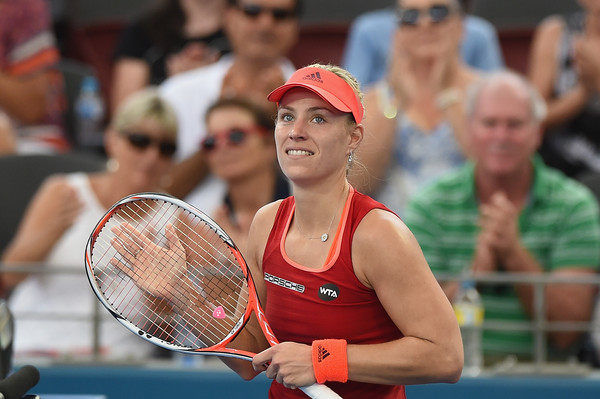 Analysis
Angelique Kerber's form looked to be getting better and better as the week progresses, improving from her inconsistent display against Schiavone to putting in some terrific tennis against Watson and Suarez Navarro in the latter stages. Whereas, Pavlyuchenkova has been strolling through her matches but has not been in top form these days as she herself admitted to the press that she is suffering some fatigue from the long weeks in both Indian Wells and Miami, and she seemed to have suffered a mild thigh injury which she received medical attention for in her semifinal match against Garcia.
Kerber's forehand has been doing a great job throughout this week, especially against Suarez Navarro yesterday as her solid groundstrokes broke down Suarez Navarro's defense and won her the match. It would be fun to see if she can keep up with her good form and trouble Pavlyuchenkova by moving her all around the court. Kerber can also hit a variety of shots to take advantage of Pavlyuchenkova's potential thigh injury and also tire her out faster.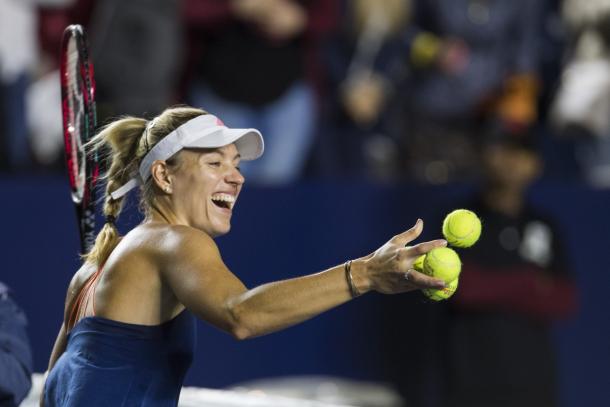 The world number one has two different tactics to have a higher chance of winning the match and the title; moving Pavlyuchenkova all around the court and preventing herself from being too passive. Past results have shown that being the passive player on the court has cost Kerber greatly in her matches, just like her fourth round match at the Australian Open against Coco Vandeweghe. To have a higher chance of winning the match, Kerber must be more aggressive and dictate play.
Pavlyuchenkova would rely on her strong serve and has to make sure that her groundstrokes are consistent enough to hold onto her service games, before attacking the vulnerable serves of Kerber to have a chance of making a breakthrough. The Russian can also occasionally mix in some drop shots to confuse Kerber's rhythm, and having more chances to dictate play. She could not afford to let the world number one control proceedings as the German would power her way through to her first title of the year, therefore Pavlyuchenkova must be the more proactive one if she wants a greater chance of winning the title.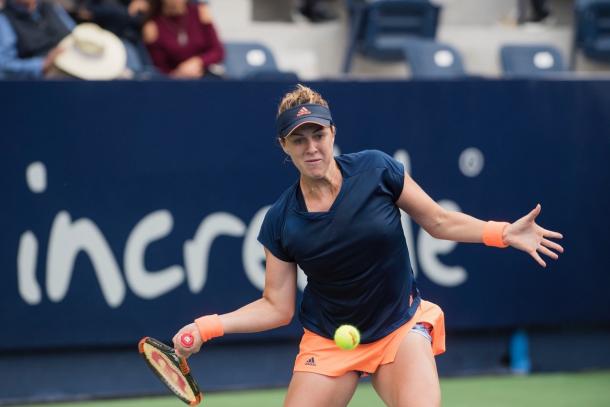 Prediction: [1] Angelique Kerber d. [2] Anastasia Pavlyuchenkova in three sets
The basis of this prediction comes from the main factor: Pavlyuchenkova's thigh injury. The Russian received a medical timeout in her semifinal match just because of this potential injury, and it looks to play a major factor in this match considering her tight schedule in recent months. If Pavlyuchenkova were to win this match, she has to make a fast start to the match and needs to take the lead early in the match, preventing Kerber from having any chance to run away with the win. However, inconsistency may prove to cost too much for the Russian eventually. Nevertheless, considering Pavlyuchenkova performs really well against the top players judging by her three top 10 wins this year alone, do not be surprised if the Russian can sneak out the victory and win her fourth Monterrey title.