The draw for the World Group Playoffs in the Davis Cup, to take place from the 15th-17th September this year, have been made, with 2016 champions Argentina heading to Kazakhstan and World Group challenges Portugal facing Germany in their ninth consecutive home tie in the tournament.
Switzerland, who were handed a whitewash by the US in the opening round, will host Belarus as they look to maintain their place in World Group, whilst Hungary will look to make the World Group when they host Russia, who have won the six previous meetings between the two in the competition.
Colombia will host 2016 runners-up Croatia as they look to make the World Group, whilst fellow South American country Brazil will travel to Japan, who are in the Playoffs for the third year in a row. The Netherlands will host Czech Republic, who fell to Australia in the opening round of the World Group, whilst India travel to Canada, looking to make amends for losing 5-0 to Spain at the same stage last year.
Argentina headline those aiming to stay at the top
Argentina, headlined by Juan Martin del Potro, won the Davis Cup for the first time last year, though, without the 2009 US Open champion, lost 3-2 to Italy in Buenos Aires, and now captain Daniel Orsanic will have to prepare his side for a tricky away tie against a Kazakh side, which could feature tricky players such as Mikhail Kukushkin.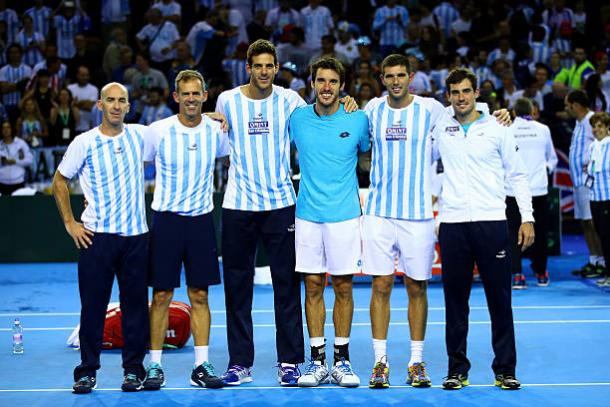 Alongside Argentina, four other previous Davis Cup-winning nations are facing away ties as they look to stay in the World Group; Croatia, the Czech Republic, Germany, and Russia. All four will likely head into their respective ties as the favorites, though Hungary and the Netherlands could be particularly challenging for Russia and the Czech Republic respectively; Portugal could be difficult for Germany, especially if the likes of Alexander Zverev and Philipp Kohlschreiber aren't in action.
Meanwhile, 2014 champions Switzerland will be the favorites for their home tie against Belarus, with Japan and Canada likely to be favourites for their home ties against Brazil and India respectively, especially if the likes of Kei Nishikori and Milos Raonic are in action; Japan are hoping to win in the Playoffs for the third year in a row, whilst Canada will be hoping to make amends for the controversial ending of their first round tie against Great Britain.