Having just been Fed Cup teammates and doubles partner during the past weekend, Elena Vesnina and Daria Kasatkina would be opponents across the net at the start of this week as they were drawn to face each other in the first round of the packed field in the Stuttgart Open. With the draw cut-off ranking being 36, it is inevitable that there would be some blockbuster first round matches such as this intriguing match-up between fellow countrywomen.
Elena Vesnina achieved the best result of her career thus far, producing a huge shock when she won the title at the BNP Paribas Open, coming back from a huge deficit to defeat yet another compatriot in Svetlana Kuznetsova in the final. Coming off a career-best season last year which saw her end the year in the Top 20 from being outside of the Top 100 at the start of the year, many have questioned whether the Russian can follow it up with yet another superb season. She silenced those doubters when she won the biggest title of her career, and reached a career-high ranking of 13 with that achievement. However, other than that, Vesnina's season has been generally disappointing.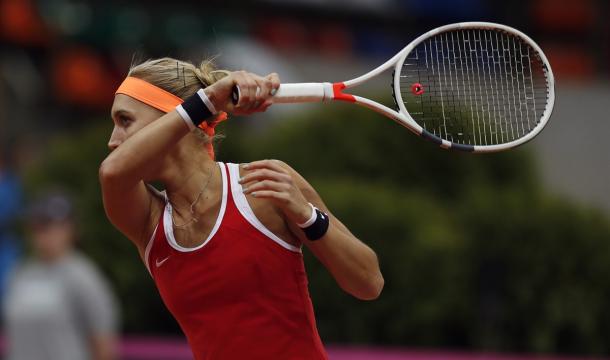 Defending finalist points in Charleston, Vesnina was shocked in the second round as qualifier Fanny Stollar defeated her in a two tiebreak sets thriller which lasted more than two hours. On the clay courts in Moscow for the Fed Cup, Vesnina earned a tight victory over Alison Van Uytvanck where she was pegged back for a couple of times, but eventually still managed to clinch the win for Russia. However, she fell to a shocking defeat against Elise Mertens in three sets on the second day, before her bad luck continued in doubles as she fell along Kasatkina in the final rubber, causing Russia to fall to a shock loss.
After earning two wins over two-time Grand Slam champion and former world number one Angelique Kerber, Daria Kasatkina's season has been particularly disappointing. After a breakthrough season which saw her achieve several excellent results, the Russian fell outside of the Top 40 this year after a terrible five-match losing streak, which ended in Charleston where she unexpectedly reached her first ever WTA final of her career and winning it, sealing her first of many WTA titles to come. The triumph in Charleston helped to boost her season and brought her back into the Top 30, and a Top 25 debut would look possible with a good clay season. Her only matches on red clay were in Moscow during Fed Cup, where she won her singles match in three sets but losing only one game in the last two sets, but losing the doubles match alongside her opponent Vesnina.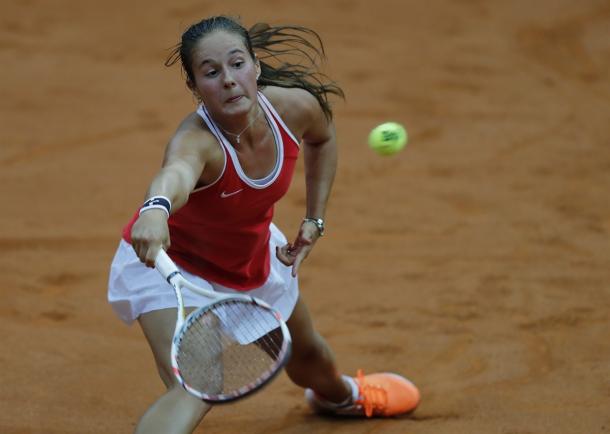 Elena Vesnina has had a relatively poor record on clay courts in her career as she had never once reached the second week of the French Open, and her best results in big-scale tournaments such as Rome and Madrid were only third round appearances. However, that all happened when she was not regarded as a high-ranked player and was therefore not expected to claim any impressive results. However, now coming into the 2017 clay season as the Indian Wells champion and the world number 15, Vesnina would definitely be expected to back up her good results and also make a mark on the clay courts. This all comes with extra unnecessary expectations, which Vesnina would find difficulties dealing with as seen in her previous results after her win in California.
Daria Kasatkina was tipped to have an excellent clay season last year by many but failed to live up to expectations as she fell in the first round of the Madrid Open and the third round of the Italian Open. As Kasatkina is only 19, she has only played one full clay season on the WTA tour and it would be too early and unfair to determine her ability on clay courts just based on last year's results. Her first WTA title on the green clay courts of Charleston can already show everyone a glimpse of her performance on clay and is once again tipped to make deep runs at the large-scale tournaments this year.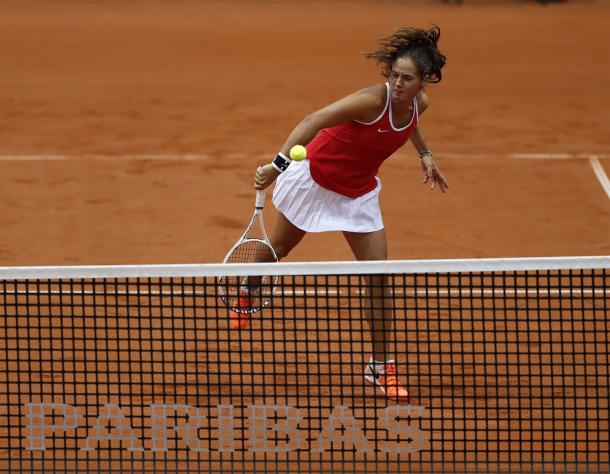 Who wins?
Being doubles partners at the start of last year, both players should be familiar with each other's playing style, which can be much of an advantage to either. Experience can play a part here, with Vesnina benefitting from it.
Vesnina's explosive game does not suit clay at all, but her slices may prove to be a huge factor as the Russian often utilizes those shots on every court, no matter the surface. Slices would be able to help her to cover up the vulnerability of her defense, which is very weak since the world number 15 prefers to take the initiative and be on the offense at all times. Vesnina must take all opportunities to play her usual offensive tennis, getting up to the net often and finishing off the point there.
She has to beware that Kasatkina would be able to come up with lobs, fake shots and slices to overpower the tough challenge of Vesnina at the net though. The placement of her serves would prove crucial, with the Indian Wells champion having to add in some slice on her serve, forcing Kasatkina to move out wide and thus taking the upper hand in the points. She definitely must lessen the unforced errors which come off her racquet as Kasatkina is generally a defensive player, and often relies on the errors of her opponent.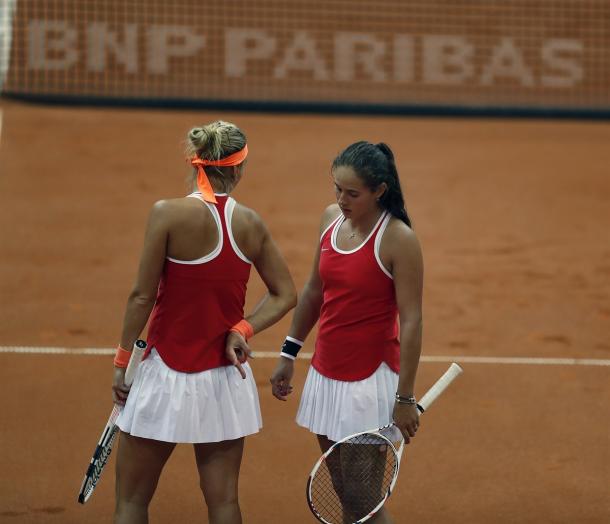 Whereas, Kasatkina's favourite surface is clay, just like her childhood idol Rafael Nadal. Her game is a perfect one for the clay courts, and she is being tipped to rise in the rankings after the French Open concludes by many tennis pundits. Her variety of shots allows her to have the upper hand against Vesnina at the start, but her experienced compatriot definitely has the weapons and tactics to fend off her drop shots, slices, and more shots. However, what Kasatkina can do is that she could stand further back at the baseline, trying to involve herself in more groundstroke rallies with Vesnina and either mix in a drop shot or sliced shot out of nowhere, or she could just simply wait for an error from her opponent.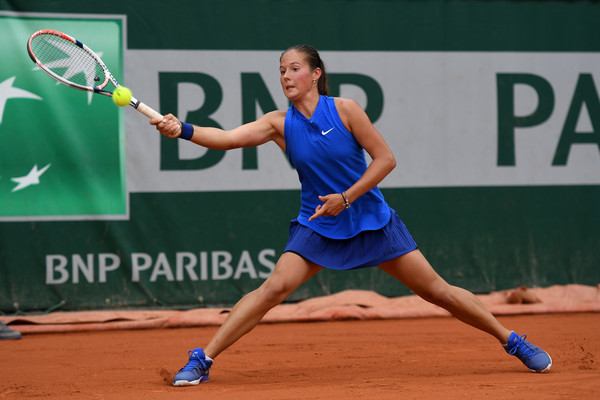 An alternative is taking the offense by using her strong backhands, which have been effective in her young career so far. However, as seen in all her matches, Kasatkina rarely takes the initiative to go attacking as she lacks the strong power on her shots, but those spins her racquet makes on the balls are definitely dangerous and devastating for her opponents.
Prediction: Daria Kasatkina d. Elena Vesnina in three sets