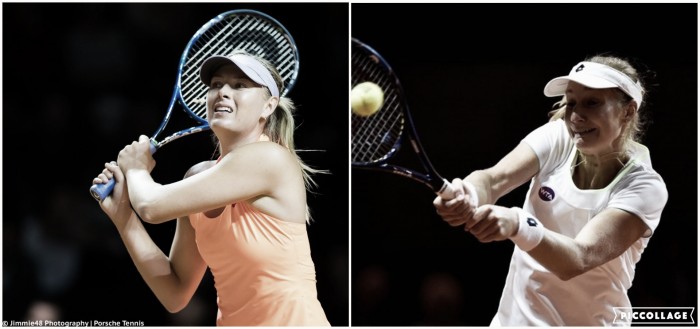 After a 15-month suspension from the sport for violating the anti-doping rules last year, Maria Sharapova made the perfect return to professional tennis by defeating former US Open finalist Roberta Vinci in the first round, triumphing in straight sets after overcoming a slow start. However, her next match will be much tougher as compatriot and fellow former top 10 player Ekaterina Makarova awaits in the second round after the Russian upset seventh seed Agnieszka Radwanska to prevent a blockbuster 16th meeting between the two. Nevertheless, this match would be equally as tight and thrilling, and Sharapova would look to extend her outstanding start here at the Porsche Tennis Grand Prix. Whereas, Makarova would want to rain on her party as she looks for her first ever career victory over the five-time Grand Slam champion.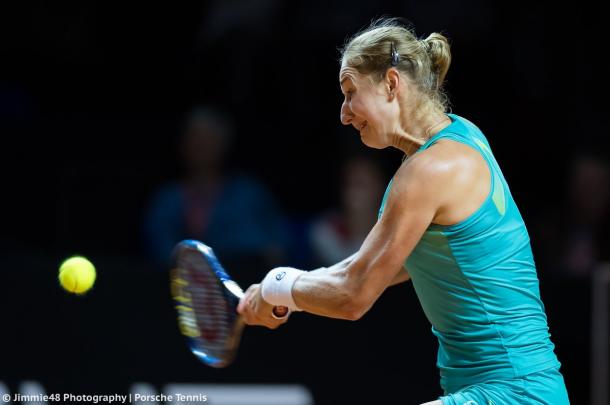 After having two top 10 victories this year, with both coming against Dominika Cibulkova, Makarova's season had been generally dull and lackluster as a return to the Top 20 looks to be further away now. Despite clay not being her preferred surface, Makarova earned her third top 10 victory of the year when she upset Agnieszka Radwanska in the first round, playing some spectacular tennis as she hit a massive amount of 30 winners past the world-class defense of the Pole.
Sharapova put in an unexpectedly solid performance against Roberta Vinci in the first round played on Wednesday as she hit in a huge amount of 11 aces and just three double faults, winning 81 percent of first service points and even losing just one single point behind it in the second set. Despite not converting a total of eight break points, Sharapova won 65 percent of second serve return points, largely contributing to her four breaks of serve in the match. It was truly an exceptional performance by the Russian as her serve has visibly improved, being reflected in her serving statistics.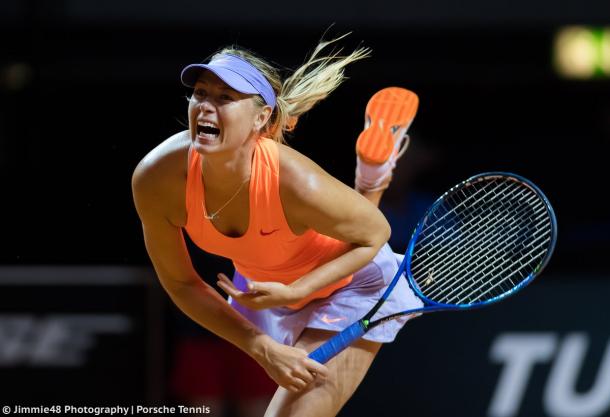 Maria Sharapova has never lost a match against Ekaterina Makarova previously and leads their head-to-head score with a lopsided 6-0 record. Treated as a nemesis for the younger Russian, the former World Number One has won 12 of the 13 sets they played against each other and has won their past five matches in straight sets, facing no problems at all. Their last meeting on clay came in their first two meetings back in 2011, where Sharapova lost her first and only set against her compatriot in Madrid. However, Sharapova soon strolled to a routine straight sets victory over the same opponent a few weeks later, this time just losing two games.
Who wins?
The pressure would be on Ekaterina Makarova this afternoon as she must keep up the same level as for how she played against Radwanska on Tuesday to have a chance to win if the peak Sharapova appears on the court. Makarova will be heavily reliant on her solid groundstrokes to allow her to take the upper hand in the rallies after it showed its value on Tuesday when it was on fire. Her backhands could be deadly when they are accurate and precise and would aid Makarova in dictating the play and keep Sharapova at bay, forcing her to stay behind the baseline. However, inconsistency and pressure might mix up Makarova's rhythm during the match.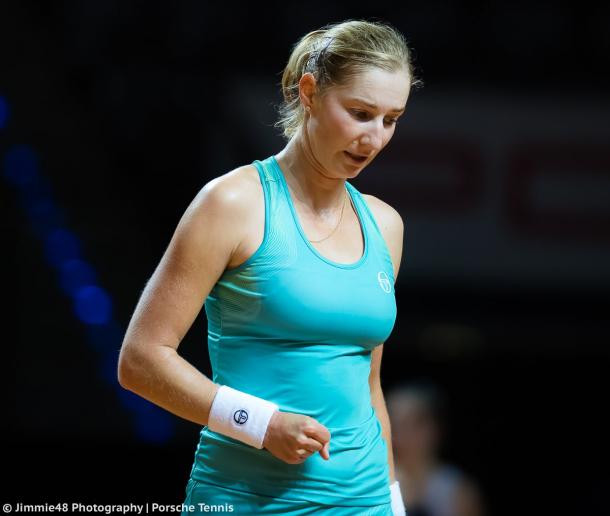 Makarova must also mix in slices out of nowhere in the midst of baseline rallies to catch Sharapova off-guard, and should also often move up to the net to have the chance of winning more points and take the offense, considering her status as her Olympics Gold Medalist in doubles. Makarova should also utilize her lefty advantage fully as she has the capability to serve out wide to start attacking from the first stroke of the rally onwards and disallowing Sharapova to make her usual strong returns.
It would be a big question mark if Sharapova can keep up her good form from her impressive victory over Roberta Vinci in the first round. Her groundstrokes are still to be worried about as she must lessen her unforced errors count against such a dangerous player in Makarova. Her drop shots looked a little off during her first match back, and she should try to avoid hitting them as Makarova would not face any difficulty in returning those shots.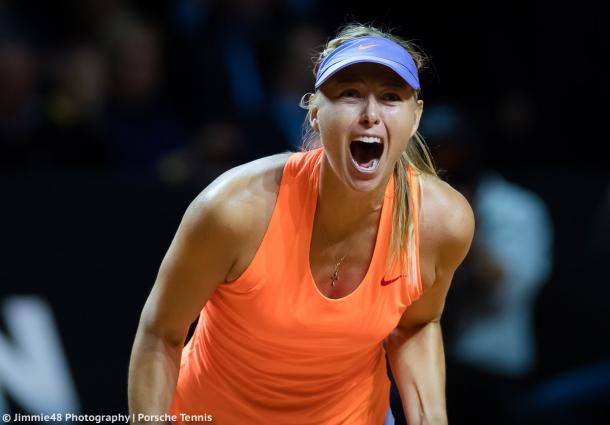 Sharapova needs to maintain the standards of her service from yesterday, and she has to own a high first serve percentage throughout the match. Having just returned from a 15-month ban, Sharapova might find it a problem to deal with fatigue considering she has to play a second match in less than 24 hours. Her slices looked exceptionally excellent in her last performance as it often manages to win points for her, and those good follow-ups to strong serves would play a major part if the five-time Grand Slam champion would want to increase her chances of winning.
Prediction: Maria Sharapova d. Ekaterina Makarova in two sets