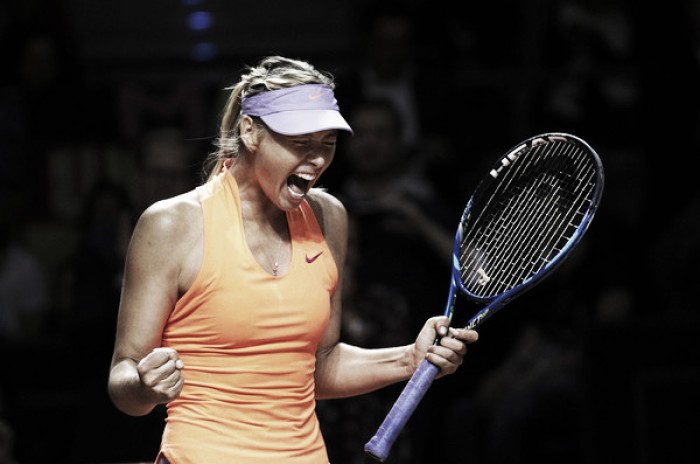 No one would have expected Maria Sharapova to reach the semifinals in her first outing back from the 15-month suspension, and beat two former Top 10 players along the way in Roberta Vinci and Ekaterina Makarova. Then she faced a dangerous qualifier in Anett Kontaveit at the quarterfinals stage where she triumphed in straight sets for the third consecutive time, before falling to the red-hot Kristina Mladenovic despite leading by a set and a break.
The Positives
Maria Sharapova's serve certainly improved greatly since she came back from her suspension, showing that she did some work on it during the lengthy layoff. Hitting a total of 32 aces in four matches, Sharapova's serve was just clinical throughout the week as she hit just 17 double faults to go along with it. Winning 125 out of 158 first serve points in all her matches, adding up to a massive 79 percent of those being won. This is incredible considering it was her first tournament in 15 months, and her lack of match practice was definitely not something that affected her.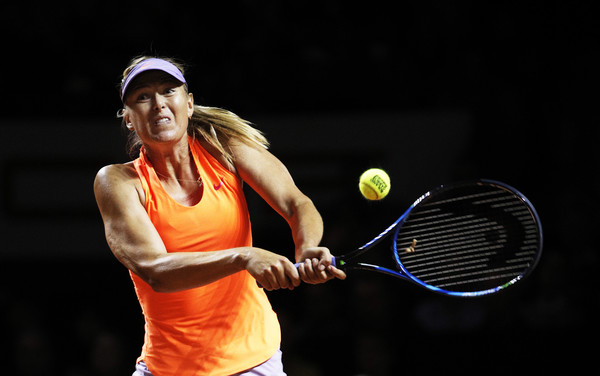 The ability to beat the top players still remained in her as she managed to beat Roberta Vinci, a former top 10 player, and US Open finalist, and Ekaterina Makarova, a former world number eight and two-time Grand Slam semifinalist. Also, she defeated Anett Kontaveit in the quarterfinals after the Estonian just outclassed the defending Roland Garros champion Garbine Muguruza in the second round. Despite falling to the world number 17 Kristina Mladenovic in the semi-finals, it was a good tournament overall for Sharapova as she showed that she can still challenge the top players even in her 30s and was very close to a berth in the final and the Roland Garros qualifying rounds, but failed to capitalize on a set and a break lead against the Frenchwoman.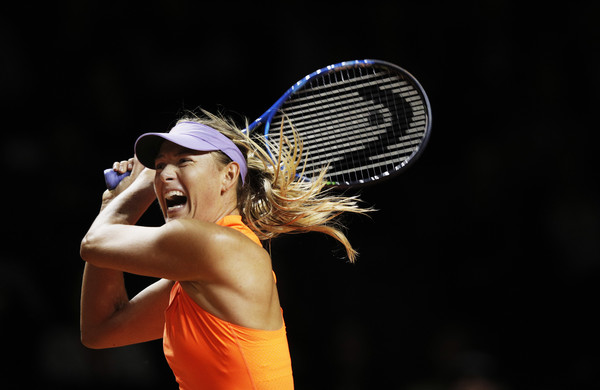 The Negatives
The second serve still did not work so well for Sharapova as she only won 58 of 116 of all her second serve points in the tournament. That was just a mere 50 percent of points won, which could be considered very disappointing in Sharapova's standards. However, 17 double faults was a consolation as the former World Number One ended the tournament with more aces than double faults in every single match, something that has not happened in quite a while.
The third set in her loss against Mladenovic saw Sharapova fall behind a huge 2-5 deficit, and almost got it back level at 5-5 but she wasted a game point while serving to stay in the match. However, the Russian seemed to be very tired in that set and she seemed to be unwilling to run vigorously around the court, and her return games were very lackluster, owning a 3/16 record on break points as she failed to break serve and take the lead in many instances. Nevertheless, Sharapova played some amazing tennis at the end of the set but was just unlucky to be unable to take her opportunities.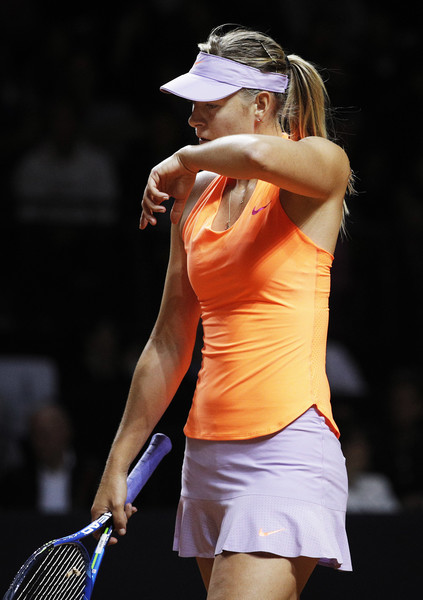 Sharapova's return of serve is the most concerning part of her whole game as she met with some troubles with it. She often had to take the smallest of the opportunities to break serve and take the lead, and only won 28% of first serve return points in average for all of her matches. This is especially concerning if Sharapova would want to return to the top of women's tennis. Nevertheless, it was just her first tournament back and it is inevitable to be a little rusty on the return.
What to expect?
Sharapova would definitely face more challenges in her return to the best of women's tennis, and one of them will surely be the tough draws. She was already lucky that she did not receive the worst draw possible in Stuttgart, and in her upcoming events at Madrid and Rome, she would be an unseeded wildcard lurking in the draw. This means that tougher draws would come and possible round one opponents could be the top 10 players and current Grand Slam champions.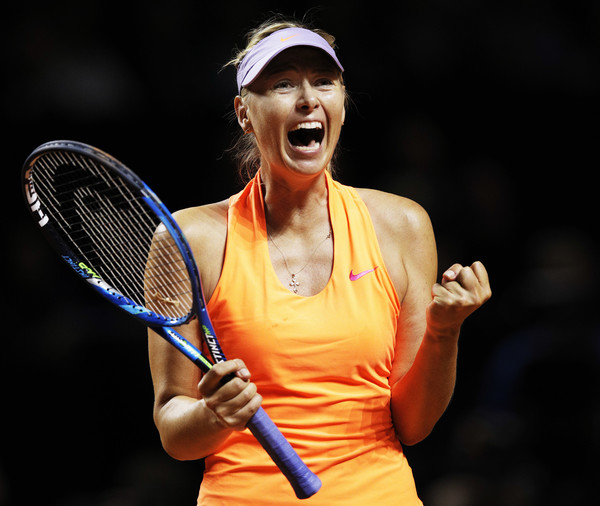 It would also be interesting if Sharapova can be able to translate all her successes in Stuttgart to the outdoor clay courts, where the conditions are much tougher there. If she were to keep up her good form in both Madrid and Rome, she would definitely have a good chance to return to the top of the rankings as soon as possible.
Sharapova makes her next appearance at the Tie Break Tens charity event in Madrid, before participating at the Madrid Open and the Italian Open. We would also find out whether the Russian has received a wildcard into Roland Garros on the 15th of May.