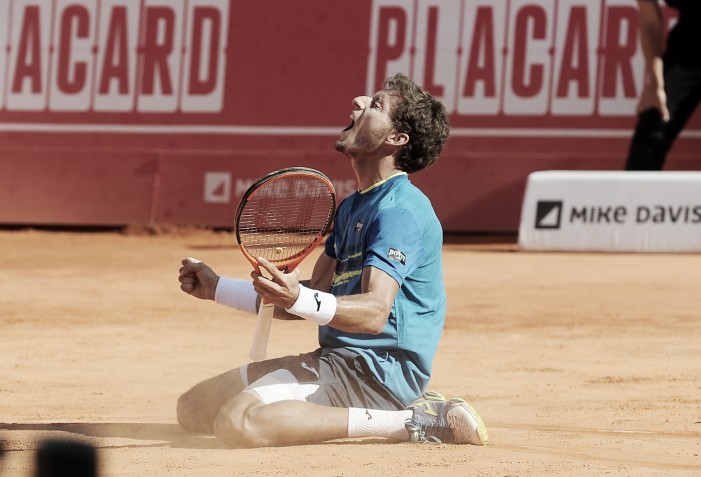 The final day has finally come. After nine days full of tennis, the Millennium Estoril Open has come to an end. The 2018 edition will take place between 30th April and 6th May.
The two players playing the final were Pablo Carreno Busta, the first seed, and Gilles Muller, the third seed. Pablo didn't lose a set in his route to the final, while Gilles Muller lost a set in the quarterfinals against Taro Daniel.
First quick set
The first two games of the set were very unusual with both players being broken at love. First, Gilles Muller with a double fault and then Pablo Carreno Busta. After this, there were two long games decided on the advantages, followed by a break at love to Carreno Busta. The Spanish held his serve and was leading 4-2. Soon, he broke Muller's serve once again and closed the set on serve 6-2 in 30 minutes.
Second set decided in the tie-break
Both athletes were playing very well. Pablo Carreno Busta was doing a lot of passing shots, however, Gilles Muller was very apathetic. They held their serves during the whole second set. Muller faced a break point at 3-3 but Carreno was not able to make the break. A lot of well-disputed games were played and they went to a tie-break. In the tie-break, the Spaniard got the mini-break at 2-1 and lost it after that when he was serving at 5-4. Gilles levelled the tie-break at 5-5 but his opponent won the next two points to win his first clay-court title.
This is Pablo Carreno Busta's third title in six finals. In 2015, the 21st player in the world was a semifinalist here and last year he was the loser finalist. Third time lucky.
Stats
Pablo Carreno Busta has a very good percentage of first serve in, 74 percent. He aced Muller once and didn't save the only break point he faced. Pablo won a total of 67 points.
Gilles Muller committed 3 double faults and did 6 aces. He only saved 2 break points out of 5. 52 percent was the number of points won during the whole match by the Luxembourger.